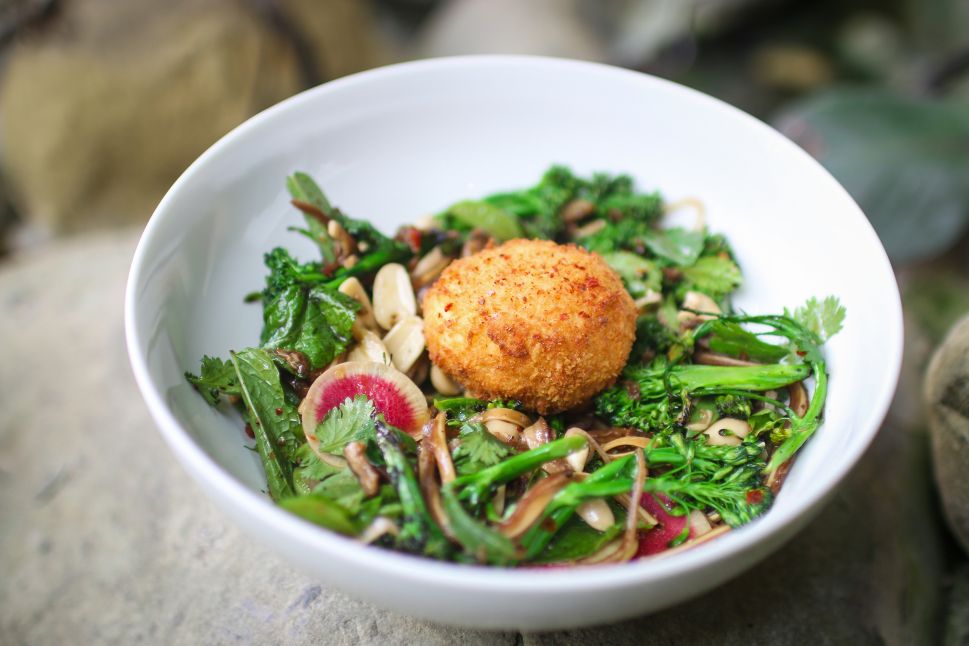 Michael McCarty is walking around the resplendent patio of his iconic Santa Monica restaurant, saying hello to every table and explaining to guests that his new chef used to cook at Animal and Son of a Gun. That chef at this 37-year-old restaurant is 28-year-old Miles Thompson, a prodigy who started working in restaurants as a teenager without any formal training and who went on to open Allumette—an Echo Park tasting-menu destination that was alive for less than two years but made Thompson a legend of sorts in the L.A. dining scene and the culinary world beyond.
After a stint in Sonoma, Thompson is back in L.A. at Michael's Santa Monica, a restaurant that was born when The Eagles dominated radio and now resides in a world where everybody has a different goddamn iTunes library. Some background for those of you who, like me for so many years, know Michael's primarily as a New York power-lunch spot where media moguls, real estate blowhards, A-list socialites and publicists and editors on the make go to glare at one another: Michael's Santa Monica is a California-cuisine pioneer, which focused on market-driven dishes long before terms like "farm-to-table" existed. It's also been fertile ground for the development of some of the country's most celebrated and influential chefs: Jonathan Waxman, Nancy Silverton, Mark Peel and Sang Yoon all cooked here.
Now it's Thompson's turn, so servers are going through the room explaining to guests that things are a little different now. Plates are meant to be shared, and they come when they come. And, yes, our waitress says, your mouth might feel tingly for a couple minutes after you eat the Szechuan pork dumplings.
Those wonderful dumplings are indeed pleasantly mala, and the dish's cured salmon roe, black vinegar, tarragon and candied grapefruit rind offer brininess and acid and brightness that make this a truly original creation. Thompson, if you're keeping score, isn't a trend-chaser. He's a chef who thinks his own way. Dude was cooking Szechuan pork dumplings at Allumette, which opened before Chengdu Taste and Szechuan Impression did and before Bryant Ng made mala part of his repertoire at Cassia.
Like Cassia and fellow Santa Monica hot spot Tar & Roses, Michael's under Thompson serves bold multicultural dishes that are, yes, driven by the local, best-in-the-city farmers market but also influenced by places thousands of miles away. And they do it without a making a big deal of it.
Thompson's blistered baby broccoli is a gnarly, offal-good statement of purpose with its pig ears, spicy peanuts and soft egg Milanese (which you'll want to break into a yolky mess that covers your plate). It tastes in some ways like a Thai salad. And while it's listed as blistered baby broccoli on the menu, nobody's trying to hide what's really happening here. "How are you enjoying the pig ears?" a server asks a nearby table. "Very much," the diner replies. (Influential L.A. food Instagrammer @marksinla posting this dish as part of his favorite meal of the year was what first turned me onto the new Michael's.)
The rock crab chawanmushi with uni is a cold dish that takes the textures and flavors of ginger sprouts and sesame to balance the softness and richness of seafood and tofu.
Thompson is also an accomplished baker, so start with some buckwheat sourdough bread and sunflower butter. The perfectly grilled Denver steak with porcini bordelaise, Russian kale and chanterelles is another showstopper. This bread and this steak are reminders that being multicultural in 2016 is also about being American and Californian.
The bread and the steak are also ways to have a more traditional meal if you're not into pork-cheek sandwiches. I bring up pork-cheek sandwiches because McCarty is eating at a table next to ours, and those little sandwiches arrive there, and the waiter explains they should be eaten right away and why Thompson's bread is special. There seems to be a little hesitation by some, but the sandwiches are consumed, and McCarty's dining companions smile.
A nattily dressed gentleman sitting directly to McCarty's left gives him high praise at this classic restaurant that's always been modern and forward-looking and has no plans to slow things down.
"Fine dining reinvented!" McCarty's guest says. "You did it!"
Then a pause, before he adds with a grin, "I'm always going to wear the bow tie."