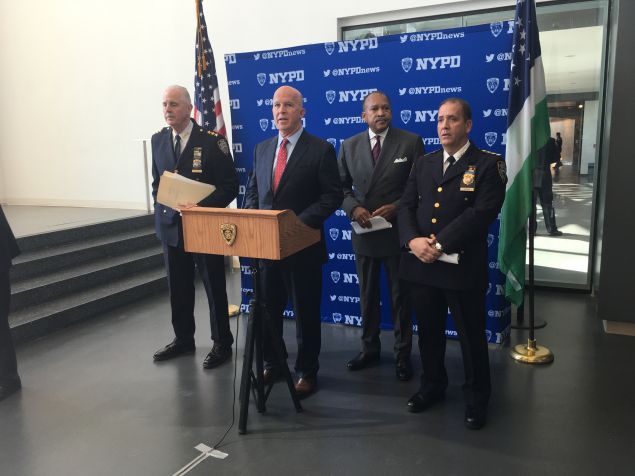 Police Commissioner James O'Neill launched a new large-scale public engagement campaign he says will encourage community residents to work in conjunction with with police officers to fight crime in the city.
Speaking at the Association for a Better New York breakfast today in Midtown, O'Neill—who recently became the city's top cop and has touted his "neighborhood policing" approach as the way forward—said the campaign seeks to get every New Yorker to believe that the entire city can be safe. The campaign is sponsored by the New York City Police Foundation and ABNY, a coalition of private interests.
"The goal of the campaign is to get every New Yorker to believe we can make our city safe in every single neighborhood of the city," O'Neill said. "It's within reach, it's doable. But it depends on everyone doing what they need to do. Cops and community must work in tandem with our partners at the city, state and federal levels."
According to O'Neill, the campaign will enlist the business community, grassroots community groups, clergy, academia, the criminal justice system and various nonprofits and government agencies to work with the Police Department. He also said the campaign will employ elements of traditional and cutting-edge marketing technologies to deliver "a movement that forges true relationships and delivers what is now possible in New York."
The commissioner added that they are all also calling on New Yorkers to report crimes that have occurred, be willing to talk to district attorneys and follow through by testifying in court.
Evoking the yet-to-be-solved murder of Jessica White, a Bronx mother of three fatally shot in a park in June and Kitty Genovese, who was murdered on her street in Kew Gardens in 1964, O'Neill also stressed the need to make the process of participating in the city's criminal justice system as a victim or as a witnesses "safe and less burdensome."
"This is all to prevent someone else like Jessica White or Kitty Genovese from becoming a victim, too," O'Neill added.
O'Neill said the public will be getting the phone numbers and email addresses of the neighborhood coordination officers in just a couple of weeks.
When a reporter asked O'Neill following the NYPD's swearing-in ceremony at the Police Academy in College Point whether he will distribute the contact information or if people will have to look it up on the Internet and whether he is worried about the NCOs getting inundated with calls, O'Neill brushed off the concerns.
"I'm not worried about it. It's our neighborhood coordination officers are the ones that give out their email addresses and phone numbers. So it's all the communities they'll be going to. They're giving them out gradually. They're not giving them out to obviously 8.5 million people."
He also noted that neighborhood policing—officers meeting and working with community residents—has already been implemented in more than half of the NYPD's precincts and commands. And he said the NYPD's focus on precision policing, which entails the targeted enforcement of gangs, crews, drug dealers and those who steal identities and manufacture and sell fake credit cards.
"People know that it's only a small percentage of the population commits most of the violent crime, and that's the group we're concentrating on with laser and violent precision policing," O'Neill said.