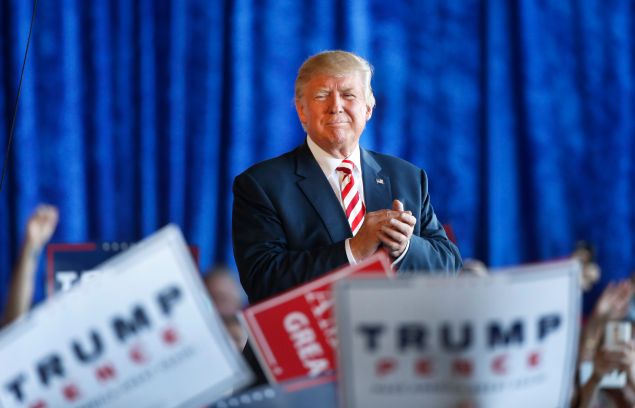 Throughout his campaign, Donald Trump has used some choice words to describe and speak to women. From Twitter (where he called Megyn Kelly a "bimbo" and encouraged his followers to look up "disgusting" former Miss Universe Alicia Machado's sex tape that didn't exist) to the presidential debate stage (where he interrupted Hillary Clinton to proclaim she is "such a nasty woman"), the barrage has been constant. The comments have echoed what Trump has said in the media for decades, but nothing has hit the American public as hard as the 2005 Access Hollywood tape released by The Washington Post that shows the real estate magnate bragging about sexual assault on a hot mic. Since the video's release, new allegations of assault and harassment have come out almost daily. Here's a list of 16 accusers, which includes businesswomen, models, The Apprentice and Miss Teen USA contestants as well as his ex-wife. (He denies these allegations.)
Much of what he's said is illegal and enough to lose anyone a job, according to the human resources experts the Observer spoke with. Now, they're saying we'll see a crackdown on sexism in the workplace in the wake of Trump.
"There's no way that his behavior would be tolerated by any U.S. employer because so much of what he's said and done are illegal under our labor laws," Naomi Bloom, a veteran human resources executive who now runs the workplace blog InFullBloom, told the Observer.
'Trump's words conjured up memories for people at work—memories that they had forgotten or suppressed or just let go.'—William Tincup
Experts believe Trump's remarks have brought much-needed attention to the issue of sexual harassment. For employers, this means an increased awareness and more reason to take action.
"I think employers will be much more sensitive to these types of bad behavior, so not just inappropriate sexual behavior and comments but also inappropriate discriminatory behavior and comments toward anyone in a protected class and toward any ethnic, religious, gender or other group," Bloom said. 
William Tincup, president of HR news website Recruiting Daily, noted that national elections in general prove tough for employers, since they can be polarizing and put people in "awkward positions" at the office as issues come up. He explained this often leads employers to play down the importance of elections to avoid conflict at work, but "this election is different."
"Harassment has always been a concern for HR. We investigate harassment claims vigorously and religiously," Tincup told the Observer. In fact, employment discrimination statutes prohibiting sex discrimination (which includes sexual harassment and assault) in the workplace exist at both the federal and state levels. Some cities, such as New York, have their own laws as well. But despite this, sex discrimination charges have been on the rise. According to the U.S. Equal Employment Opportunity Commission, the number of annual charges between 1997 and 2008 hovered around 24,000. Between 2008 and 2015, however, that number rose to 28,053, topping out at 30,356 in 2012.
Those numbers may only increase, Tincup believes. "Trump's words conjured up memories for people at work—memories that they had forgotten or suppressed or just let go. But the cavalier way in which Mr. Trump talked about women was like ripping the scab off a wound—a wound that wasn't completely healed. So, yes, HR is having to work double time because of what Donald said and the way in which is said it. He single-handedly made sexual assault almost okay. Well, it's not okay. Not okay at all. And HR will be dealing with the fallout of Trump's words for months to come."
Daniel Bright, a labor lawyer in Manhattan, said he doesn't believe the Trump revelations will have any real impact in terms of how workplace sexual discrimination is dealt with by employers, because they see Trump's conduct as an outlier. But he does think employers may take some small steps. 
"I think the companies that already have pro-active sexual harassment training programs in place may do some additional training or make some adjustments to their written policies in response to the Trump statements and video," Bright told the Observer. 
Alternatively, he suggested one way in which the Trump-effect may be negative. Pointing out that he hasn't seen any reports indicating that Trump has been sued for sex discrimination/harassment or settled any claims (the latter of which would be unknown because of confidentiality), Bright said it looks like Trump has either avoided being sued or quietly settled threatened claims: "If anything, [this] sends a message that even a blatant transgressor can get away with this sort of stuff without paying a serious price."
While doubting Trump's comments and actions will lead to new legislation, Bright explained that he believes the problem is not the absence of sex discrimination laws, but rather women's fears that they won't be believed or will suffer some sort of adverse consequences if they report harassment. 
Bloom and Tincup both said this could change post-Trump and referred to it as a "silver lining."
"I think the silver lining in this horrific election season may be the possibility that many more women will stand up for themselves, that those in authority will take a woman's expressed concerns more seriously, and that more men will think twice before they act like Trump," Bloom said. 
Tincup said it can "help us listen better."
"This is where HR could make something positive out of Donald's remarks," he continued. "If we choose, we could have more empathy for the stories that might have previously been buried. For whatever reason, maybe folks [who] haven't felt compelled to come forward and report bad actors or bad behavior will. Maybe, just maybe, this dark event will help HR and the general business have more empathy for folks that lived through harassment."
Disclosure: Donald Trump is the father-in-law of Jared Kushner, the publisher of Observer Media.