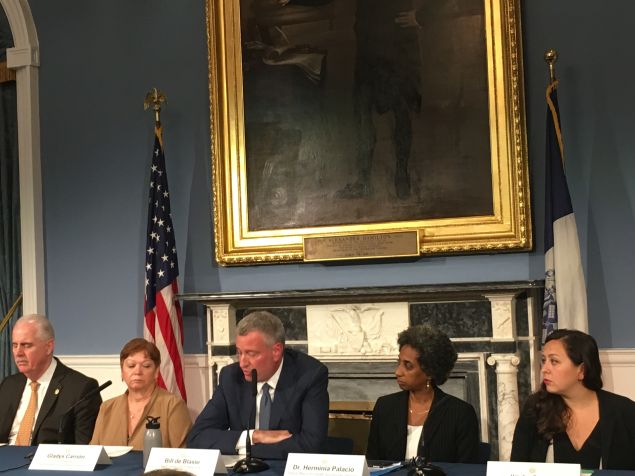 Mayor Bill de Blasio and Gladys Carrión, his commissioner of the Administration for Childrens' Services, announced a series of reforms in the aftermath of the death of 6-year-old Zymere Perkins—but Public Advocate Letitia James says Carrión flat-out is not doing a good job. 
Speaking in the Blue Room of City Hall this afternoon, the mayor and Carrión announced a series of reforms they said will kick in by next week. Those reforms include ensuring a sufficient number of experienced NYPD and ACS personnel who will jointly investigate cases of children suspected of having enduring serious abuse and ACS approving the cessation of contracted services for cases that involve allegations of serious physical abuse against children.
"As our own internal review continues, we will look for ways to prevent this from happening again," Carrión said. "And I want to make this claim: anyone on my staff who's failed their duty to protect this child will have to answer to me. I will hold them personally responsible."
Perkins' mother, 26-year-old Geraldine Perkins, and her boyfriend, Rysheim Smith, 42, were charged in connection with his death. Smith allegedly hit Zymere with a broomstick. The ACS has come under fire because there were five separate abuse allegations against his mother. ACS has since put five child protective service staff on modified assignment, according to Carrión.
This is an unacceptable tragedy. It's as simple as this: it should not have happened," de Blasio said. "I look at a young boy who went through unspeakable pain, a young boy who is no longer with us who should still be here and who should have been saved. It's as simple as that."
Other reforms are strengthening oversight of ACS' top protective staff by appointing a team outside of their division to hold them accountable to review the work, conduct audits and review individual cases.
But James—whose office has a pending lawsuit against ACS—told reporters in a gaggle moments afterward that her staff members have informed her of many vacancies and high turnover within the agency, notorious for its oversights and administrative problems. She insisted the city must go beyond retraining case workers.
"What we need are individuals who are being adequately paid who right now are poorly paid. And we really need to know, we need to do be better trained with regards to the protocols in identifying child neglect and abuse," James said. "There hasn't been a lot of transparency, and we need more information."
The Public Advocate, a de Blasio ally since they served together on the City Council, also tore into the ACS commissioner.
"If you ask me whether or not she's doing a good job, I would say the answer is 'no," James said, though she stopped short of calling for Carrión's removal. "I leave it up to the mayor."
ACS said the administration has invested more than $100 million in child welfare reforms that have driven down foster care caseloads, improved case worker effectiveness and increased support to vulnerable families.
The agency also said that in August, a federal judge rejected the foster care lawsuit into which James and the state entered and that the following month, that judge denied the motion for class certification in the lawsuit.
"To cite fatalities that include deaths by natural causes and suicides is misleading and simplistic," Aja Worthy-Davis, a spokeswoman for the mayor, said. "Of the over 60,000 cases ACS investigates annually, fewer than .0002% involve homicides in which the perpetrators were known to ACS. We remain focused on real, substantive reform."
The city pledged more reforms to come in subsequent months. ACS plans to work with the Department of Education to establish clear guidelines for when a series of absences should trigger an investigation, conduct ongoing in-house training for all ACS workers on how to handle suspected physical abuse and establish dedicated liaisons to work with each of the five district attorneys' offices to share information, refer cases and to enhance investigations.
There was tension in the room over the mayor's assertion that certain details could not be revealed so as to not compromise Manhattan District Attorney Cyrus Vance's criminal investigation into the case, with First Assistant Corporation Counsel Georgia Pastana in attendance.
One reporter asked the mayor why the city cannot disclose any additional information about the ACS workers who were involved in the case—what makes the Perkins case different from that of 4-year-old Myls Dobson, who died in 2014 at the hands of a babysitter. The Dobson's torture and starvation, graphically related in the city's tabloids, prompted ACS to form a new $6.5 million Office of Case Compliance and Monitoring, staffed with retired NYPD detectives.
De Blasio insisted that Dobson case was more complex. He also said the Law Department has provided a clearer definition of what the administration can divulge and noted the involvement of the Manhattan D.A. in the Perkins case.
"The good news, if you will, in this tragedy, there's good news in terms of transparency is we're telling you right now in the course of this month, we know we're gonna be able to say some important additions and we know a day will come when we get an all-clear to fill in a lot of blanks," he said.
Perkins and Smith have each been charged with endangering the welfare of a child but those charges could be upgraded pending the results of the autopsy, according to Vance's office. Smith's next court date is Nov. 7, while Perkins' is Nov. 17.
Danny Frost, a spokesman for the Manhattan DA's office, said the office will move as quickly as possible to complete the investigation. He noted that multiple agencies have expressed interest in conducting their own probes but have been asked not to conduct interviews so as not to interfere with the D.A.'s work.
"However, as is typical in a homicide investigation, we have requested that those agencies refrain at this stage from conducting witness interviews of individuals who may have information bearing on Zymere's death," Frost said. "That is because multiple interviews by multiple authorities might impair our ability to conduct our criminal inquiry."
This story has been updated to include a comment from the mayor's office and ACS.