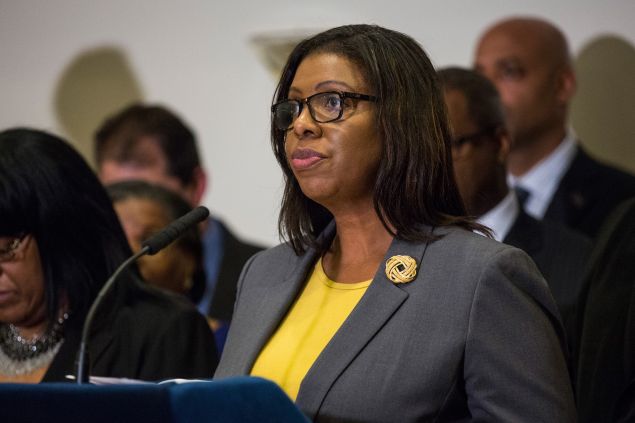 Mayor Bill de Blasio today dismissed as "dead wrong" Public Advocate Letitia James' assertion that Administration for Children's Services Commissioner Gladys Carrión has performed her duties poorly—provoking James into retorting that what's "'dead wrong' is dead children under ACS' watch."
The exchange came in the aftermath of the death of six-year-old Zymere Perkins last week, allegedly at the hands of his mother and her boyfriend—which itself followed five abuse allegations lodged against his mother. James told reporters yesterday that she thought Carrión—who has offered to resign—was not doing a good job as ACS commissioner, but that she would leave it to the mayor to decide whether his commissioner remains in her position.
When the Observer asked de Blasio to weigh in on her sentiments—and her assertion that the city needs to go beyond retraining case workers and address the low salaries and better training concerning protocols in identifying child neglect and abuse—he said he'd consider her suggestions for improving the ACS but that her assessment of Carrión's performance is off.
"I think that's fundamentally wrong," de Blasio said at an unrelated press conference about the city's rent freeze program. "And so I can be respectful and right on the first two but on that one, she's just dead wrong."
The agency has put five child protective service staff on modified assignment, and the mayor yesterday rolled out an array of reforms aimed at preventing a similar occurrence. He said Carrión has been working in the field for 40 years and credited her with being a "revolutionary" actor at both the state and local level.
De Blasio compared the criticism of Carrión to when the NYPD has situations where it is believed that more could be done, noting that people do not challenge the qualifications of the police commissioner.
"We don't ask, you know, a Bill Bratton or a Jimmy O'Neill, 'Do you know the field of policing or did you know how to police well?' Obviously they do. And Gladys knows how to protect children well. She's been doing this many, many times. She's protected children you don't know about, but it worked. So this is the best person to get the job done."
James—an erstwhile de Blasio ally—said her office has spent the last two years going to court, passing legislation, issuing reports and advocating to reform ACS. She said children should not die due to "mismanagement or lack of oversight."
"What's 'dead wrong' is dead children under ACS' watch," James said. "ACS is fundamentally broken and its current commissioner has failed to fix it."
The reforms introduced yesterday include having an adequate number of experienced NYPD and ACS personnel who will jointly investigate cases of children suspected of having endured serious abuse and ACS approving the ending of contracted services for cases that involve allegations of serious physical abuse against children. They also said other reforms will be implemented in the coming months.
Manhattan District Attorney Cyrus Vance has charged Perkins' mother and her boyfriend with endangerment of a child, and indicated more accusations will follow once his office completes its autopsy.
When a reporter asked de Blasio how he could be so confident about Carrión given his repeated claims that he cannot share certain details about the Perkins case due to Vance's ongoing criminal investigation, de Blasio listed several reasons, without divulging new details. The mayor said he had weighed experience, ability and how many children the individual saved as opposed to just focusing on "where did the system go wrong."
"If at any time I think something's changed, I'll say it," de Blasio said. "But based on everything I know, Gladys Carrión needs to continue as ACS commissioner and she's the person who can actually get the job done."