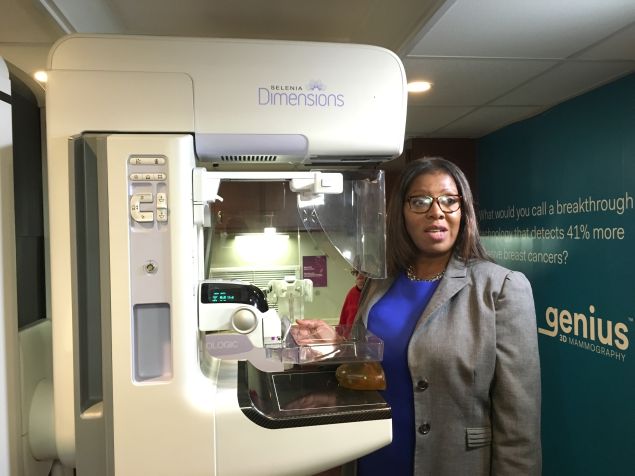 As Breast Cancer Awareness Month approaches its end, Public Advocate Letitia James called  on Gov. Andrew Cuomo and Mayor Bill de Blasio to expand access to a new three-dimensional breast cancer detection technology she says will help combat racial and economic disparities in mortality rates.
The technology, Digital Breast Tomosynthesis—also known as DBT—has X-ray cameras that move in an arc around the breast while taking multiple images in a few seconds and integrates the information into a clear, 3D layer-by-layer image of the breast. Although DBT is generally available at the city's private hospitals as well as Westchester County, only one city-financed Health + Hospitals public hospital carries the technology—something she says directly affects low-income New Yorkers and women of color, who depend on such hospitals.
And while it is covered by Medicare and many private insurers, it is not covered by New York State Medicaid.
"I urge Governor Cuomo and I urge Mayor de Blasio to again provide and expand access to this amazing technology, which is much more accurate, reduces false positives and saves lives," James said. "In New York, breast cancer is most common, is the most common cancer among women and it's also the immediate cause of cancer-related deaths."
She wants Cuomo to add the technology to the Medicaid benefits package and de Blasio to allocate $4 million in his capital budget to making the technology available in all 11 of the city's public hospitals.
Indeed, according to an October report compiled by James, cancer detection rates increased by 29 percent with the use of DBT and the rate at which patients called back for a second exam due to an unclear image dropped by 15 percent. And in the Bronx and Brooklyn—where a large population of black and Hispanic individuals live—breast cancer mortality rates were the highest out of all five boroughs, the report found.
She credited Cuomo—whose live-in girlfriend Sandra Lee underwent mastectomy after getting diagnosed with breast cancer last year—with kicking off the "Get Screened, No Excuses" campaign, extending screening hours, making it easier for women to get tested during the evening or early morning. She also praised the governor for eliminating costs for traditional mammograms, making it more affordable for women to get screened, and for giving state workers four hours of paid leave each year to get screened.
But she wants him to take his efforts to the next level.
"We thank Governor Cuomo," she said. "However, DBT is not covered by Medicaid and we must expand access to the DBT."
And she said a $4 million commitment at the city level isn't much—and that it may actually save the city money in the long term.
"Four million dollars of capital money in this year's budget which is, you know, minimal, deminimis when it comes to cost and when it comes to saving lives and in reality there are some savings because it will reduce the number of women having to follow up with their visits because you're going to detect and have a more accurate" picture, James said.
Health + Hospitals is currently fighting to stave off a $1.8 billion budget shortfall projected for 2020.
The city's public hospital system said that while the Food and Drug Administration has approved the use of some DBT technologies in certain cases, it is not routinely used for breast cancer screening in the United States. The public hospital system also said the U.S. Preventive Services Task Force recently stated that there is insufficient evidence to make a recommendation for its use.
"NYC Health + Hospitals makes decisions on new technologies based on research and on the needs of our patients," Health + Hospitals said in an emailed statement. "We will monitor research on the use of DBT and other developing technologies to ensure that we continue to provide the highest quality care—screening, diagnosis, and treatment—for each and every woman who comes to NYC Health + Hospitals."
The governor's office did not immediately respond to a request for comment.
This story has been updated to include a comment from NYC Health + Hospitals.