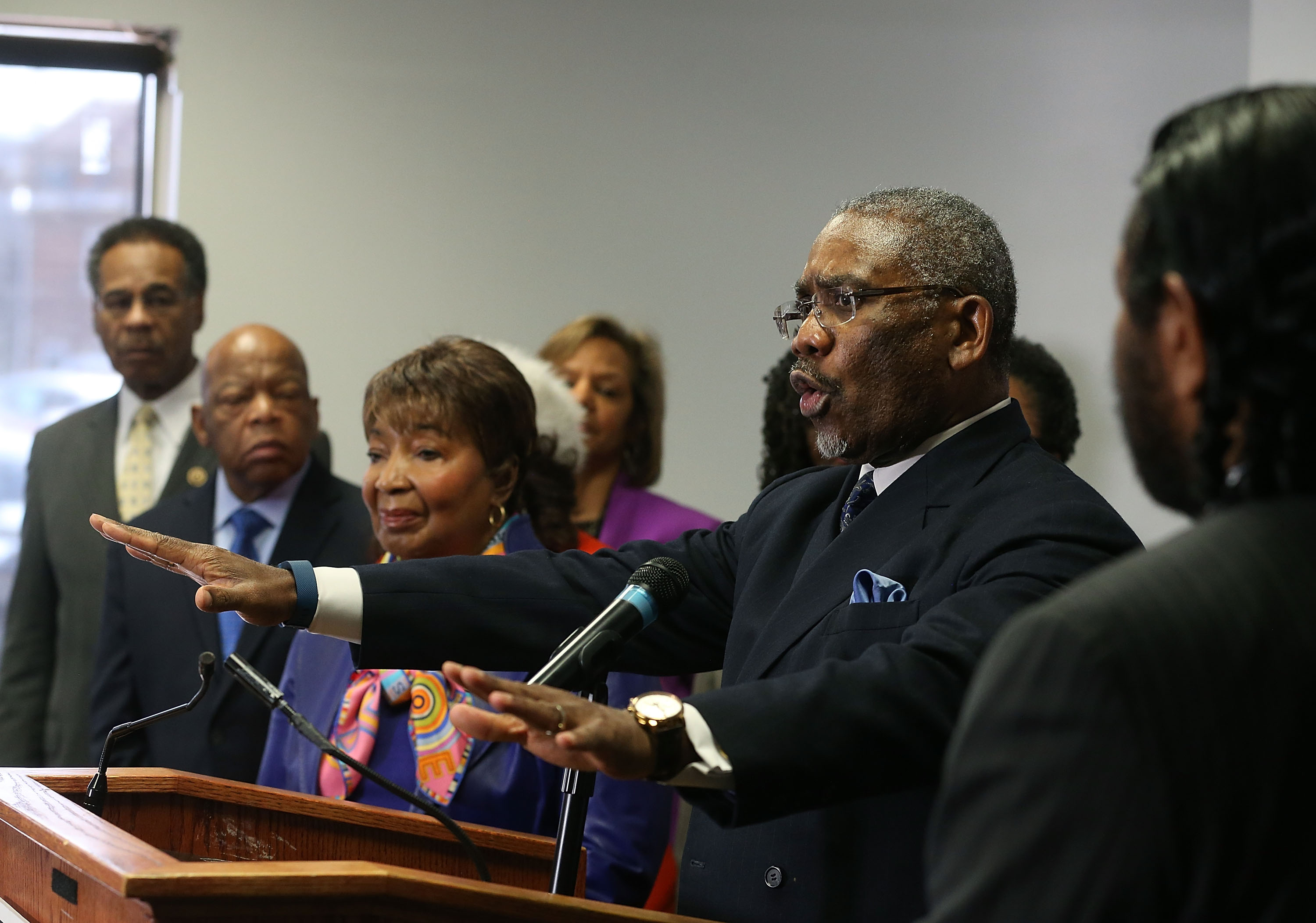 Leading a Congressional Black Caucus rally in Columbus, Ohio, Queens Congressman Gregory Meeks vented his distress over Federal Bureau of Investigation Director James Comey's "unbelievable letter' yesterday regarding newfound emails related to the investigation of Hillary Clinton's private server, and darkly insinuated that the missive might have had political motivations.
The Southeast Queens congressman, who has both served as a prosecutor and been the subject of ethics probes, complained that the FBI head sent the letter only to Republican committee and subcommittee heads, and not to members of the House Democratic minority. This is untrue, as Comey did in fact circulate his message to the ranking Democratic members of those committees and subcommittees.
Meeks suggested Comey has simply lent ammunition to Trump's flagging campaign for the presidency.
"All it does is give a new basis for Republicans to attack Hillary Clinton," Meeks said at a press event broadcast nationwide via conference call. "Don't try to persuade an election 10 days beforehand."
Meeks, who chairs the CBC's political action committee, also lambasted GOP nominee Donald Trump's history of outrageous statements on the campaign trail. The  pol recalled that Republicans had previously disparaged Comey—a Republican himself—for his conclusion three months ago that Clinton's handling of classified information had been "reckless" but not criminal, and he hinted that the FBI head was bending to partisan pressure.
"Donald Trump has been trying to bully his way into the White House," Meeks declared outside the King Arts Complex in the Ohio capital. "He was bullying the director of the FBI."
The congressman alluded to news reports that the emails in question did not come from Clinton's controversial "homebrew" server, but from a laptop shared by her close aide Huma Abedin and Abedin's estranged husband Anthony Weiner—who once represented a now-dissolved House district that bordered Meeks's own. Weiner's compulsion to send semi-nude photos to unknown women over the Internet wrecked his career in Congress, his 2013 bid for mayor and his marriage.
But his alleged explicit correspondence with a 15-year-old girl triggered a federal investigation, which led Comey's agents to a cache of emails they deemed "pertinent" to the earlier probe of Clinton. Meeks noted that there is no evidence that they contain any incriminating information, and that they might simply be duplicative of messages already in federal possession.
The lawmaker also reiterated a talking point that Clinton campaign manager Robby Mook and campaign chairman John Podesta have already voiced: demanding that Comey reveal the full details of the newly discovered messages' content.
"He's opened this door. Now what the American people deserve, what the American people require, is he open the door all the way," Meeks said.
Disclosure: Donald Trump is the father-in-law of Jared Kushner, the publisher of Observer Media.