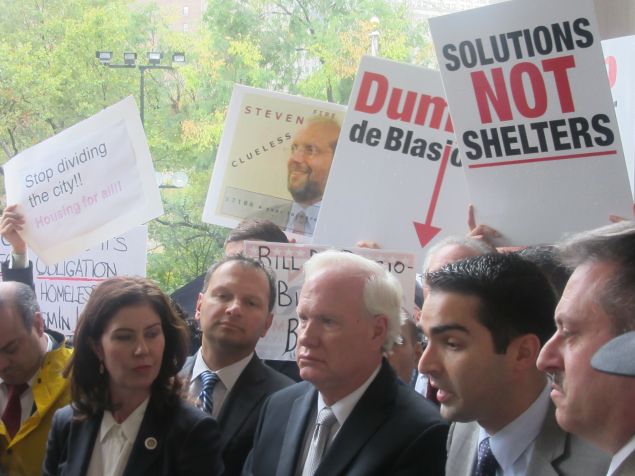 Queens politicians—including one weighing a run against Mayor Bill de Blasio next year—and residents outraged over a proposed homeless shelter took their protest of the administration's "failed policies" on the city's indigent crisis to City Hall this morning.
The  nearly 100 percent Caucasian crowd blasted the mayor's office for not notifying them about proposed homeless shelters in advance. Queens Councilman Eric Ulrich noted the mayor has touted his housing vouchers and free legal assistance for struggling renters as an antidote to homelessness, but argued his policies aren't working.
The Republican even mocked the administration's "fuzzy math" when it asserted that the record-shattering  number of 60,000 New Yorkers sleeping in homeless shelters was a positive breakthrough because it was 7,000 less than they had projected.
"They're hopeless policies. They're failed policies," said Ulrich, a potential November rival to de Blasio in 2017. "They're policies that have resulted in a skyrocketing homeless population that went from 50,000 the day he took office to almost 60,000 today as we stand here."
The rally followed a bitter battle over the city's a proposal to convert a Maspeth hotel into a homeless shelter, which even saw residents protesting outside the home of Human Resources Administration Commissioner Steven Banks. The city ultimately buckled to pressure, but subsequently announced a new location in Far Rockaway—Ulrich's district.
The councilman said they were not looking to demonize homeless individuals and their families living in shelters or "to make political grandstanding statements against the mayor." But he even went so far as to suggest the mayor's tense relationship with the governor is the reason why the city doesn't have Section 8 vouchers anymore.
"If we had a better relationship with the governor, I believe that would happen but I don't even think they're on speaking terms," Ulrich proclaimed. "So maybe he can kiss and make up with Governor Cuomo and bring back Section 8 vouchers to help people…New Yorkers who need rental subsidies."
The governor's office did not immediately respond to a request for comment.
Despite the declamations about "political grandstanding," protesters held posters with slogans such as "Solutions Not Shelters," "Acadia Stop Warehousing the Homeless," "Dump de Blasio" and even a poster that said "DE WAAASIO, Rattled mayor lashes out at Maspeth—aww, did we hurt your feelings?"—a modification of a recent New York Post cover over the mayor's refusal to take a question from one of their reporters earlier this month.
They also took issue with a video de Blasio shared on his Twitter account, which showed officials escorting children from a Bellerose homeless shelter to the Manhattan Children's Museum last month as locals demonstrated outside.
State Senator Tony Avella, chairman of the Senate Task Force on the Delivery of Social Services, criticized the de Blasio administration for using city hotels despite saying he would not do so, referencing the administration's decision to convert the former Pan Am hotel into a homeless shelter. He also said that he and others had suggested putting police officers at the shelters but that the mayor instead opted to hire private security.
"What does the mayor do? Say he's not gonna use hotels," Avella said. "What is he doing now? He's trying to use every single hotel in the city of New York—especially in Queens—to house the homeless."
Some even pointed to plans pushed forward by other elected officials. Assemblyman Andrew Hevesi, for example, has proposed a plan that would establish a rent subsidy so people can remain in their homes and decreased dependence on homeless shelters—a plan that cost the state and federal governments $450 million a year.
Councilwoman Elizabeth Crowley, State Senator Joseph Addabbo and State Senator Jose Peralta also spoke out against the administration's handling of the homelessness crisis.
Aja Worthy-Davis, a mayoral spokeswoman, said protesters first claimed they weren't notified about siting but that when the city proved them wrong, they directed their anger toward homeless women and children themselves. She also said protesters are focused on rejecting shelters and also temporary hotel usage, leaving the city "with no viable option to help shelter those in need."
"The mayor has been clear—homelessness is a citywide problem and each community will play its part," Worthy-Davis said in an emailed statement. "Local elected officials should have the courage to take on this problem with the mayor, rather than rally against housing homeless children in their communities."