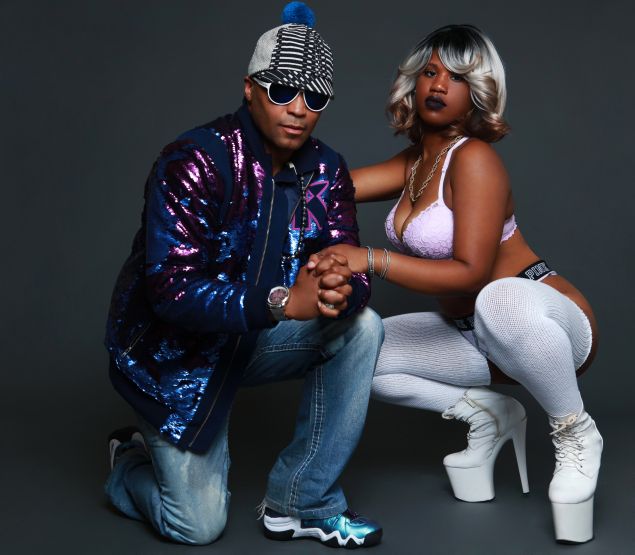 Chatting with Keith Thornton, the 53-year-old emcee better known as Kool Keith, you'll soon realize that he doesn't use the word "future" the way other rappers do—Keith means it literally. He's talking about time travel.
Keith first made a name for himself as a member of Bronx hip-hop group The Ultramagnetic MCs when they released 1988's Critical Breakdown; three records later in 1995, Keith went solo.
Recording under the name Dr. Octagon for his debut, Dr. Octagonecologyst, Keith set the tone for his career with sci-fi sound-effects and narratives, laced with vulgar, verbose non-sequitors that would become essential listening for younger emcees looking to tell far-out tales with their rhymes, stories outside this dimensional plane. Sometimes, the world demanded to be looked at with that lens, and Keith's pulpy, dramatized otherness made room for some real shit to go down.
MF Doom arguably channeled Keith's mystique  when would don a mask at the Nuyorican Poets Café and make a name for himself with his superhero persona, breaking out years later on 1999's Operation:Doomsday. Doom realized that by putting rhymes in fantastical, otherworldly contexts, Keith was free to be as verbose or as profane as he pleased.
So he kept at it with an insanely prolific discography, and the characters kept coming—one month after Operation:Doomsday Keith became a Dr. Doom of his own, only this guy was a serial killer who killed Dr. Octagon and enjoyed cannibalism, pet rats and Flintstones vitamins.
He then became Black Elvis, who fused with his futurism after getting lost in space. His "pornocore" albums found him playing both pimps and perverts, even someone called the Spankmaster. He's assumed the guise of someone named Mr. Nogatco (Octagon spelled backwards). Then there's Tashan Dorsett, who went from being just another alias to a full-on character this year when Keith released Tashan Dorrsett/The Preacher. Dorrsett travels around space, too, delivering funky prophecy to his cosmic congregation.
[youtube https://www.youtube.com/watch?v=lJGXSybL1NY&w=560&h=315]
I mention all of this to point out why, 30-plus albums into his career, Keith's most radical reinvention is a pure hip-hop record.
This year Keith also released Feature Magnetic, which lightly indulges in many of the personas Keith has embodied, but pays homage to his roots by staying focused on lyrical flow and prowess rather than sound effects and camp. While Keith's eating seafood in The Bronx's City Island with Doom on "Superhero" and getting back to the pornocore with Brooklyn MC Necro on "Girl Grab", the nods to past lives feel fleeting, but not incidental. Keith's looking back while pushing forward.
"Sometimes it's good to move forward, change, and become a rapper that's true essence is writing skill, lyrical performance, instead of depending more on the concept," Keith tells me. "Everybody came to the plate, lyrically and vocally great, and it wasn't about seeing this album visuals first so much as feeling it audio first. It was an audio record. Sometimes albums come out visual albums before they're audio albums, you know? This album was about hearing and listening and hearing combinations of wordplay, flow and different beats that are a break from what's goin' on now. All the same beats are goin' out all the way U.S.A. worldwide, it was a definite refreshment in the industry."
While Keith's alluding to how Feature Magnetic is pretty guest-heavy, he's not using them for the same, comfortable collaborations you're likely to hear on most albums. Keith's guests serve as a crucial mirror for his flow, allowing him to look back and wear old costumes while keeping him from indulging in any one aesthetic. Keith says this all has to do with the fact that his guests come from all over the country, and that in bringing him together, his music remains as fresh as anything he's ever done.
[bandcamp width=100% height=120 album=504422817 size=large bgcol=ffffff linkcol=0687f5 tracklist=false artwork=small]
"The people on the record hold a prominent spot in the tradition," says Keith. "When you get Atmosphere on a song, you get Doom, Necro, Mac Mall, Sadat X, Craig G, these people have great followings within their communities, people who have no replacement. People recognize the real. The rappers that are on the project are naturally on the project, and I ended up with a Washington Senator team."
That team, and their ability to not overshadow or distract from Keith's flow but magically amplify it, are at the core of what makes Feature Magnetic such a compelling listen compared to the rest of the dreck, to the rest of the music about dudes doing dangerous shit that quickly starts to sound safe and homogenized. His nod to diplomacy is worth thinking about, too; these guests represent cities from across the country—not just the boogie-down.
"Commercial hip-hop has a cliché collab goin', you're always gonna see the most predictable collaboration on a song," says Keith. "It's not surprising. I knew they were gonna make a record together. They put that stigma of the artists who work together in a commercial record."
Keith has a term for those other rappers, and it appears early on the album—"cheesecake rappers." "A cheesecake is a commercial cake," he explains. "That's all it is."
"Some people are stuck with the old Buick Electra 225 and they don't wanna new model."
This is the closest Keith comes to throwing shade, and he's not getting specific about it. Even when he alludes to some other rappers he wanted featured on the album who he couldn't get for one reason or another, Keith sounds disappointed, but not angry. It's just one of the small ways the man subverts the diss track tropes that a rapper is expected to fall into. And when he mentions a rift in the audiences who go to shows, he's simultaneously speaking to that same level of cliche territorialism while suggesting it's no good for innovation.
"You got the backpackers, you got the trap crowd, they totally don't get along with one another," says Keith. "It's like people tryin'a get rid of gangs and tell gangs to break up, but that's a gang, too! The trap gang…the backpackers don't like them, so that's still a territory thing."
Keith also suggests that this territory game has been going on so long, it's one of the many tired tropes that keep many talented emcees mired in the past.
"A lot of old-school cats who I bypassed years [ago] when I went into the future, they still allow themselves to be handicapped and not work on new music. Some of them are stuck in an era, like the people who walk up to you and still talk about Critical Beatdown. Ey, I done like 50 albums after that, where have you been?! Some people are stuck with the old Buick Electra 225 and they don't wanna new model."
[protected-iframe id="3664f52fefc592da202884f7a64b07e4-35584880-59143305″ info="https://bandcamp.com/EmbeddedPlayer/album=3009322690/size=large/bgcol=ffffff/linkcol=0687f5/tracklist=false/artwork=small/track=441990766/transparent=true/" ]
But whether they want a new model or not, Keith's going to give it to them. And that remains the secret to his perseverance, and his unbridled creativity, after over 30 years in the game. His fascinations for the cosmos channel the same astronomical search for meaning that the ancestors of Space Jazz were searching for, while his attempts to subvert the profane with wordplay bring the listener firmly back to earth.
Keith's creative lucidity is at its best in years because he's looking to channel all of these moments precisely when they make sense, when he and his guests lock in together on a riff or a theme and the magic just happens. This is where being "future" isn't just a phrase, but an approach to thinking stylistically about elevating the game.
"Space is a reach-up to new music. You've got a lot of good rappers out now, but their music doesn't take you anywhere. People still using the same formula from the past—the snare and the kick. I guess I'm like a legislator in the spokesman world for hip-hop because I'm in a neutral zone. I make futuristic music. Kinda dimensional, kinda timeless. Each record fits everybody like a perfect shoe, so that's what's good. They didn't have to come two-way out the box."