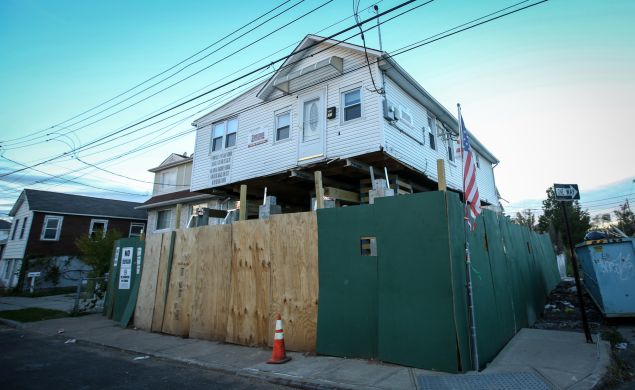 Two days before the fourth anniversary of Hurricane Sandy, the City Council unanimously passed a bill to relax permitting requirements for home demolitions—a measure the de Blasio administration says will accelerate the $2.2 billion Build It Back recovery program.
Last week, Mayor Bill de Blasio earned the ire of Council members when he announced that authorized the use of $500 million in taxpayer funds to cover a shortfall in the program former Mayor Michael Bloomberg created to help homeowners following the 2012 storm. Also enraging to the Council was the revelation that the city will not meet its deadline to complete all single-family homes by the end of the year.
The budget is now $2.2 billion to serve a total of 8,500 applicants, compared to the initial $1.7 billion budget for 22,000 applicants.
"The issue of safety is something that we take very seriously and you're on record saying that you're confident this will not compromise the safety of the residents of our neighborhoods," Councilman Mark Treyger said during a hearing this morning. "The other issue has been trying to restore a sense of confidence with regards to the timing of this process. We don't wanna come back here January, February and only two homes are demolished."
The bill will streamline processes related to demolition, unrelated open permits and violations and Builder's Pavement Plan requirements with the goal to speed up projects further while ensuring safety, which was first reported by The Wall Street Journal. Treyger, who chairs the Committee on Recovery and Resiliency, sponsored the bill at de Blasio's request.
Prior to the vote, Amy Peterson, director of the Mayor's Office of Housing Recovery and Patrick Wehle, assistant commissioner of the Department of Buildings' Office of External Affairs testified they were "confident" that the city could still guarantee safety for residents and onsite workers. They also promised to honor Treyger's request that they provide the committee with weekly updates starting in November so as to ensure progress is actually happening.
Peterson, who heads the Build It Back program, said that the city is targeting 50 out of 200 homes for demolition in November if the bill is passed and that there are 31 homes currently on hold.
She said the homeowners are ready to move out and already have places to which they can relocate. She also noted that safety professionals—who she said are present at all times—have the authority to stop work on a site if they see unpermitted activity occurring and that there are field coordinators in all five boroughs.
"November and December are very good months to do excavation, demolition, the foundation, concrete work," she said.
Staten Island Councilman Steven Matteo wondered whether the Department of Buildings foresaw the bill creating any problems for individuals who are trying to get certificates of occupancy. The permitting process can be timely, taking up to six months in some cases.
The bill will allow preexisting violations and open permits to be addressed at the back end of the process. But in order to qualify for a new certificate of occupancy, homeowners will have to address their violations and permits at some point.
"Folks will be able to enter C-of-Os sooner without having to worry about resolving these violations and open permits," Wehle assured him. "They also need to address the violations and open permits to get a certificate of occupancy. But they're not in any worse of a position at that later date than they are right now."
Queens Councilman Donovan Richards had initially asked Wehle about whether there is a timetable for resolving violations and open permits—Wehle said there's no set timetable and that every project is different depending on the scope of work involved. Peterson reiterated the November target for 50 homes but—likely remembering the mayor's announcement that the city won't meet its deadline—cautioned against picking deadlines.
"Let's not set deadlines," Richards said, laughing along with other Council members in attendance.
During the Council's monthly pre-stated meeting this afternoon, Council Speaker Melissa Mark-Viverito described the bill as a way to give homeowners in the city's seaside communities a pathway to immediately start the repairs and elevation work they need.
"Some owners of homes damaged during Hurricane Sandy have been unable to repair and rebuild because of issues with the permitting process," Mark-Viverito said. "For example, in many cases, owners cannot do repairs until they correct existing issues with their home, even if the home is going to be fully demolished and rebuilt."