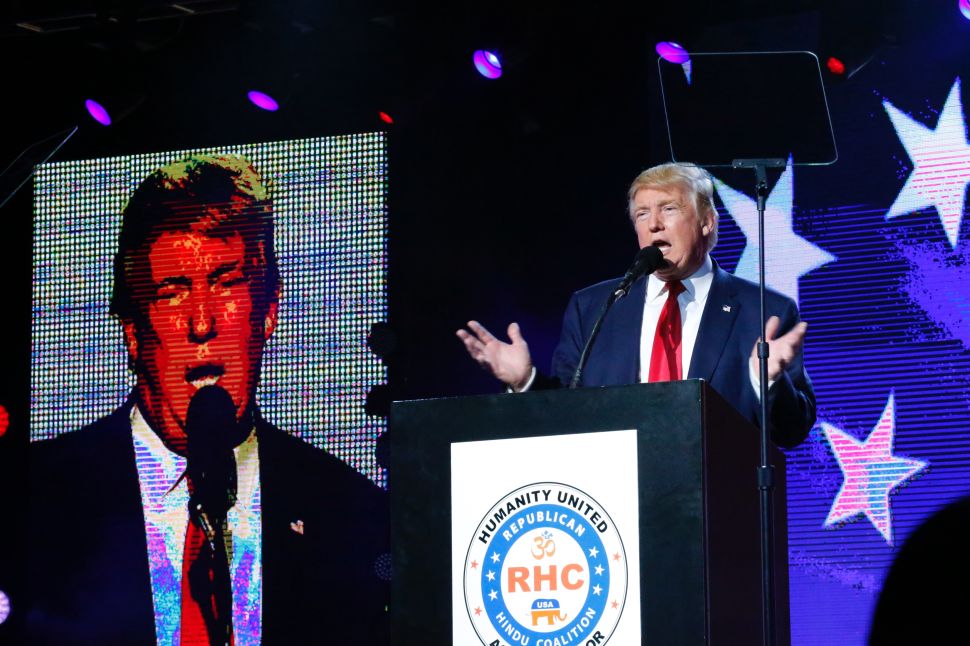 In August, I wrote a column suggesting Republicans could lose the House of Representatives. The crux of my argument was that if GOP presidential candidate Donald Trump badly loses the election, he could drag down other Republicans, including members of the House.
The Washington Post's Chris Cillizza had quoted pollster Robert Blizzard, who had written that GOP candidates don't usually run behind or ahead the top of the ticket, which could cause problems if Trump lost. Generally, those other candidates are close in polling to the top of the ticket, rather than out of the margins.
I wasn't alone in this thinking. I didn't think it was likely, since Democrats would have to flip 30 congressional seats in a year where their candidate wouldn't force a wave election, but the possibility was there. House Speaker Paul Ryan had also warned of this in August, and election forecaster FiveThirtyEight wrote about the possibility of the House flipping control back in June.
But now that same writer from FiveThirtyEight—David Wasserman—and others at the outlet are suggesting the House may stay in Republican control even if Trump loses the election by a wider margin than President Barack Obama won in 2012. To make this determination, Wasserman created a "vote swap" model using current demographic shifts.
Wasserman suggested that if one out of every five non-college degree holding whites who voted for Obama in 2012 switched to Trump, and if one out of every five non-white and college-degree holding white who voted for Mitt Romney in 2012 switched to Clinton, then Clinton would win with a higher margin than Obama did in 2012. The margin would be small, just 0.7 percentage points higher, but with 10 fewer electoral votes.
Using this model—which I understand is really complicated and relies on a lot of "what ifs"—Wasserman and company concluded that Clinton would win with fewer counties than Obama—but more congressional districts. In 2012, Obama won 693 of America's 3,100 or so counties. Wasserman predicts under his model that Clinton would win 631, which he wrote would be "the lowest share for a presidential winner in modern history." (Emphasis original.)
Under this model, Clinton would win 211 of 435 congressional districts (Obama won 209 in 2012). That's a big boost to Democrats in the House, for sure, if each of those 211 districts also voted a Democrat into the House.
See, Obama won 209 congressional districts, but Democrats only control 188 seats in the House, meaning in a lot of counties, people voted Obama for president but a Republican for the House. The same might occur with Clinton, but even if it doesn't, that still leaves Republicans with a slight majority in the lower chamber.
Wasserman expanded on his theory that Republicans would keep the House in his analysis for the Cook Political Report.
"Democrats need a 30 seat gain to retake the House, but that's very difficult to do when there are only 37 competitive races—including six already held by Democrats," Wasserman wrote. "Today, even if they won all 6 seats in Lean Democratic and all 18 seats in Toss Up, they would still need to win 11 of 13 races in Lean Republican to win the majority."
He added: "By the time the Mark Foley scandal broke in late September 2006, the hill for Democrats was much less steep."
Wasserman is just one person, but recent polling seems to suggest he's right. Looking at senate candidates in some key states, Republicans appear to be ahead even as Trump loses the state. In Ohio, for example, even when Trump was losing to Clinton in the beginning of October (new polls now show him ahead again), Sen. Rob Portman was ahead of his challenger by 16 points.
While it's possible voters might switch parties or abstain from voting for the top of the ticket, it's less likely they would do so with the top of the ticket and the House while only breaking with the senate candidate. The same goes in Florida with Sen. Marco Rubio. In Wisconsin, Sen. Ron Johnson is climbing in the polls (to a near-tie with his Democratic challenger) even though Trump is behind in the state.
The opposite also appears to be true. Trump is climbing the polls in Missouri, but Sen. Roy Blunt is falling. This could change, but it's interesting nonetheless.
Anything can happen on election day, but it's now looking like Clinton may win the White House (and still possibly the senate) but the House may remain in Republican control.
Disclosure: Donald Trump is the father-in-law of Jared Kushner, the publisher of Observer Media.