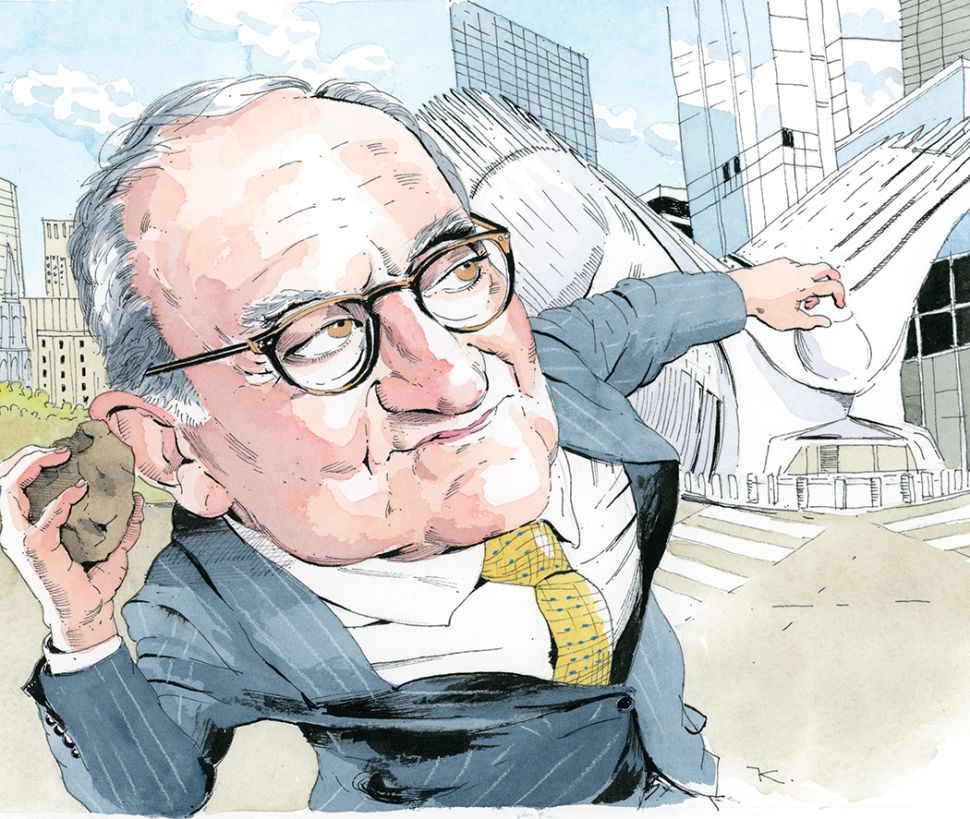 Few people deliver a stern rebuke better than Robert A.M. Stern.
Looking out the windows from Stern's office on the Far West Side of Manhattan, one can see a project under construction that almost any architect would take an interest in: Hudson Yards. How lucky, the Observer remarked. It must be nice to see the historic, ambitious development take root.
"What is there to smile about," Stern shot back. "My view of the Hudson is gone."
Dressed in an immaculate dark blue suit, with a slightly out of place Disney wristwatch ("I had a fancier watch that kept falling off"), the dean of Yale School of Architecture (until earlier this year) and architect behind many of New York's future landmarks (15 Central Park West, 1280 Fifth Avenue), is willing to savage an unworthy building or transit hub if you ask him his opinion. But Stern, 77, is also willing to gush. 
As a Brooklynite, why have you chosen not to focus your projects there? There is a boom in Downtown Brooklyn, but the quality of the buildings being built is not stellar. The market doesn't command the high rate of return that you can get in Manhattan. But still I think the buildings in most parts of Queens and in Brooklyn could be better. The local politics is such that everyone is so thrilled to see something built that they'll settle for less. That's a bad thing because when the boom ends, which it always does, or cools down, you're often left with a lot of Class B products.
Now I know you didn't want to tell us your favorite building in New York but do a couple stand out? Who could not love Grand Central Station? And especially after the Santiago Calatrava Station, who could not love it more? The Oculus is not my favorite building; I'll go on record with that.
Not worth $4 billion? It is a disappointing structure. I don't love the way it looks or the way it works. Grand Central has people coming in from all sides—it's a crossroads, it's the San Marco of New York. The Calatrava Station is linear, so if you stand there for half an hour or so you can tell when the PATH train has arrived, [passengers] come through, most people don't stop, they're on their way to something else. Then you see shops ringed around the edge; I think they're too far apart. It's a shopping mall! Grand Central has a few shops but it's a train station!
Share your thoughts on glass towers. For most people a glass box is a glass box. We've done a few glass buildings. I'm not against glass; I'm against the mindless use of it. I don't much like glass as a material for residential building, I think the wonder of residential buildings is the rhythm of windows—big windows in living rooms, smaller windows in bedrooms, bathroom windows or kitchen windows—and you can change the arrangement of the floor plans so on the lower floors you may have many smaller apartments and if you go up it gets bigger, so the window pattern changes. That's lively! When you look at buildings like that your eyes get engaged.
Speaking of materials, why'd you get so into limestone? It's an incredibly beautiful material and it's very varied. There are all different kinds of limestone from Indiana in our country and from France and Portugal. They take the light in a beautiful way and they look solid. They don't look like buildings you can open with a can opener.
You designed George Bush's presidential library in Dallas, Texas. What would you do for Donald Trump? Don't be silly! People told me, "Don't do the Bush library." He was at the nadir of his popularity. I said, "Wait a minute. First of all, he is president of the United States. Secondly, he is president of the United States for eight years. He's incredibly popular with people who don't live on Manhattan Island. You have to have his archive. He has a great foundation that is doing amazing things. He's not a fascist dictator despite what some newspapers might say." He's a wonderful person if you get to know him. I think many people come away with respect of how complicated it is to be the president of the United States. You have to think a little before you blab—something Donald has not quite caught on to yet.
Have any young architects made an impact on you? Well, I'd like to think I made an impact on younger architects.