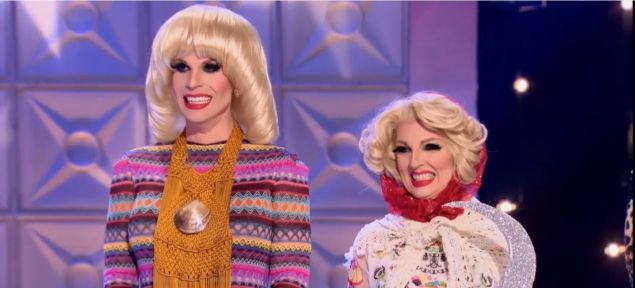 Drag Race definitely seems to lose momentum as every season draws to a close. Unlike say, Survivor, where the final elimination has a major impact on the winner, Drag Race's champion (usually) seems pretty obvious by two or three episodes from the end. Other than Violet Chachki, no one in recent years has used the last few episodes to change the trajectory of the show.
It seems pretty clear that Alaska is going to be this season's overall winner. It's hard to imagine otherwise. There have been several comments here and there from the queens where they break the fourth wall and are aware that their actions are playing to the audience at home. (Or rather, they are unaware, like Phi Phi, and flip out after.) As such, no one is going to be brazen enough to eliminate a dominant competitor. The rabid Drag Race fans would never forgive such a person, and both Roxxxy and Phi Phi had seen the dark side of Drag Race fandom.
Every year Drag Race has a makeover challenge, and it's a staple for good reason. It's a true challenge of two basic drag skills, makeup and wardrobe. It's even better when RuPaul amps up the pressure, as in having to put ultra-masculine men in drag in season four, putting older gentlemen into a dress in season two, or using little people or turning former contestants into their personal conjoined twins.
Rather than being an All Stars challenge, this year the challenge is almost a remedial version. Once again, we have an easier version of something that is the norm in the series: drag out a family member. Drag is difficult in that, at its base, it involves taking a man and giving the illusion of femininity. Making over a stranger into one's relative would be a step harder, as makeup skills would be put to the test to highlight scant similarities while downplaying genetic differences. Turning a woman into a drag queen (technically a "faux queen") is really quite simple. Getting a family member to have a family resemblance—is that even a challenge? Shake 'n Bake seems harder to execute.
There were two great laugh-out-loud moments during the show. When Katya is told her mom will be her partner, she quips, "I hate that fucking cunt!" During judging, guest judge Aubrey Plaza says, "This is the best day of my life!…I'm going to kill myself tomorrow." Other than that, the episode is extremely linear and straightforward. Frankly this is a task each and every queen probably does with their friends for fun back home.
One of the poignant moments this week is Alyssa and her sister grieving over the one-year anniversary of the passing of their mother. It's tough for a television series to show things like that without seeming exploitative, and though it's done in a tasteful manner (Tasteful? Drag?) it's unfortunate that that has to be the basic plot of this episode.
The pairs also have to do a vogue dance performance. Voguing seems like a dance style that looks effortless but due to its precision is actually quite difficult to execute correctly. We are spared the practice session as they try to learn how to dance, which feels like a cheat since surely there would be an enormous amount of missteps there. In fact when we do see the final voguing it looks as if the music we hear isn't what they're dancing to at all. All in all it comes off as pointless, to be blunt.
Then we get to the actual runway. Alyssa always looks quite fishy and her look is rarely out there, so to have her sister as a fellow giant-haired Texan is barely a stretch. They match and looks great together. Alaska and her mom, "Hawaii", have reversed black-and-white dresses and feather boas. As Michelle points out, it comes off as a bit lazy. Alaska is (alongside Detox) the most creative in terms of visuals but the outfits are so basic they are downright minimalist.
Detox has described her look as Jem and the Holograms on crack, and her and her sister come out in gaudy but fashionable matching dresses and look terrific. The star of the show is definitely Katya. Unlike the others, where the pairs are a matching set, Katya is the Russian mail order bride while her mom is the peasant grandma. It's a really clever twist on Katya's persona, and mom hams it up to a tee. Finally we get Roxxxy and her (grand)mother in matching animal prints.
Three members of the cast are up for elimination, which seems quite absurd. Detox and Katya are both amazing lip syncers, but the song is not a great one to perform. Detox is the one who earns the win and sends home…Alyssa. It's quite a ridiculous elimination, as Alaska did the worst this week and Roxxxy has done the worst throughout the season. At this point season nine can't come fast enough.