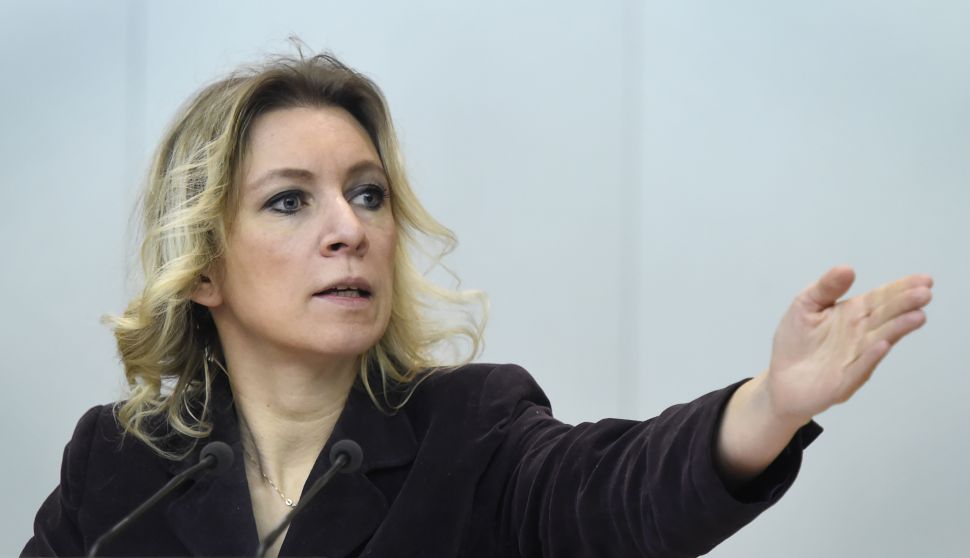 Rodrigo Duterte, the incendiary President of Philippines —the one who called Barack Obama "a son of a whore" and promised to swear at him at a proper moment—found some support for his anti-Americanism in the corridors of the Kremlin, Reuters reported.
"I met with [Russian Prime-Minister Dmitry] Medvedev," Mr. Duterte said, "I told him this is the situation. They [Americans] are giving me a hard time, they are disrespecting me, they are shameless. He [Medvedev] said, 'That is really how the Americans are. He said, 'We will help you.'"
And they will, at least as far as swearing at Barack Obama is concerned.
Russian President Putin is not Mr. Duterte and nobody ever heard him curse Mr. Obama personally.
He allows other people to let Russians and the world know how he really feels about Mr. Obama and his achievements as American President.
The official representative of the Russian Ministry for Foreign Affairs Maria Zakharova, for example, never misses an opportunity to remind her audience about the Nobel Peace Prize Mr. Obama was awarded in the beginning of his presidency – "a credit to him to do certain work as a head of the state which calls itself the leader of the free world". In her latest interview with Komsomolskaya Pravda tabloid she states that "now it's time [for US President] to report on the results, but there are no achievements. Almost everything which was stated as a goal on international arena [by Mr. Obama] turned out to be a zilch."
Her boss, Sergei Lavrov, faults Obama for being a weak leader. Last week RIA Novosti reported, when a strike by the US Air Force killed 62 Syrian troops after a ceasefire was announced, Mr. Lavrov said, "It looks like the [US] military not really follow the orders of their Commander-in-Chief."
"US President Obama has no guts to be left alone at the presence of the Russian President Putin, he always keeps bodyguards by his side," Putin's friend cellist Sergei Roldugin 'opened Obama's secret' to the journalists two weeks ago. "Do you understand? This is very strong sign," he said.
Mr. Obama's Nobel Peace Prize vis-à-vis his attitude toward Russia comes up as a topic on almost every political talk-show on Russian TV, and there was a lot of venom spat in Mr. Obama's direction.
Every Sunday night Dmitry Kiselyov, the host of the highest-rated TV program News of the Week—and Kremlin mouthpiece, according to the experts—fumes at the US President, demonstrating his open disdain for Mr. Obama and using close to profane insinuations mixed with direct insults.
Nobody respects President Barack Obama, he says, because the results of his work do not evoke respect. There is no respect from Bill Clinton, who made Barack Obama clap hands and theatrically whisper while waiting for him in his plane in Israel. There is no respect from the Congress that overruled Mr. Obama's veto and cleared the way for Americans to sue Saudi Arabia for 9-11 terrorist attacks.
"Go-go, Good-Bye, Obama!" was the background slogan of last Sunday' s program.
"And what the hell did the last words of the last UN speech of a leaving United States President mean?" he asked his viewers a week before that. "Were these words Mr. Obama's intellectual legacy or horse manure?"
"At the UN General Assembly in New York, Obama Barack sang his swan song, because for the last time he made a speech there as the US president. Frankly, there is nothing to repeat. All the same about exclusiveness of the US and about American leadership. Obama's finish was absolutely dull. Let's quote him, word by word:
"This is what I believe:  that all of us can be co-workers with God.  And our leadership, and our governments, and this United Nations should reflect this irreducible truth".

"Excuse me, what truth he is talking about?" Mr. Kiselyov made a comic face. "That US, while leading, co-works with God? Or that we all will be co-working with God only if we support the leadership by US? Or that US leadership is Godly and this is irreducible truth for everyone including UN? Something new, don' t you think? No, seriously, it's not a joking matter. These are not just you banal words, this is the finale of the final speech of the US President Obama in front of UN General Assembly. His testament of some kind. Just listen up again. –

"This is what I believe:  that all of us can be co-workers with God.  And our leadership, and our governments, and this United Nations should reflect this irreducible truth."

"Or is nothing but pure rubbish?" Mr. Putin' s mouthpiece asks Russians.
These mockeries are a big step forward by Mr. Kiselyov – if compared with what he was saying about Mr. Obama in the past. Having noticed the US President chewing anti-nicotine  gum during the D-Day ceremonies in France two years ago, Mr. Kiselyov recommended on his program that Mr. Obama should use rectal anti-nicotine candles instead. "If you don't see Obama chewing gum in the future – it means he is taking my advice," he said at the time.
The attacks on Hillary Clinton—from the Kremlin' s perspective, the most likely future US President—are no less vicious. Her age – "the second youth" – and health are mentioned constantly and compared to the ages of the Soviet General Secretaries Leonid Brezhnev and Konstantin Chernenko, even by respected politicians like Vyacheslav Nikonov, grandson of Vyachesav Molotov, Stalin' s right-hand man.
"For Russia, Hillary Clinton is the most desired candidate," says Mr. Kiselyov. "One more proof of that came when it was made known in the US that Mrs. Clinton, while visiting Moscow at some point, left behind the secret documents, and not just some documents, but a bag-full of selected secret documents. They were found by the Secret Diplomatic Service of the US that usually cleans the hotel rooms after high-positioned politicians, wiping off the fingerprints and all the traces of bio-material that could, for example, help give a medical diagnosis."
"I like this Clinton' s attitude towards secret documents," he adds. "Is this really bad for us?"
And what if she becomes pregnant, they like to joke, who would she leave in charge of America? Just recently an Italian woman in her seventh decade gave birth to a baby boy. Why do you think Hillary is not up to the task? wonders Mr. Kiselyov. "When she was asked about that possibility by Zack Galifianakis, she literally fell into a stupor and I accept the retardation of her reactions."  "When she was asked if she was going to move to Canada when Trump wins the election, Hillary was answering only after a [big] pause. If the American President will be thinking slower, I, personally, will be fine with it, and all of us will be, right?"
"Hillary will make a wonderful President – the nature itself will be on our [Russia's] side. We [Russia] are for Clinton. Now we know who we shall cheer on."
Rodrigo Duterte is planning his first visit to Moscow in 2016, hoping to form the alliance with the states that have not been happy with the US foreign policy, Reuters reports. Judging by the mood in Russian capital, one has to expect more, not less, of verbal abuses coming from him towards the US President Barack Obama when Rodrigo Duterte returns home.