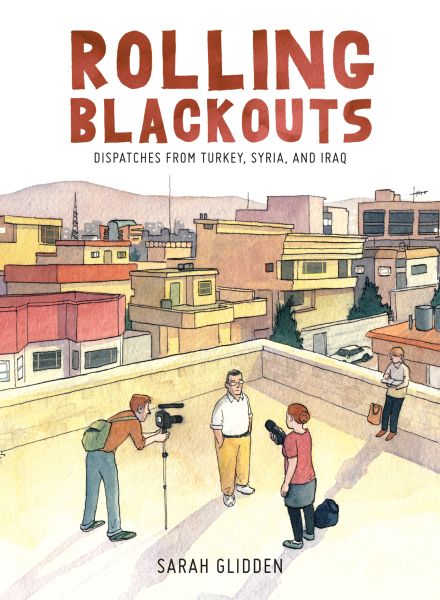 Sarah Glidden traveled to the Middle East to tell the story of how reported stories get made. It turned out that one of the most illuminating narratives she found concerned one of the people who flew over with her.
In late 2010, Glidden toured Iraq, Syria and Turkey with the founders of the Seattle Globalist in order to watch and describe how international reporting works in one of the water-colored comic books she has become known for. She made a roughly 300 page book about what she learned about being a reporter by watching two veterans of freelance international investigations at work. It's called  Rolling Blackouts, and it came out October 4 ($24.95, Drawn and Quarterly).
"I think there's a real need for kind of breaking down how journalism works and kind of people need a lot more media literacy than they have maybe," Glidden told the Observer, during a recent visit to Brooklyn, where she once lived and worked as a member of the all-star Pizza Island comics studio, until it closed its doors in 2012.
Seattle Globalist has periodically put funds together to travel abroad reporting on major international stories, which they would then sell to various media outlets, as well as publishing on their own site. It was founded by Glidden's friends Sarah Stuteville, Jessica Partnow and Alex Stonehill. The new book shows us what Glidden learned about it when she tagged along.
The book has a few throughlines, but one of them turned out to be another American, Dan O'Brien, an Iraq war veteran and childhood friend Stuteville. He traveled with them, working on his own video blogs of the trip, making sense of his own time driving caravans for the Marine Corps.
"Selfishly, I worry Dan will complicate my project," Glidden writes in her comic, after she learns he'll be coming along. Instead, he ends up giving her one story that she can use to tie together the many visits with locals in the countries visited.
Stuteville wanted to bring him along to get his reaction to the Mideast without a uniform on, but O'Brien proves reluctant to really reflect on his time as a soldier. Raised by peace activists, he surprised everyone by joining the military, yet he retained many of his progressive ideas.
"Originally the idea wasn't to do a book about their relationship. That kind of became part of the story," Glidden said.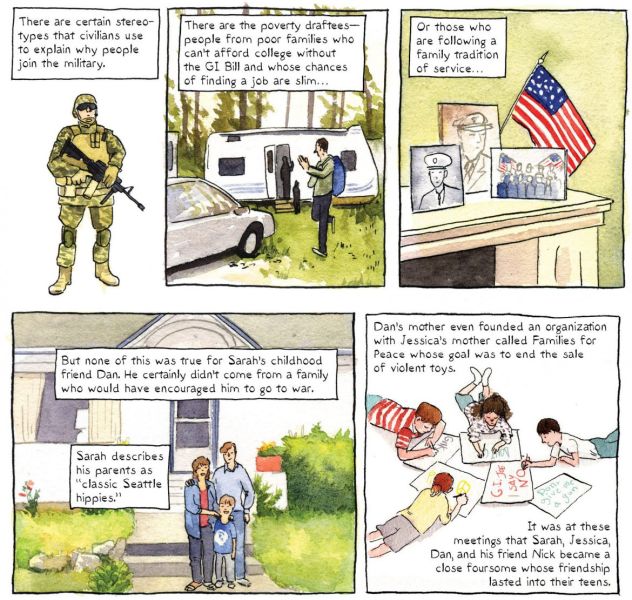 The book shows Glidden with her recorder out constantly. When she's watching Stuteville run interviews, when the team discusses their plans for the day or the week and when everyone is just kind of hanging out over beers after a long day. She shares a lot of moments where people waited to speak before another member of the party was out of earshot.
"I talked to Sarah, and said, 'You know, I am putting in things you said about your friend,'" she explained, but Stuteville told Glidden to take the story where her instincts said it should go. "She said, 'You can't worry about me and Dan.'"
'Stories are the way we make sense of a chaotic world that means nothing'
Stuteville and O'Brien went way back, but this trip put a new wrinkle into their relationship. O'Brien was still her friend, but he also became a subject. In 2011, she would publish a story about their conversations abroad in the Seattle Times. Five years later, Glidden revisited both those conversations and Stuteville's private reflections on her friends' reactions to what they saw together.
"It kept me up at night a lot, worrying about them, and worrying about my friendship, and their friendship. People. Dan's life," she said. "With journalism—any time—if you're going to portray people in a realistic way, you have to show their faults."
SEE ALSO: Peter Kuper floats like a butterfly.
When people talk about comics journalism, Glidden's name probably comes to mind for most people in the indy comics world, alongside Joe Sacco (Safe Area Gorazde, Palestine). Her last big book, How to Understand Israel in 60 Days or Less, came out in 2010, and it established her as an influential maker of non-fiction comics.
Rolling Blackouts "started out as a really simple idea to go with these journalist friends of mine and see how they do international reporting," she said.
Glidden's book, alongside Jessica Abel's Out On The Wire, mark an interesting milestone for the medium. If you're not a comics fan but you've read a literary comic, there's probably a one-in-four chance the comic you read was Scott McCloud's Understanding Comics, a comic about comics. With these books, creators have become confident enough about their medium to use it to explain other forms (Abel's book covers storytelling in audio).
Glidden's book only explains what it can show with real events. There's no pages breaking down the pieces of the crafts as an abstraction, such as: "how an interview works," "how to find good sources" or "fact-checking testimonials." Everything she wants us to see, she shows through actual events that happened on the trip.
"I wanted my journalists friends to be explaining journalism," she said. Her website links to pieces everyone else she met on the trip made from their time in the field.
"It was very easy for me to blend into the back of the room," she said. "I had the very privileged position on this trip of being the observer, and not having to be the one asking questions." This let her record everything with photos and recordings and use those to put together her narrative about how reporting works.
In a way, Rolling Blackouts is Glidden's last dispatch from her pre-journalist life. While she was reporting it, she was still hesitant to describe herself as a member of the profession.
"I feel like a journalist now," she said. "I think you need to be doing it for a certain amount of time before you can say 'Yes, I'm a journalist.' And you need to make enough mistakes."
This summer, First Look Media's The Nib hired her to profile Jill Stein, the Green Party candidate for president. It was her first time traveling on assignment. "It's a very good time to be a comics journalist," she said. We covered The Nib in Philadelphia for the Democratic National Convention.
A little after she got back from the her travels with the Globalist, she met up with Joe Sacco, the grand old man of journalist cartoonists, in Portland. She had a lot of questions for him about reporting from abroad.
"He didn't give me any answers, which is good I think. What he told me is: you need to make your own rules about this stuff," she said, "but if you're asking questions about this, then it means you are going in the right direction."
For example, Glidden found a clever visual way to represent translation. She would usually show both the source and the translator in the panel. When she depicted a quote in translation, she drew word bubbles from both the source and her translator. The reader would read the English words from the translator, but they would overlap a word bubble from the source, to show who the translator was interpreting.
Reading through the reporterly quandaries Glidden chose for her book reveals a lot about the philosophical questions about this work she's most drawn to. "Journalism is definitely uncomfortable. I'm very uncomfortable with taking somebody's real messy life and turning it into a story. That's fake. Lives aren't stories," she said.
Such as O'Brien's story. For this reader, his became more about the something he seemed to want (and never quite got) from Iraqis, than about the emotional revelation that Stuteville never quite wrested from him.
"But," Glidden added, "stories are the way we make sense of a chaotic world that means nothing."