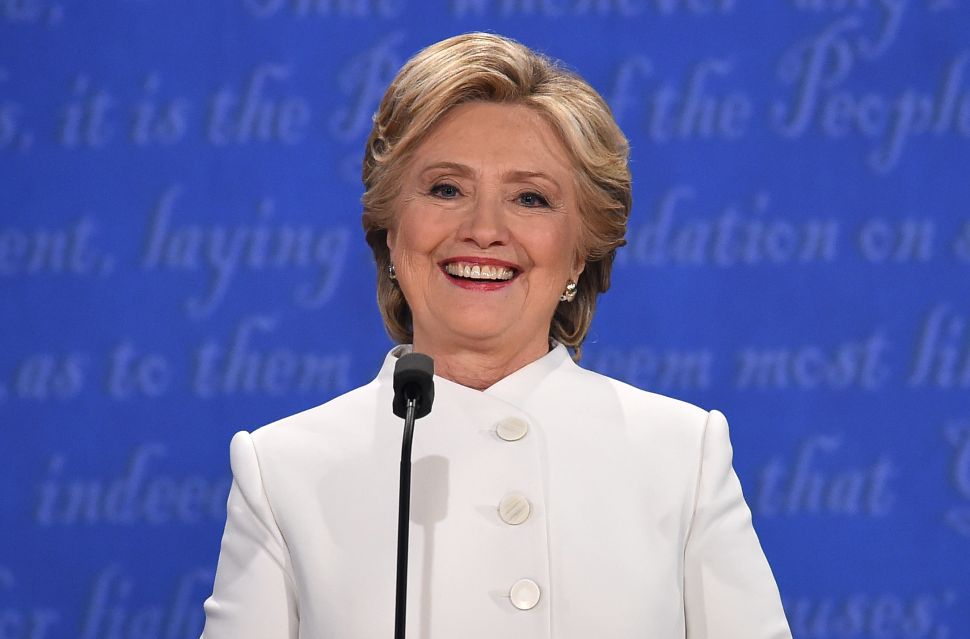 In the corridors of the capital in official Washington there is a growing sense of dread in high GOP circles that Donald Trump's candidacy for president could do grave damage to the prospects for Republicans running for the House and Senate.
There is a similar sense of foreboding among Republicans in state capitals across the nation—including Austin, Texas.
Lets begin with the data. According to the summary of all Texas presidential polling from Real Clear Politics, Trump leads Hillary Clinton by an average of 5.4 percent as of early Thursday morning. However, in the most recent polling taken in October, Clinton climbed to within four points in a poll from WFAA TV and Survey USA and to within three points in a poll from the University of Houston. In a third recent Texas poll conducted by Survey Monkey for The Washington Post, Trump's margin over Clinton was only two points.
I am a betting man and would emphasize that the odds that Clinton defeats Trump in Texas are low, while the odds that Clinton wins a big victory nationally are increasingly high. Future polling could well show that the three recent polls I cited are all flukes and that Trump's Texas margin begins to grow again. I would not bet that Hillary carries Texas unless someone gives me some serious points!
However, it is rare to find three polls that are all outliers at the same time. There is no doubt that while Trump remains ahead in Texas the recent trend is toward Clinton and against Trump. My view on polling is that there must be at least three independent polls showing an unexpected trend. In Texas that is now the case. Upcoming polling in the Lone Star state should be carefully watched to determine whether or not the trend is the friend of the Clinton campaign—and by how much.
On a national basis the trend is indeed the friend of Hillary Clinton. There is growing unease in GOP circles in Washington that Clinton's strength combined with Trump's weakness have increased the chances that Democrats regain control of the Senate and that if Clinton's margin over Trump is big on election day, Democrats have a long shot but real chance to regain control of the House of Representatives.
In Washington, Democratic Sen. Charles Schumer, who will be unanimously chosen to lead Senate Democrats after Sen. Harry Reid retires, is working furiously in a final push to elect Democrats to the Senate. Meanwhile, Republican House Speaker Paul Ryan has been moving boldly to distance himself from Trump and is sending urgent appeals to GOP donors to give money to House Republicans, who he warns could be endangered by a big Clinton victory.
Clinton has now won all three presidential debates. Trump's refusal to say he would accept the results of the election will now lead many Republicans to line up behind the peaceful transfer of power that is the heart of American democracy, and distance themselves further from Trump—which will further marginalize him with swing voters the GOP desperately needs.
In Washington and Austin, Republican and Democratic strategists are equally stunned that three recent polls all show Clinton within striking range in Texas. The Texas polling is consistent with polling in other red leaning states such as Arizona and Georgia that give Clinton a fighting chance to carry those states, which has led the Clinton campaign to finance an advertising and surrogate blitz in states the GOP had taken for granted until recently.
The Clinton campaign has allocated increasing funds for advertising in these states, including Texas. Behind the scenes Texas Democrats are astonished and ecstatic that Clinton has even an outside chance of carrying the Lone Star state. Many are privately pushing for a huge Clinton advertising buy in Hispanic media that would reach Hispanic voters in Texas and nationally—a strategy with which I strongly agree.
Similarly, behind the scenes there is now a major push by key Texas Democrats to recruit a strong Senate candidate to run against Republican Sen. Ted Cruz,and a strong candidate to oppose Gov. Greg Abbott if they run for reelection in 2018.  Cruz and Abbott could well face tough and potentially nasty primaries. The Democratic nominations to oppose them suddenly look exciting, with Clinton's surprisingly strong showing in Texas polling.
The reason Clinton has surged in Texas are similar to developments in many states. Texas women do not take kindly to Trump's views and controversies involving women. Texas Hispanics are appalled by Trump's periodic insults, labelling immigrants rapists and criminals. Young voters on the many politically engaged campuses in Texas, and many independent and swing voters, are appalled and alienated by Trump's weird conspiracy theories and refusal to promise he would respect the results of elections.
Texas Republicans face the same problems endangering Republicans across the nation. Should they defend Trump, which would alienate voters offended by his antics, or criticize Trump, which would anger his large base of support which is not nearly enough to elect him president but which Republicans ignore at their peril in GOP primaries?
In the coming days watch how much money the Clinton campaign deploys in Texas and how much money national Republicans deploy to defend their lead in Texas, and watch for some prominent Democrats in Texas suddenly considering running for statewide office in 2018.
Nobody would have predicted even a month ago that there was any serious chance for Clinton to carry Texas. She remains a long shot for sure to carry Texas but ladies and gentleman, the Lone Star state is now in play.
Disclosure: Donald Trump is the father-in-law of Jared Kushner, the publisher of Observer Media.