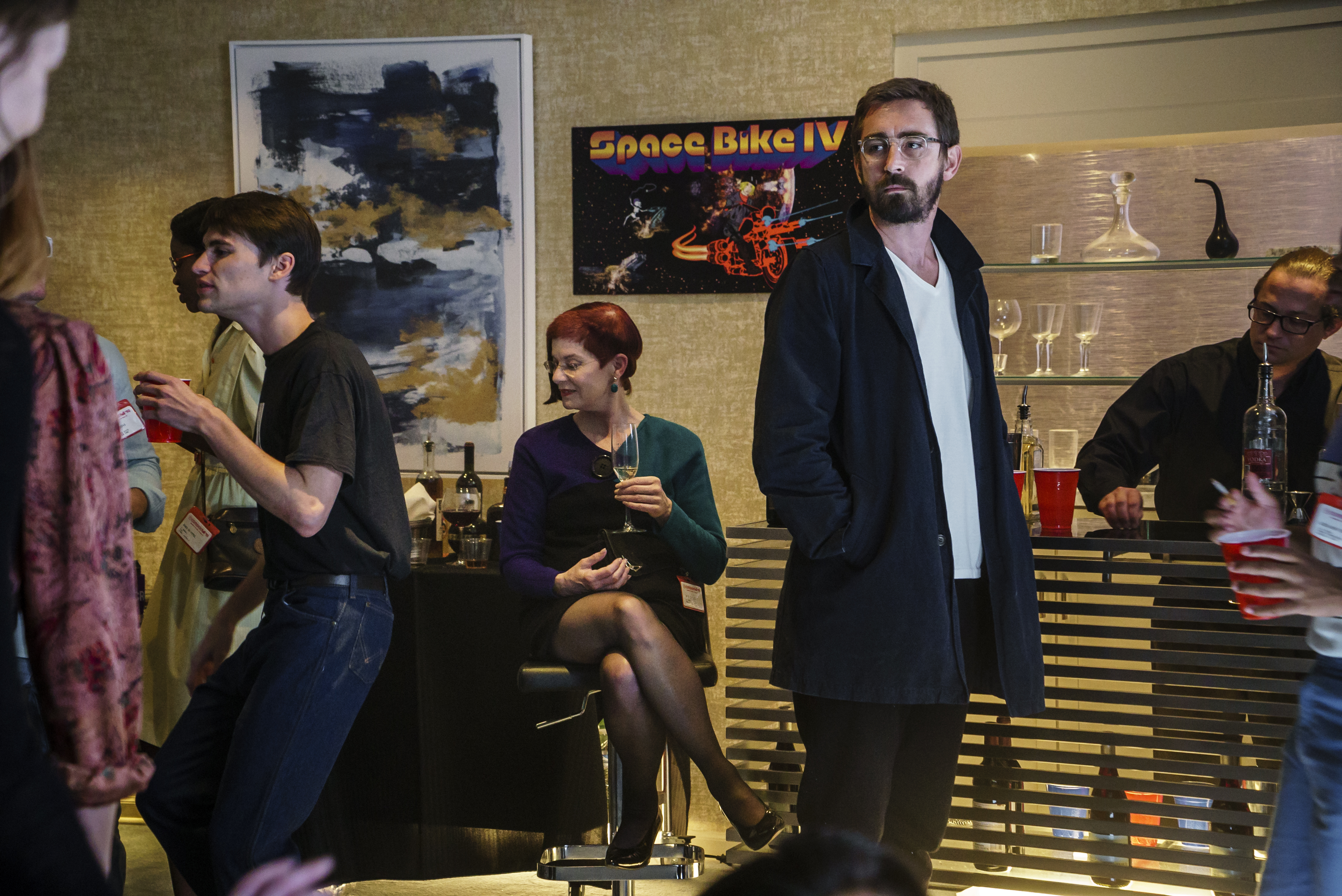 Welcome to our TV Fashion column, where TV Ate My Wardrobe's Emma Fraser discusses the trends in television apparel. This week: Halt and Catch Fire's time-jump into 1990s fashion. 
Fashion continues its love affair with all things '90s; in the penultimate episode of Halt and Catch Fire's third season a time jump lands Cameron, Donna, Joe and Gordon in a new decade, one that happens to be influencing how we dress right now. Much like on The Americans the 80s has dictated what these characters wear without it ever feeling like a theme party dedicated to this era. No need for neon, side ponytails and legwarmers with shoulder pads never hitting ridiculous heights either.
Now it is time for the 1990s to take the reins with the World Wide Web looming and they have the chance to become early purveyors of the very thing we know will become a BIG DEAL. Four years is a long time in technological advances, broken relationships and how these characters dress and the passage of time can be seen in each of these areas.
Personal style doesn't necessarily shift all that dramatically and I know I am still wearing some of the same things I wore in 2012. But cuts and silhouettes do change over time (my current Gilmore Girls first watch is a good reminder that the mid-00s gifted us with some very bad jeans) and for someone like Donna it isn't immediately obvious from her business attire that four years has passed. Donna's hair is the key indicator of change with the volume getting dialed back and it wasn't until the screen focused on the year of her Windows software that it became clear that the 90s are here.
Cameron has always had a fashion forward edge; in season one her hair was dyed blonde and cropped short and the video game character she created for Atari while out in Japan looks a whole lot like the Cam we first met. In fact when she returns to the U.S. for Comdex in Las Vegas she is greeted by this version of herself in the form of a woman dressed as her character from Space Bike IV. As she points out "we're different people," but there is a strong hint of early Cam with her short haircut, combat attire and white tee.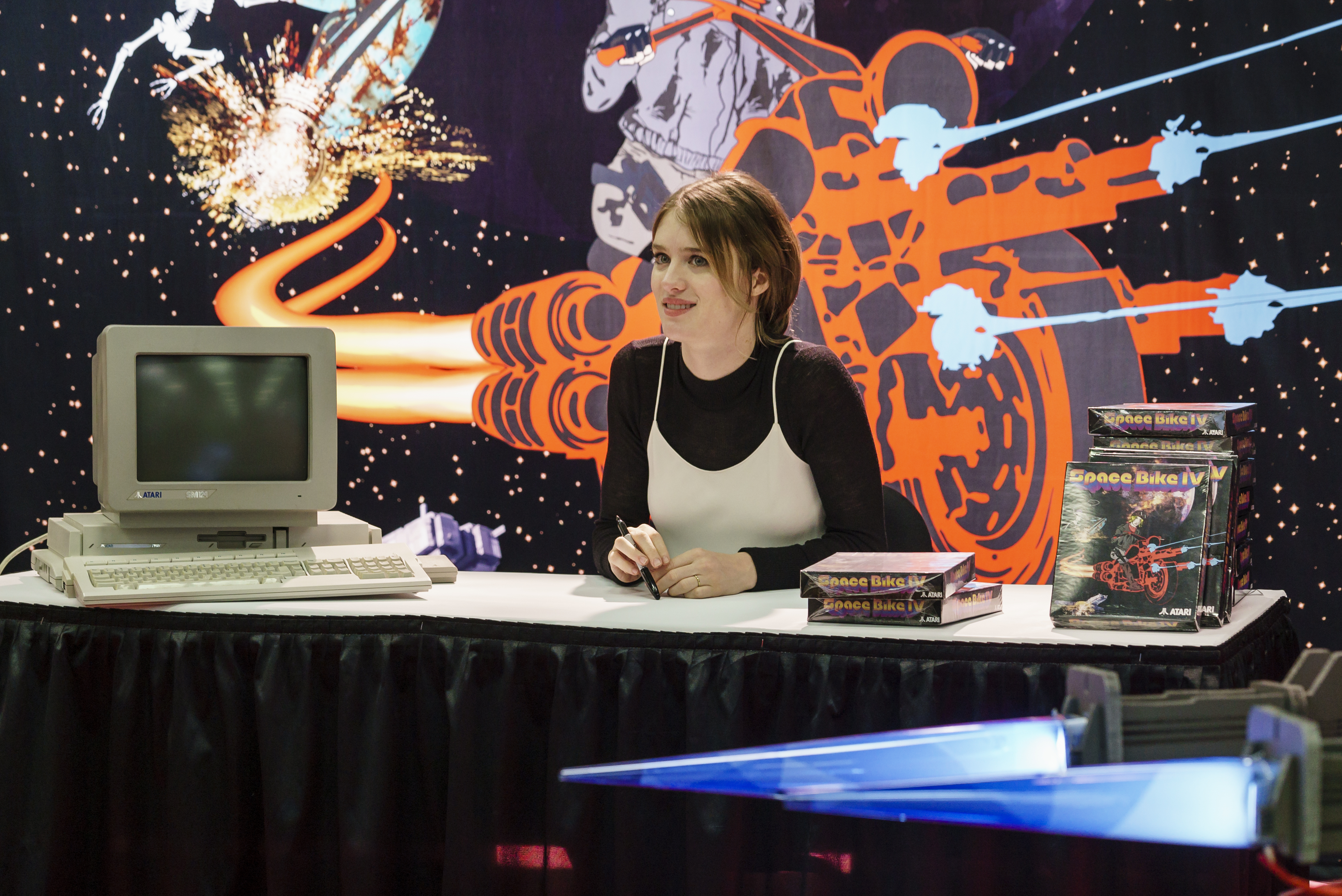 Earlier this season boxy men's suits and big buttons played a vital role in her pitching look, whereas Donna went the more traditional corporate route with her clothe; Cameron has never been one for tradition and she veered a lot more masculine in her style. Even when she opted for dresses they tended to lean toward the baggier end of the scale. Cameron's hair has taken the journey from super short and blonde to braided and brown; but this isn't to say she has shunned the menswear influence as in the finale a buttoned up shirts in both black and white with an oversized coat nod to her favorite kind of business wear.
In fact Cameron has gone from a style that is a bit of a cliché to describe edginess – so much so that the videogame character she created dresses like her younger self – to something that shows she is comfortable in her own style. When she shows up in Vegas she is wearing what could be considered to be one of the quintessential looks of the 1990s and Cam's getting to the slip dress with a polo neck underneath trend early.
One great thing about a slip dress is it can be worn with various amounts of skin on show depending if you opt for something underneath a la Cam. Or you could go full Kate Moss with a sheer metallic version sans bra. On Felicity in season 1 (which aired in 1998) at her first college party Felicity went the demure route covering up with a cardigan and pairing with Cons. This is Felicity before a season of love triangle drama, the haircut and her summer road trip with Ben. When Felicity returns to school for her sophomore year and another party poses the outfit question she again chooses a slip dress and this time after taking advice from a magazine it is all about getting attention; no cardigan or Cons necessary and this red version is every flame emoji. The slip dress works in a variety of ways and on Halt and Catch Fire it shows how at ease Cam is before she has a run in with Donna.
At COMDEX, Cameron and Joe get reacquainted through shared pain over what happened to Ryan and they reconnect through drinking, dancing and unburdening of the soul. Joe is in a playful mood and has his party glasses at the ready; briefly switching out his trendy new clear frames and this is another style that has been doing the rounds recently. As "Velouria" by the Pixies plays a euphoric high occurs and my dancing gif folder gets a new addition.
Before Donna crashes the party ruining the vibe with her attempt at making small talk as if nothing has happened and standing out in a sea of red cups bobbing up and down, there is a fleeting moment of no pretence between Cam and Joe. Their dance moves are far from polished and this is the best kind; when you come together and don't care how silly you might look. And then another specter from the past pops up to say hi and the frivolity abruptly stops, because this is the relationship that really cuts to the core on Halt and Catch Fire. It is the one where the true betrayal happened and it is devastating even after four years of no contact.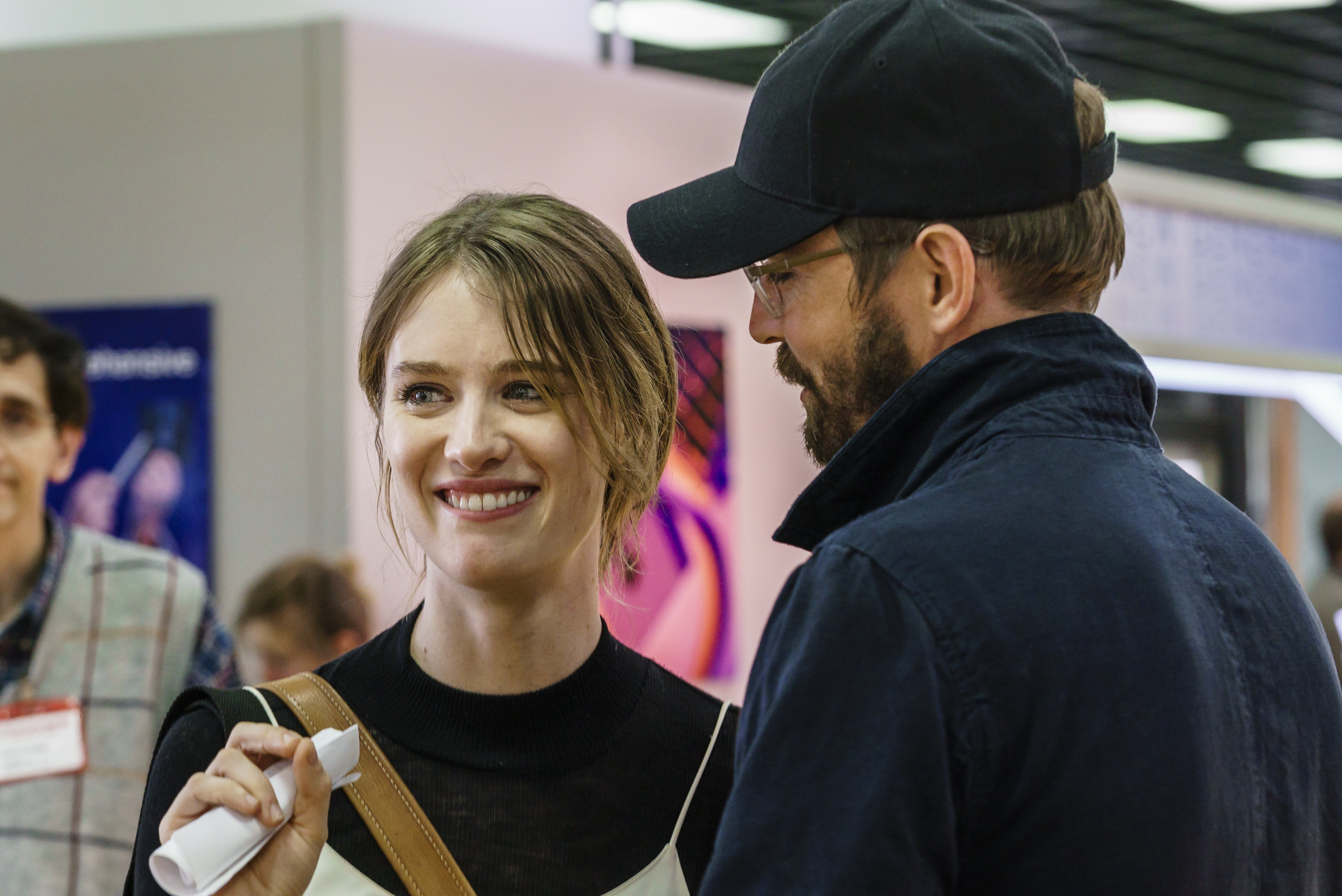 Visually everything between Cameron and Joe is striking because of the use of black and white attire; their outfits are the negative of each other. This is evident in the dance sequence, but up on the roof with the inky night sky that can never be truly dark because of the lights from the Vegas buildings it is even more arresting. Last week I discussed the use of costume mirroring to suggest character alignment on Masters of Sex and with Cam and Joe they are matching, but in reverse. They are like magnets drawn to each other in dance, clothing and pain; the chemistry is undeniable and the inevitable hook-up occurs. It is also worth noting that when Cameron goes to see Donna the following morning she is wearing just black, whereas Donna is in white; they are still at odds.
Earlier in "NIM" Joe mentions that it is "Amazing how much changes in just a few years, how much stays the same" and while he is talking about computers (and Cameron) it could also apply to fashion as these last two episodes demonstrate. Venturing into Topshop in 2016 is pretty similar to when I first started shopping there twenty years ago; except the changing rooms are no longer a communal affair (meaning I actually try stuff on now) and I tend to circle around the basics rather than plaid pants to emulate Rachel Green. Plus I feel officially old whenever I go in there.
In fact the time jump takes us into teen girl territory as Donna and Gordon's daughter Joanie is a fully fledged member of the teens on TV obstacle squad (see also in varying degrees of annoying to not annoying Kim Bauer, Dana Brody and Paige Jennings). Joanie doesn't pose a threat to the safety of the country but she will do all she can to ruin her dad's date after he won't let her go to a party. The cut of Joanie's jeans, the slogan tee (okay maybe not this slogan tee which essentially says "boy dick" on it) and her plaid shirt are all things you could easily find in Topshop or Forever 21 in 2016; adding to this idea of fashion as repetition.
When Halt and Catch Fire returns for its fourth and final season this 90s resurgence might have passed by then even as it burns so brightly now, however Cameron's slip dress look has proved that it can stand the test of time and paired with tights and ankle boots it is the ideal fall look for 2016. No need to reboot this style choice.
Emma Fraser is the creator of TV Ate My Wardrobe and spends most of her time writing about TV, fashion and costuming; Abbi and Ilana's Broad City style, the wigs on The Americans and Mindy Lahiri's pajamas are just as vital as talking about '90s, '00s teen shows. Emma has a MA in film and television, and she probably holds Angela Chase responsible for this path. You can find her on Twitter @frazbelina.