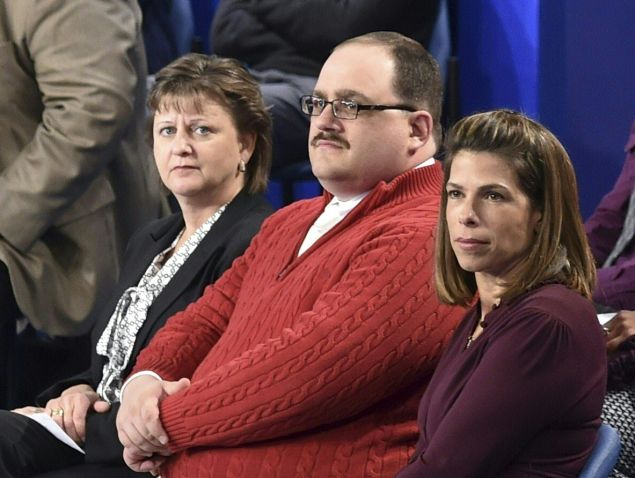 Ken Bone, the undecided voter in the red sweater, was crowned the winner of the second presidential debate and instantly shot into the public eye, even taking on meme status and inspiring a new iteration of "Netflix and chill." His 15 minutes of fame was just that, though—and he's become one of the most quintessential examples of this phenomenon. But even after his fall (which was expedited by the discovery of several unsavory Reddit comments from his past), Bone is still basking in his short-lived stardom.
Last week, he crashed a couple's wedding photo shoot in Washington D.C. He just walked up and wedged himself in between the bride and groom as they posed with their wedding party. We'll now take the opportunity to remind you this was a move recently pulled by Tom Hanks in late September.
When this occurred, Bone was wearing his signature red sweater, which we theorize he now wears all the time because that's the only way he'll be recognized.
Abby Fields, a student at nearby George Washington University, saw the wedding crashing go down while walking by the monuments on her way back to campus.
"I stopped to take a picture to tell my brother he should take his wedding photos at the Lincoln when I noticed a man, Ken Bone, interrupt and start taking pictures with [them]," she told the Observer.
He spent the next five minutes posing for different pictures, but the newlyweds didn't seem to mind.
"The wedding party thought it was hilarious and they were all laughing and taking selfies and silly wedding pictures," Fields said. "The bride wouldn't stop laughing as well and they all seemed to just have a ball."