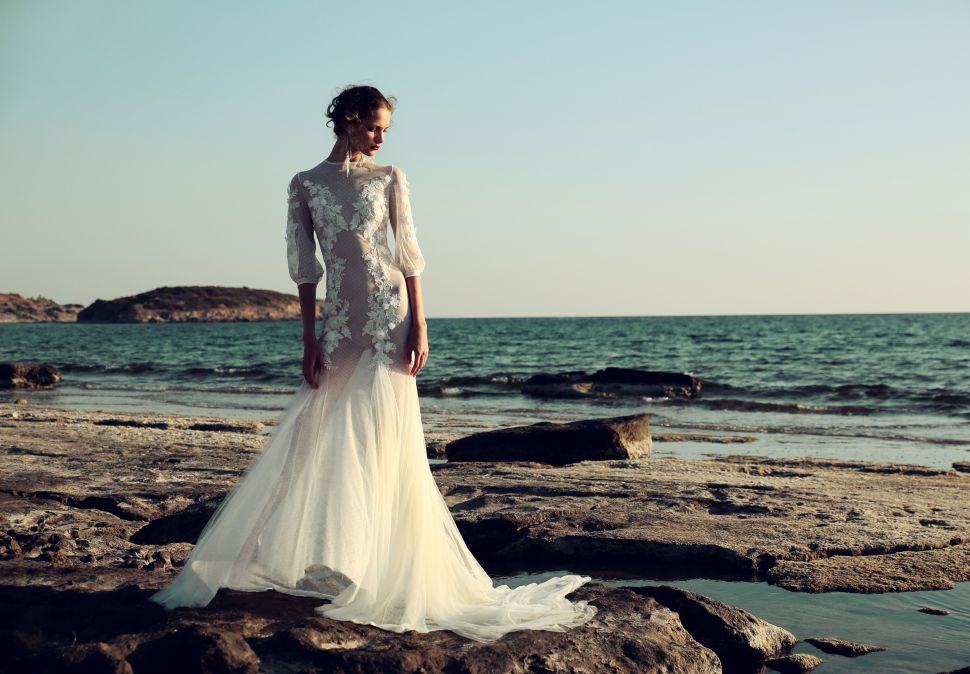 Over the last few seasons, bridal designers largely abandoned the notion of femininity and romance in favor of eyebrow-raising edginess. Those days appear to be over. The Spring 2017 bridal collections were beautiful and refreshing, with a strong showing of modern ball gowns and extraordinary lace, with hints of Victoriana at every turn. And yet there wasn't a cookie-cutter dress to be found. Instead, designers created wedding wear with miles of personality, as if each ensemble was meant for a specific client. Shoppers in search of the ultimate "me" gown need only think about what they love most in life.
You love: "Mr. Robot" and Pop Art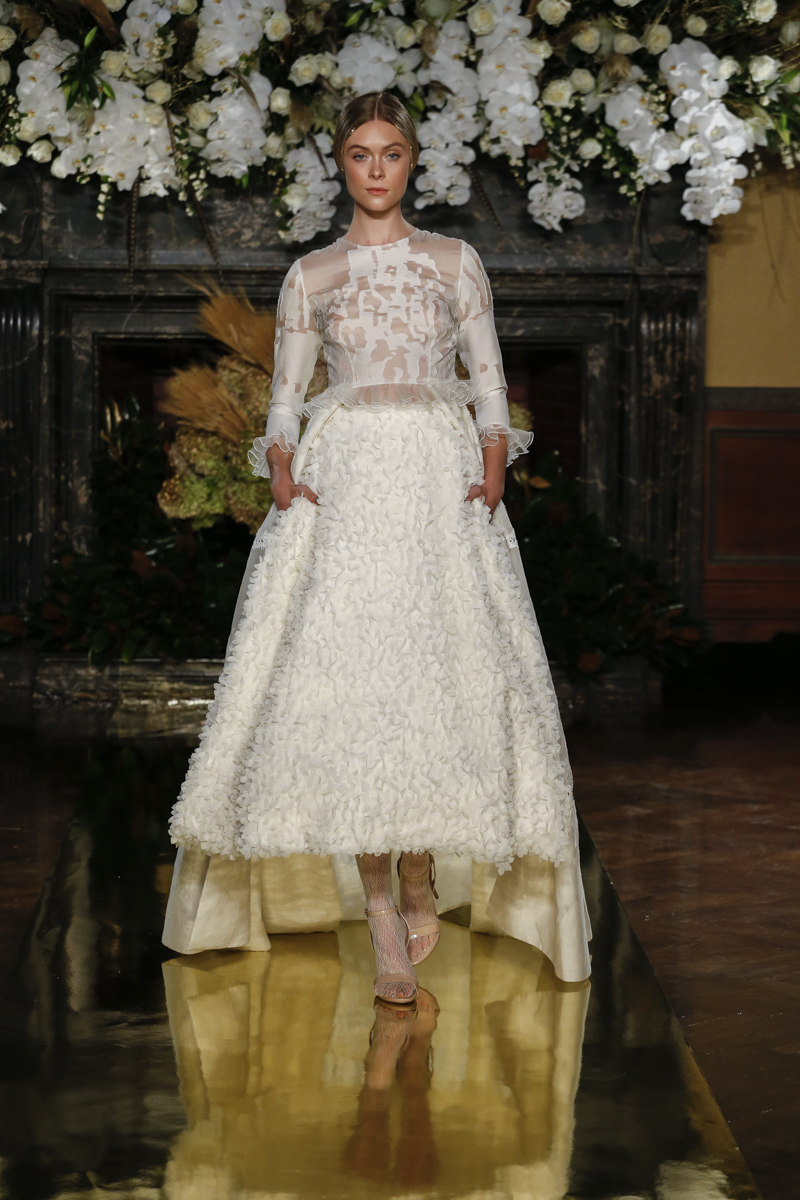 One of the most intriguing looks in Yolan Cris' first U.S. runway show, this mash-up of textures and lengths strides into new bridal territory. There's a digital edge to the burnt-organza top with its snug three-quarter length sleeve, while the high-low skirt combines three-dimensional texture with the new-again A-line silhouette. Forget the whole notion of ritual garb; these separates speak to personal style.
You love: Santorini and sunrise  
Even when plunging a neckline to the waist, Carolina Herrera couldn't do vulgar if her life depended on it. Her opulent blush gown shows a good amount of skin, but the overall impression is a sensual ode to classic Greece. A trio of slim beaded bands circle the masterfully shirred bodice, exploding into an full-blown ocean of chiffon tiers. Whether in a villa beside the Aegean or a garden in the Hamptons, it's how the romantic goddess marries.
You love: Issamu Noguchi and moonlight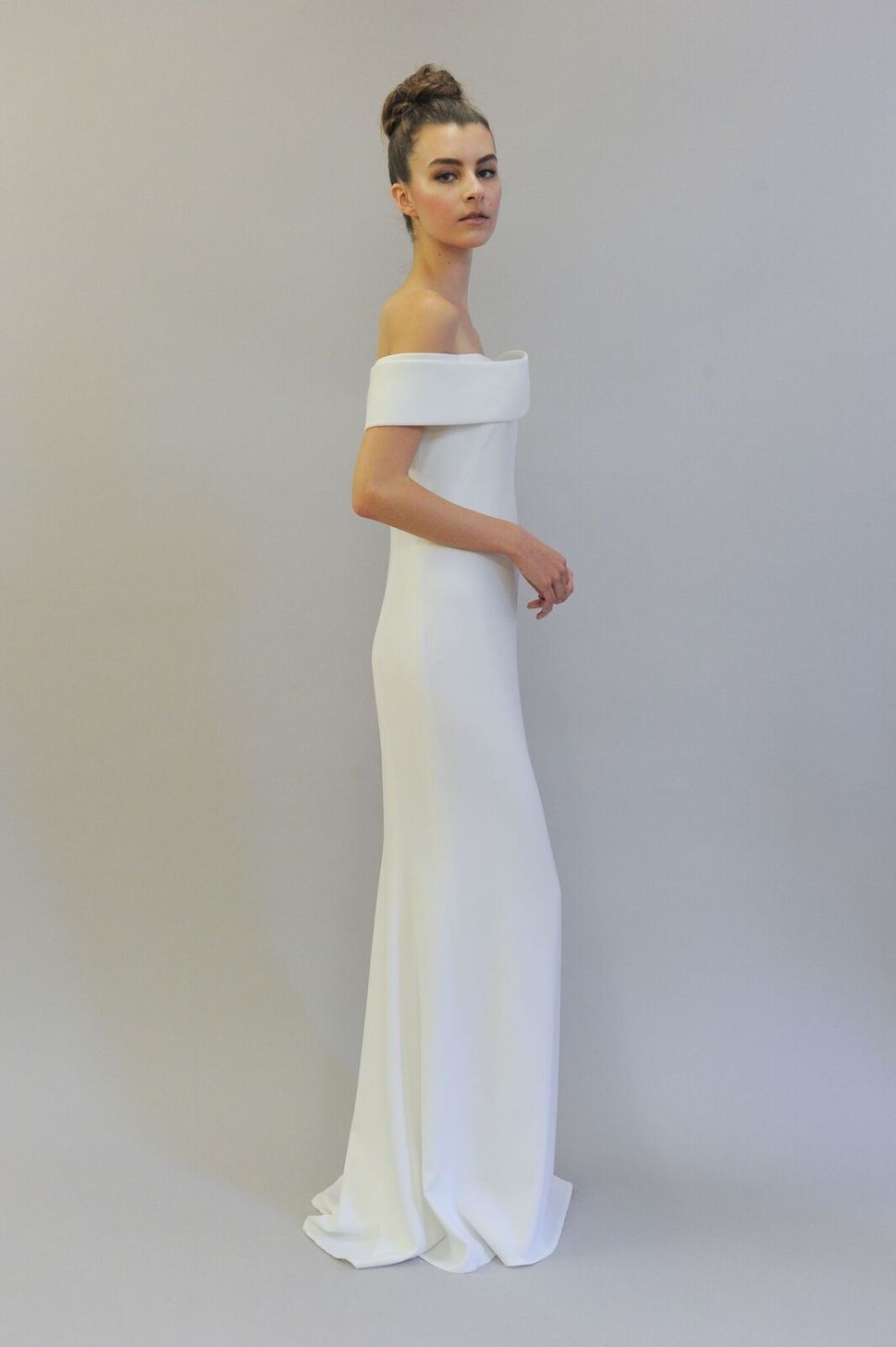 A study in romantic restraint, Austin Scarlett's minimalist frock combines simple lines with sublime structure. The strong off-the-shoulder neckline, with a single origami-like fold, offsets a slender column that puddles at the hem, for a gown that's the definition of understatement. Without a single distracting accessory, it's a sculptural gown perfect for an art gallery or a modern glass chapel.
You love: Johann Strauss and winter's first snow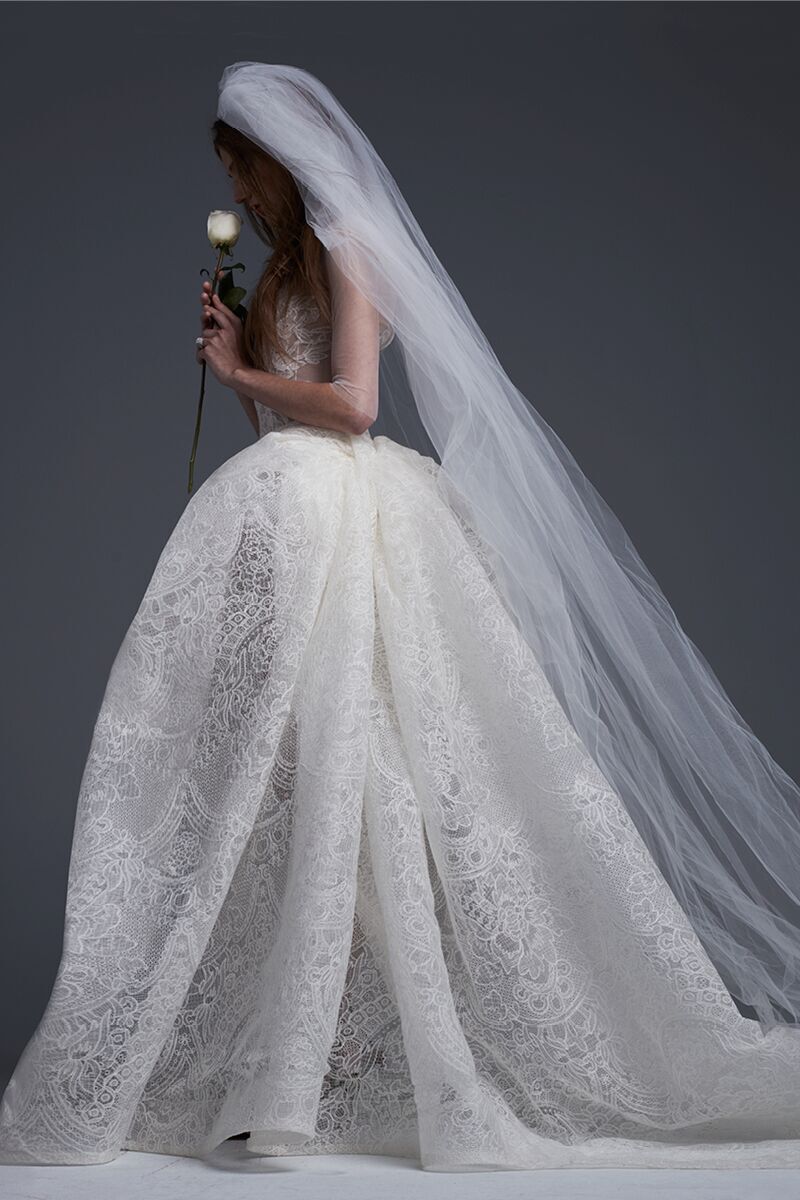 The woman who invented the modern wedding gown returns to her roots with the year's most glorious ball gown. Vera Wang employs a mixture of laces from whisper-light to graphic macramé in a confection that demands a storybook setting and an evening of waltzes. Sheer French tulle embraces the upper arms in a sly nod to the season's focus on sleeves.
You love: Daisy Buchanan and Etsy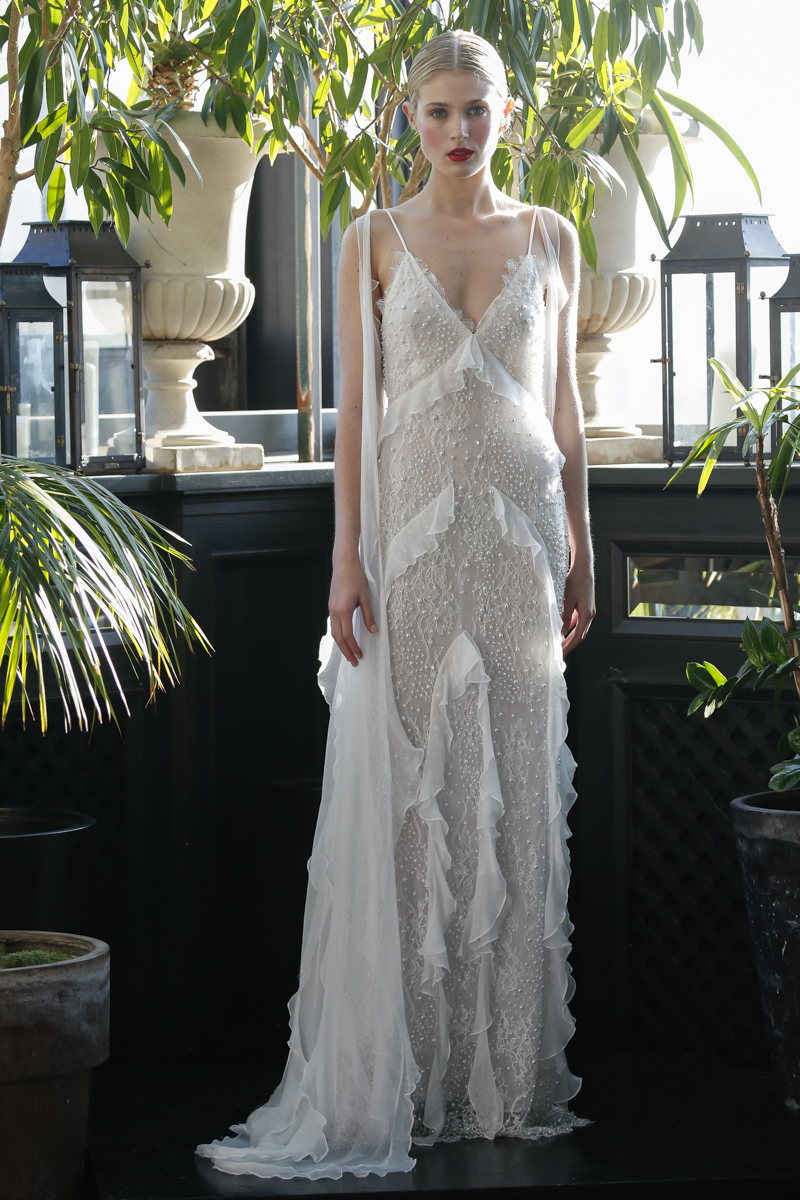 Beach-bound bohemian brides have made the slip dress an integral part of the wedding lexicon. Francesca Miranda explores the trend's softer side, embellishing her slim chiffon silhouette with hand-sewn details—relaxed ruffles and scores of pearls—for a gown that would be at home in "Gatsby." A sheer-as-air cape is draped over the shoulders and flutters into a floor-grazing train.
You love: Marilyn Monroe and Pilates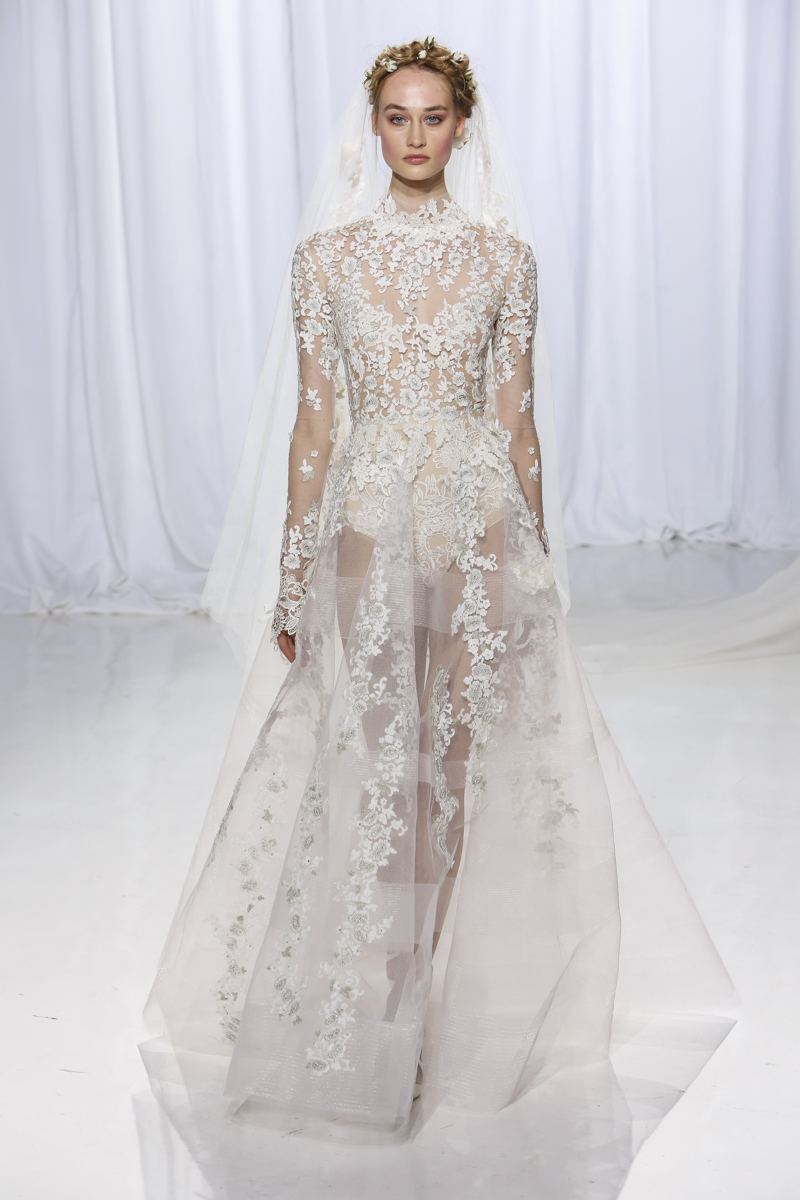 For the super-fit bride who'd feel comfortable gliding down the aisle in the altogether, Reem Acra presents a socially acceptable alternative. The Victorian-mannered neckline and wrist-grazing sleeves work in exquisite contrast with the gown's blatant sheerness; a pair of embroidered panties provides a bit of modesty. For more conventional brides, a nude liner makes this thoroughly church-worthy.
You love: San Tropez and Holly Golightly
Nowadays there's always one jumpsuit that stands out in the wedding arena, and this year's prize goes to bridal newbies Viktor & Rolf. With a dash of Riviera glamour—worn with a pair of espadrilles, this would be right at home on a Mediterranean boulevard—the smart ensemble sports tuxedo-like tailoring and a bride's best friend: pockets. The "Breakfast-at-Tiffany" lampshade veil is guaranteed to knock the stuffing out of even the most rigid mother-in-law.
Rachel Leonard was the fashion director of Brides Magazine for 18 years and is currently the Editorial Director for The Bridal Council. Rachel can be followed on Instagram @_rachelleonard. 
A marketing executive currently living in Arizona, Sally Kilbridge spent 20+ years as an editor at Brides Magazine. She indulges her love of travel and romance on her website, a definitive guide to destination weddings.