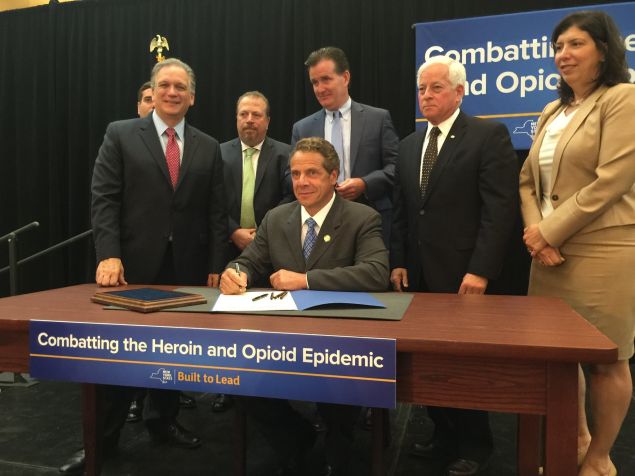 Nassau County Executive Edward Mangano's indictment on allegations of bribery last week marked the latest ally of Gov. Andrew Cuomo to face federal charges—and another pol tied to one of the governor's leading donors and handpicked head of the New York Racing Association, which operates equestrian tracks across New York.
Mangano was one of just two Republican county executives statewide to back the Democratic governor for re-election in 2014. The New York Post reported that the endorsement was part of a larger accord between the Cuomo and the Long Island Republican establishment, with whom he has long enjoyed an tight alliance, whereby the governor would decline political assistance to Democratic State Senate candidates in Nassau and Suffolk Counties. Mangano went on to feature prominently in a montage of elected officials lavishing praise on Cuomo that played before the governor's State of the State address this January.
Just weeks before, Mangano had featured almost as prominently in the corruption trial of disgraced State Senate Majority Leader Dean Skelos—in which federal prosecutors played wiretapped conversations in which the Rockville Centre legislator's son described how Mangano pushed Cuomo and his Office of Storm Recovery to funnel money into wastewater and sewage infrastructure on Long Island following 2012's Hurricane Sandy. And, with the county executive's help, contracts for that infrastructure went to a firm that employed the younger Skelos.
The common thread running through the web of investigations and accusations entangling political figures across the state has been Anthony Bonomo, another high-profile player in the Skelos trial—whose family and companies have donated heavily to both Cuomo and Mangano, at times in an unusual and apparently synchronized fashion.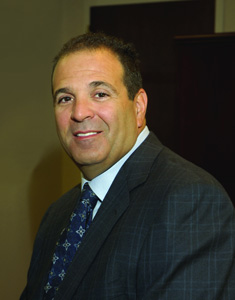 An analysis the firm Competitive Advantage Research shared with the Observer revealed that Bonomo's two firms Administration for the Professionals and Physicians Reciprocal Insurers have contributed a total of $50,000 to Mangano over the past five years. Even more interesting are the contributions the Bonomo family—himself, his wife, two daughters and one son, all residing at a single Manhasset address—has made to the county executive's campaigns, contributions that total $95,000.
Of that sum, $75,000 was received on a single day: October 8, 2013, when Bonomo and his daughters each gave Mangano matching donations of $20,000, while his wife donated $15,000. One of the daughters, Julianne, gave the money at a time when her LinkedIn resume indicates she was working as an intern. Her sister, Jaclyn, appears to have been pursuing a degree in veterinary science at Suffolk County Community College when she made the five-figure contribution.
New York State caps individual donations to candidates running for local office using a formula based on the number of registered voters in a given district, which varies slightly from year to year—but leaves the single donor ceiling around $16,000 in a Republican primary for Nassau County executive, and $48,000 for the general election.
Mangano, who has dismissed the bribery accusations against him as "nonsense," did not respond to the Observer's requests for comment. A Bonomo spokesman also declined to remark on the donations, other than to note that the Bonomos have given to many politicians. This is true.
For instance, the Bonomo daughters each gave $60,000 to Cuomo's 2014 campaign, while his son Anthony Jr. kicked in $47,500—in a cycle where the maximum individual donation to a Democrat seeking statewide office was capped at $60,800.
Once again, the bulk of these contributions occurred on the exact same day, and often in the exact same amount.
On May 12, 2012, all three Bonomo children donated $5,000 to the governor's re-election effort, while their father gave $10,000. On November 16 of that year, all three simultaneously contributed $8,000. On December 23, dad and the kids gave the governor $25,000 a piece.
The following May 13, each child contributed $7,000 to Cuomo, at the same time that their mother gave $9,000.
And the Observer found that in 2014, Jaclyn donated $5,200, the maximum individual amount, to the campaign of now-Congresswoman Kathleen Rice—Cuomo's failed favorite to succeed him as state attorney general four years earlier—and entered "Not Applicable" in the employment fields of the donor form. That exact same day, her mother (listed occupation: "homemaker") and father gave Rice the exact same contribution. Her brother matched the donation three days later.
On September 10, 2012, all three Bonomo kids forked over a combined $40,000 to the Republican National Committee, and a combined  combined $45,000 to the Romney Victory Fund.  All three failed to list any of the required employment information. On that precise date, their mom donated $25,000.
Legal experts told the Observer that state and federal regulations barring straw donations—that is, where an individual gives money to another person expressly so the recipient will give it to a political campaign, often in order to circumvent contribution limits—do not make any special allowances for family members.
"The law requiring a contribution to be made from one's own money allows no exceptions," said Jerry Goldfeder, a leading election lawyer.
Cuomo's campaign, for its part, denied knowledge of any potential impropriety.
"We follow all campaign finance laws and expect everyone else to do so as well. Any insinuation otherwise is dead wrong," said Basil Smikle, executive director of the New York State Democratic Party, speaking on behalf of the governor.
In 2012, the governor named Bonomo to a "reorganization board" intended to revamp the long-troubled New York Racing Association. Two years earlier, the State Senate had voted the businessman onto the government-controlled organization's board of directors, only eight months before a massive scandal broke out over the contract for video slot machines at the NYRA-run Aqueduct racetrack in Queens.
In 2015, Cuomo promoted Bonomo to chair of the new board. But the Manhasset mega-donor did not get to stay in the saddle for long.
Bonomo took a leave of absence from the not-for-profit corporation that June after word surfaced that his company PRI was one of several companies to provide a sinecure to Adam Skelos, son of the former State Senate Majority Leader.
In making the government's case that Dean Skelos had improperly employed his political influence to secure jobs and payments for his son, federal prosecutors depicted the cooperating Bonomo as a victim. State law, after all, could potentially crush PRI's medical malpractice insurance business—especially since the company ran a $43 million deficit in 2009.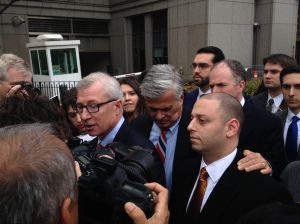 Bonomo thus, according to U.S. Attorney Preet Bharara's office, had no choice but to continue to employ and pay Adam Skelos even when he stopped going into work and physically threatened his direct supervisor.
Prosecutors portrayed Mangano as a pawn in an unconnected scheme involving water filtration company Abtech, another of Adam Skelos's beleaguered employers. With prodding from the State Senate head, the Arizona-based firm sought contracts from Nassau County for state-financed post-Sandy drainage and waste treatment infrastructure.
Unmentioned in the trial was that Bonomo's namesake son was working as an executive assistant in Cuomo's Office of Storm Recovery when the agency allocated the money to the sewer projects at the core of the corruption scheme. The office did not respond to repeated Observer inquiries about the scope of the younger Bonomo's duties at the organization during the 14 months he worked there.
To be clear, neither Bonomo nor any member of his family has faced any formal accusation of wrongdoing. He made his most recent political donation, $2,700 to Ohio Gov. John Kasich's bid to win the Republican presidential nomination, in October 2015—roughly a month before the Skelos trial began.