Crowdsourcing the fight against big companies recycling the work of independent artists is something that the internet does well.
Today on Instagram, Brooklyn-based artist Matt Leines posted a side-by-side photo of a T-shirt for sale at Target and one he's had available through RVCA for nearly a year, based on this post. His supporters and fans were vocal in their support for Leines and their denunciation of Target for selling a T-shirt distressingly similar to his.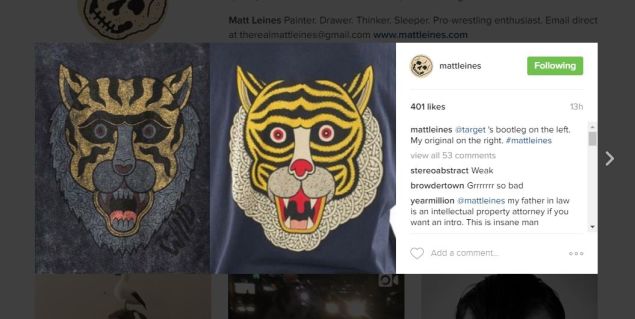 The two designs are not exactly the same, but the resemblance is striking. The shape of the skull is pretty much dead on, with minor tweaks to the snout and eyes. The big differences are in the markings on the face and the beard design.
"Hey @target look! It's the original version of the bootleg tshirt you have for sale right now," Leines wrote in a prior post today on Instagram. "@RVCA made it a few months ago. And guess what?? They actually paid me money instead of just ripping people off and selling bootleg crap like it's a parking lot of a Led Zeppelin concert in '72."
Target spokesperson Jessica Carlson wrote the Observer in an email, "Target has a deep appreciation for design, and it has always been our policy to respect the intellectual property rights of others. We are aware of this issue and are communicating with the designer and the vendor."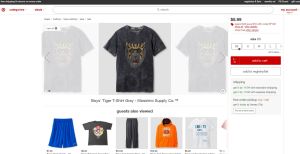 Mossimo is owned by Iconix Brand Group, which did not reply to repeated requests for comment.
Leines has been making different versions of the tiger head design for some time. Here's a drawing he had for sale on his website from 2015. A similar tiger can be seen in a post about a 2011 show he did in Philadelphia.
Some could argue that this is stealing and others could argue that all creative work derives from past work, but the court of public opinion is tough on large companies who use the same basic concept from one creator on their own products. For example, in 2010 the social network Metafilter busted various creators for copying Jess Fink's popular "Cookie Loves Milk" T-shirt for sale on Threadless. It has been borrowed any number of times, by brands big and small.