Lines of people ride a maze of escalators through the popcorn-soaked air to the fourth floor of AMC Empire 25 theatre, where they are greeted with lamb kibbeh, tripe tacos, coconut curry laksa and truffle Portobello mushroom mousse with sweet translucent whisky jelly. It's the 10th annual Food Film Festival of New York, a sensory explosion held in the heart of blinding lights and flashy billboards screaming for attention in Times Square.
It's opening night, and people flood into the theatre, settling into the cushy red seats with beer, wine and lemonade in hand from the open bar. Festival director George Motz takes the stage, his neon yellow pants glowing in the dark auditorium in lieu of a spotlight. "This is a multisensory event like no other," he explains. "It's set up like a meal in your seat." It's clear that his voice needs no microphone, but he booms into one anyway.
As the 12 short films are playing, the food appearing on screen will also appear in real-life so that viewers can taste what they are watching. Think of it as a fiesta for the senses, like smell-o-vision, or better yet, taste-o-vision. The future is now.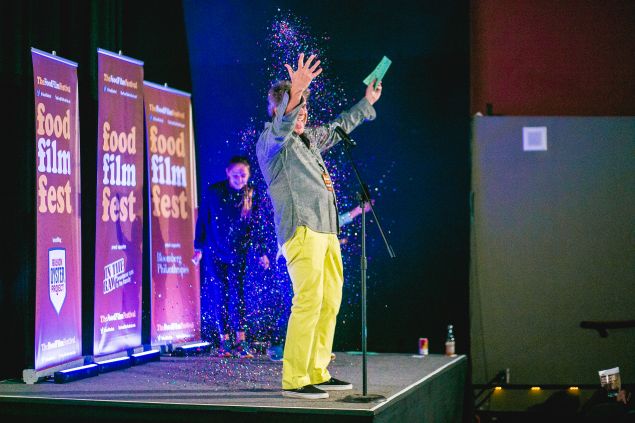 The lights dim and the films begin to roll one after the other. The films are short—all under five minutes. There's no time for distractions or bathroom breaks—all eyes are on the screen. People tap their feet along to the beat of How to Prepare for a Midwinter Soup Frenzy directed by Simon H. Friedman, a tongue-in-cheek instructional video with an accompanying song on how to make soup. The song is so catchy you can download it as your ringtone.
The film narrator quips, "Well sure, you can have tomatoes from a can…but if you eat soup in my house, you won't be eating any of that crap. You'll be getting fresh hothouse tomatoes…because without the fresh hothouse tomatoes, the soup is gonna taste like shit."
The audience is in stitches.
At the end of the film, a tray full of Beluga lentil and red bean soup freshly cooked by Night Kitchen appears at the end of each aisle. Take one and pass it down. There are no spoons, so the audience slurps it straight from the paper cups. The soup is promptly scarfed down.
The festival is fast-paced, film after film curated with whimsical meals to bring the clips to life. There is no shortage of food porn. There are close-ups of chunks of pork frying in sizzling oil in Fried Pig Tails and Corn, directed by David Sherwin, accompanied by, what else, slabs of fatty crunchy pig tails and a hunk of buttery grilled corn from The Brooklyn Star for audience members to munch on. Other films are more in your face with innuendo, like Thomas Barnes' Pork Chop, a narrative film about a woman in Hong Kong with a secret raw pork fetish, and Charles Grantham's Fondue, a film starring a mustachioed Larry Cauldwell, "the world's first food porn star," as he rips off his shirt while a woman seductively pours gooey, slowly oozing cheese fondue over his body. "I keep forgetting my kids are here," Motz laughs in between screenings.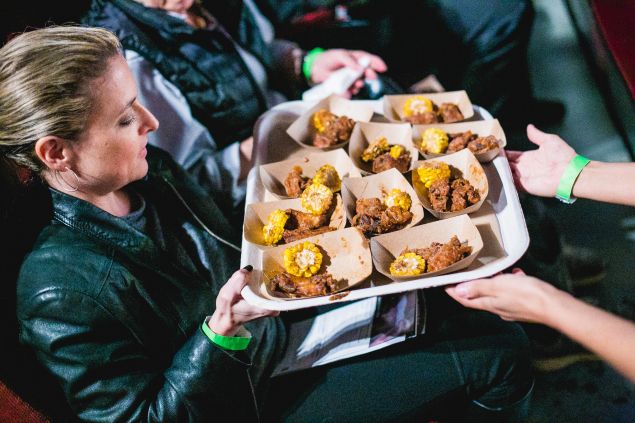 Cauldwell, introduced as a "self-proclaimed cross between Martha Stewart and Ron Jeremy" and dressed in an American flag onesie and dark sunglasses, jumps up to the stage and grabs hold of the microphone. "I want to say thank you to myself because if it wasn't for me, that film wouldn't exist." Chuckles echo from the crowd between bites of Night Kitchen's bread cubes drizzled, but regrettably not smothered, in melted cheese (you can never have enough cheese).
Mexican Cuisine by director Fran Guijaro marks the halfway point of the evening, swelling with a dramatic score as it tells of the influence the Latino community of California has on the restaurant kitchens of America. Pieces of goat in a hearty mole sauce topped with fresh cilantro cooked by Chef Angie Mar of The Beatrice Inn are passed around to taste. "In my kitchen, we really talk about soul and passion and how we put that in food," says Barnes passionately. "The first time I watched Mexican Cuisine, I cried. I see the pride on my chefs' faces." She turns to two of her chefs standing beside her as her voice breaks. "Thank you for sharing your culture with me."
Vegetable: Friend or Foe? serves as comic relief, using campy animations to reveal the delinquency of the tomato, describing it as "man's greatest predator" and "hell's own apples." The film culminates with the murder of the "red bastards" to bake them into a tomato cake, "the delicious taste of dead tomatoes." Right on cue, handheld tomato cakes from Dirt Candy are marched into the theatre, and they are the best concoction of the night—a soft cake with a deep smoky flavor wrapped with a thin and salty dehydrated tomato paper reminiscent of a jammy stripe of fruit leather.
"My wife owns Dirt Candy. She does everything, I just make fun of it," says the film's director Grady Hendrix, husband of chef Amanda Cohen, as the audience cackles. "We're a vegetable restaurant, not a vegetarian restaurant. We hatefully murder and torture vegetables every single day."
Ending on a sweet note, Bruce Becker of Flushing ice cream parlor Max & Mina's joins Motz in front of the theatre after a screening of Kris Brearton's Ice Cream Picasso, which Becker stars in. "Only Bruce Becker can show me up in the clothes department," jokes Motz, his yellow pants clashing against Becker's corduroy salmon pink blazer.
There's nothing like breakfast for desert. "Let's all raise our spoons in the air," urges Becker as Max & Mina's little cups of maple syrup ice cream speckled with pancake bits and chocolate chips float down the aisles, cutlery included this time. Doughnuts spin and twirl on screen in Scott Pitts' Benevolent Baker: Mini Top Pot Donut as Top Pot Doughnuts' sugary sweet glazed doughnuts sprinkled with pistachios parade into the theatre to finish off the night.
The after party offers even more bewildering culinary creations—fried Spamstrami sandwiches, honeynut fritters and turtle burgers, a turkey patty molded into the shape of a turtle with hot dog extremities and a bacon shell. Motz weaves in and out of the crowds, making his way to the outdoor patio overlooking towering buildings with rows of windows lit up like gumdrops in the sky. Film directors and chefs stop to shake his hand on the way to the spread of deep dark chocolate brownies and pancake ice cream on tables scattered in bits and bobs of confetti and glitter and outlined in fairy lights.
People pile into an elevator one after the other at the end of the night, clutching red "Make Burgers Great Again" baseball hats and goodie bags filled with caramel cheddar kettle corn. There are 18 people packed in like a clown car until one woman in the very back pushes her way out. "Let me out, this isn't right," she says to the young elevator attendant. "You're over capacity!"
He pushes his finger on the door close button. "Not anymore!" he smirks as she disappears in between the sliding metal doors with the smell of popcorn lingering behind.