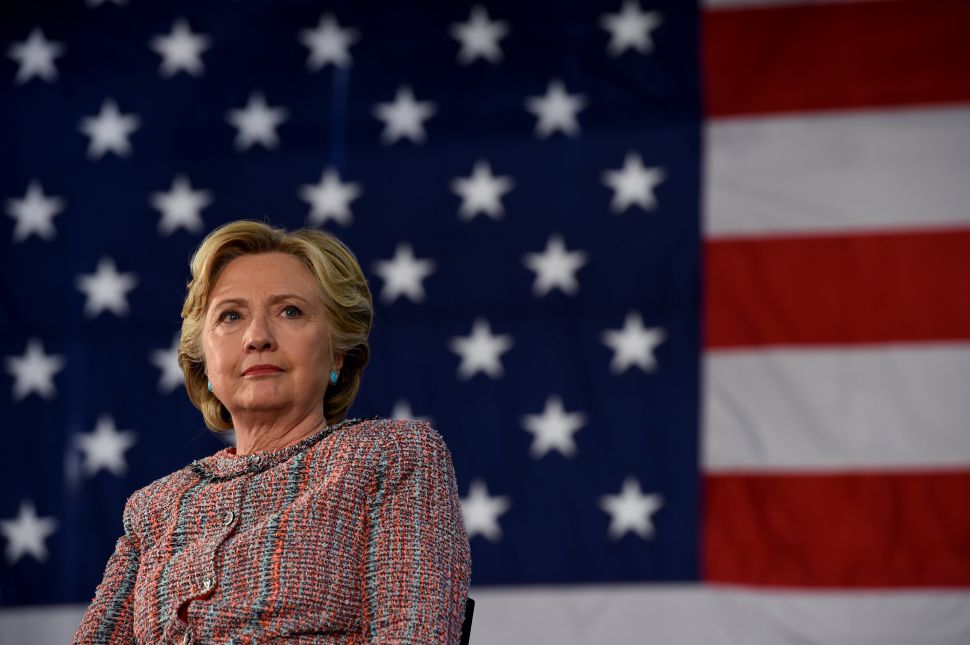 Newly released emails from Wikileaks show that Hillary Clinton's campaign taught staffers how to coordinate with Super PACs without ending up in jail.
One of Team Clinton's top attorneys, Marc Elias, gave campaign officials two examples of how to communicate with the pro-Clinton Super PAC Priorities USA—one legal, one not.
The first example, which Elias said was an acceptable communication, stated: "Donor A works in financial services and has been a long-time contributor. I think she'd be willing to do six figures for Priorities."
The second example, which was unacceptable according to Elias, was more direct: "I want you to call Donor A and ask for $250,000."
The difference is subtle, but apparently acceptable, at least to Clinton's lawyer. It doesn't matter that the intent for both asks is the same (to get money from a particular person), all that apparently matters to the Federal Elections Commissions is how directly the campaign words their ask.
Attorneys from the D.C. law firm Perkins Coie also told Clinton staffers what to say when talking to donors about the Super PAC.
"From time to time, Priorities might request [Hillary for America] to speak to prospective donors about Priorities—either before or after Priorities' contact with the donor," the attorneys wrote.
They added: "When HFA staff or consultants speak to these prospective donors about Priorities, they must include a hard money ask (for $5,000 or less) during the course of the conversation. We have provided you with scripts and talking points for such conversations."
These attorneys also gave Clinton staffers advice on how to thank people who donated to the Super PAC without crossing legal lines. The attorneys said it was okay to thank donors, but they could not ask for additional money in the note.
The lawyers also warned staffers at the Super PAC not to "tell prospective donors that they are soliciting funds on behalf of or at the request, suggestion, or direction of the Secretary, an HFA staffer, or any HFA campaign agent."
The Hill's Jonathan Swan wrote that the emails would "reinforce the view that the Democratic nominee's campaign and super PAC are, for practical purposes, one and the same."
During the primaries, Clinton denied any coordination between her campaign and the Super PAC, as her primary opponent, Bernie Sanders, railed against dark money in campaigns. During a debate on PBS, moderator Judy Woodruff asked Clinton about the amount of money she had received wealthy from Democratic backers George Soros and Donald Sussman. The two had given around $10 million to Priorities USA, since donations to Super PACs are unlimited.
"You have said that there's no quid pro quo involved. Is that also true of the donations that wealthy Republicans give to Republican candidates, contributors including the Koch Brothers?" Woodruff asked.
Clinton responded: "I can't speak for the Koch Brothers, you're referring to a Super PAC that we don't coordinate with, that was set up to support President Obama, that has now decided that they want to support me."
But according to these new emails, Clinton's campaign absolutely coordinated with that Super PAC.
Woodruff would again press Clinton about whether there's a difference between Republican and Democratic donors—as Democrats love to talk about that evil Koch money. Sanders interjected, denouncing Super PACS, which he often did and which is part of what propelled him so far in the primary.
"What we are talking about in reality is a corrupt campaign finance system—that's what we're talking about," Sanders said. "We have to be honest about it. It is undermining American democracy."
I wonder if Sanders is currently screaming at the new Wikileaks revelations about Clinton's coordination with the Super PAC.
These new emails show just how closely Clinton's campaign planned to work with a pro-Clinton Super PAC, but the blurred relations between campaigns and Super PACs has long been established for the 2016 cycle.
In May, The New York Times wrote about Correct the Record, another pro-Clinton Super PAC that was planning to work directly with the Clinton campaign. The Washington Post followed up by reporting the Super PAC would use a little-known exemption that would allow it to post free content online and avoid regulation. So if something was posted online for free, the Super PAC would be able to coordinate with the Clinton campaign, because it wouldn't count as a campaign expenditure.
And, as recently as last week, a watchdog group reported that Clinton's campaign was violating campaign finance rules by ignoring a restriction against coordinating with Super PACs. The Intercept reported that Correct the Record gave Clinton surrogates "media training and hired consultants to book their television appearances; deployed trackers to follow Clinton's primary opponents; conducted opposition research; and much, much more."
To be fair, Donald Trump's Super PAC was also skirting FEC rules, but so far there is not direct evidence of campaign lawyers giving advice on how to avoid prosecution.
It's things like this that continue to earn Clinton the stamp of being "untrustworthy."
Disclosure: Donald Trump is the father-in-law of Jared Kushner, the publisher of Observer Media.