Brown's book also explains why certain Nintendo cartridges were weirdly shaped and black there for a while. Detail photographed from the book.
Brady Dale for Observer
A visitor plays the video game Tetris (1984) during an exhibition preview featuring 14 video games acquired by The Museum of Modern Art (MoMA) in New York, March 1, 2013.
EMMANUEL DUNAND/AFP/Getty Images
An Israeli cyclist plays against foreign visitors in a giant Tetris tournament illuminating the windows of the facade of the Tel Aviv-Yafo Municipality building on August 30, 2016.
JACK GUEZ/AFP/Getty Images
The Russian creator of the video game Tetris, Alexey Pajitnov.
FRANCOIS LO PRESTI/AFP/Getty Images
From a 2010 rehearsal of a ballet inspired by Tetris in Bordeaux, France.
PIERRE ANDRIEU/AFP/Getty
One of the best aspects of Brown's book is hand rendered videogame graphics. Detail photographed from the book.
Brady Dale for Observer
When I was a little kid, my family got me an Atari console. I played with it quite a bit for a while, including wasting hours trying to make sense of E.T., the worst game of all time. Eventually, Atari games just kind of fizzled.  That's how I remember it anyway. Later, the Nintendo Entertainment System would come along, and I would beg my family to get me one. My mom told me it would be a passing fad, just like Atari.
Not so much. Videogames have grown as a steadily more important part of our culture ever since, so that it generates $100 billion annually. In those early days of the original 8-bit system, I would spend basically all of my free time playing the games. I have a dark secret tho: I wasn't good. I was bad.
When my family finally got me an NES, it turned out I had no talent. I never beat Metroid. I never beat Super Mario Bros. I never beat Mega-Man. I never even beat the two games I liked best, River City Ransom and Bionic Commando. What I do remember is that desperate feeling of being so close to a final boss but low on life and resources and knowing that if you didn't make it through, "all that work would be lost."
It begged the question: if I didn't like the work itself, why did I keep coming back to do more of it?
That's a question at the heart of Box Brown's new non-fiction comic, Tetris: The Games People Play ($19.99, First Second Books). Part history of the comic and part anthropological meditation, the book carries readers though the tinkering origins of the game in a Soviet-era government office to global ubiquity. 

If you already know what Tetris is, skip this paragraph: Tetris is a game in which shapes made from four square blocks drop from the top of the screen. Your goal is to guide them in such a way that every single square in a row is filled. When they are, that row disappears. Rows start to stack up as you fail and shapes fall faster and faster, making it more difficult to determine the optimal place to drop shapes. Eliminating four rows in one shot by placing the straight shape into an empty slot is deeply satisfying.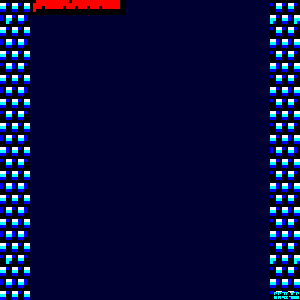 Brown doesn't appear to have set out to do a moment-to-moment history of Tetris nor a biography of its creator. The priority in this project is more to write about the evolution of games up to the present as a way of exploring the particular itch games scratch. A subtext of much of Brown's story is the complexity of games made possible by the day's technology. It went from shaped animal knuckles, to playing cards, to simple electronics and on to ever more complex computers.
SEE ALSO: Sarah Glidden's comic about journalism's discomforts.
The book leads one to thinking how ever cheaper robotics and virtual reality should bring new kinds of games that we couldn't have previously imagined.
Brown published Andre the Giant: Life and Legend with First Second in 2014, to wide acclaim. It humanizes a pop culture figure who, for a time, towered outside of the subculture that made him a legend. Similarly, Tetris is one of those breakout games. Even if you don't like video games, you have probably played Tetris. 
Disclosure: I know Brown from hanging around the Philadelphia comics scene back in 2012, when he was releasing bits and pieces of his book about the wrestler as minis at comics shows. I met him through the Philly Comix Jam, a monthly gathering of the city's finest slingers of ink.
At the end of the day, the story of Tetris is one that overwhelmingly takes place at the microscopic level, where machines make extremely fast calculations that make computer games work. It's also at its heart a story about men punching keys in offices (with a surprising amount of intercontinental flights). You would never think about it that way (if I hadn't told you to), thanks to Brown's inventive visual storytelling.
This is a comic about business, videogames and (believe it or not) Cold War geopolitics. It should appeal to anyone who likes innovation, history and new perspectives on the stuff people get moved to make.
This is a subject that has inspired a lot of great reporting, so in case you check it out and it leaves you hungry for more, here's a few other takes on pieces of this intriguing story: