Last week, the Rock and Roll Hall of Fame announced 19 nominees for its class of 2017. Five of these nominees will be inducted into the Hall.
I am certain many of the Hall's members and voters mean well, and I have heard nice things about their museum (which I have not visited). But the Hall, as it exists now, is so deeply flawed that it risks not only having a lack of credibility, but also a lack of validity. In other words, it doesn't just make mistakes; the mistakes seem to be endemic, built into the fabric of the organization.
And you know what? Rock 'n roll deserves better.
Rock 'n roll (by which I mean any and all manifestations of music-based expression and art, from King Oliver to Tony Conrad) saves lives. It is a friend to the lonely. It finds the words for you when your tongue, childish or ancient, is tied in confusion. It makes you excited to wake up in the morning, and it pumps life into your Chuck Taylors on your way home from school. It paints rainbow swirls of dreams on the gray wall of your cubicle. It makes you shout, "That is me. I wish I said that. There's my swagger, my swish, my wag, my wish, my future, my youth!"
Rock 'n roll brings back the sensation of an autumn day 39 years ago, and the smile cracked secretly at a traffic light this morning. It is the sound of your favorite city and the sound of a lovely farm-spotted road; it is the soundtrack to a pair of brown eyes you will never, ever forget.
Remember that moment in the flat yellow hallway of your suburban high school when it seemed like the future would never come, when it seemed that your lips would never find a kiss, when you would stare at your reflection in the giant window panes by the gym and you would see exactly the moon-shaped, un-kissable face you assumed everyone else saw?
Then you heard the Kinks, or you heard the Mumps, or you heard Mott the Hoople, or you heard the tube-heated tones of a late-night DJ playing "Dark Star", and you knew that behind the gamelan clangs of the blue green lockers, outside of the tall red brick walls, past that row of shrieking buses, beyond the anonymous whirr of the Long Island Expressway, somewhere beyond Bayside and Little Neck and even Jamaica, there might be a place where misfits like you would find love.
Rock 'n roll loved me before anyone else did, didn't it love you before anyone else did, too?
That's why it's important to tell its story in the right way.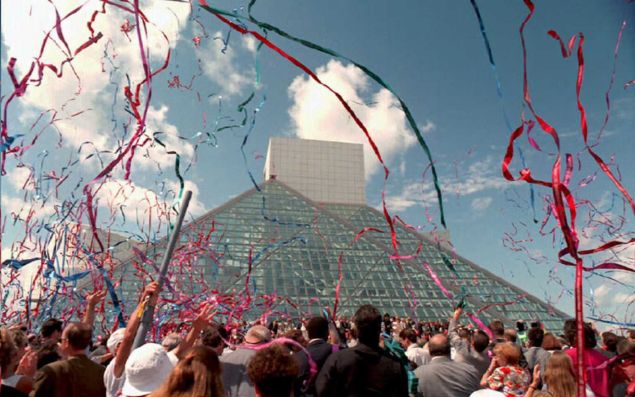 The powers that be at the Rock and Roll Hall of Fame simply don't know nearly as much about their subject as someone running an organization with that mighty a title should. Most of the poobahs at the Hall know about as much about rock and pop as I know about, oh, baseball. See, I know a little bit about baseball, probably enough to fake my way through a conversation, and I know a lot about certain aspects of baseball, like the New York Mets or the career of catcher/spy Moe Berg; but I would never, ever claim to know enough about baseball to run a freaking Hall of Fame, or even act as a voter for one.
I suspect the Hall of Fame and their voters know a bit about rock 'n roll, and perhaps a lot about certain areas, but they simply don't know enough to reasonably accomplish the rather significant task they have assumed control of. Otherwise, they would have inducted The Smiths, The Cure, Thin Lizzy, Kate Bush, Big Star, Judas Priest, Slayer, Husker Du, and many etceteras, a long time ago.
So, here are the new nominees, along with my handicapping of the likelihood of these artists getting voted into the Hall this time around. Please note: This is not based on who I think belongs in "a" Rock and Roll Hall of Fame; it's based on who I think this Rock and Roll Hall of Fame, the deeply flawed and biased organization that presently exists, will vote in. (For those not familiar with gambling odds, it works out this way: 1/5 means a 5/6 shot that X will get into the Hall of Fame, meaning they've got a good chance.)
In order, and remember, there are only five slots:
ELO 1/5
Tupac Shakur 2/5
Chic 2/5
The Cars 2/5
Pearl Jam 3/5
Joan Baez 3/5
Chaka Khan 6/5
MC5 3/2
Janet Jackson 3/2
Kraftwerk 8/5
Yes 2/1
Journey 5/2
Bad Brains 5/2
The Zombies 6/1
Depeche Mode 6/1
Jane's Addiction 7/1
The J. Geils Band 8/1
Steppenwolf 12/1
Joe Tex 14/1
I want to say a few words about the nominees, but first, let's take a moment to talk about who isn't nominated.
I'm no Bon Jovi fan—at their best, they remind me of a cell phone photo of a screenshot of Thin Lizzy—but clearly they sneezed on Jann's brie at some point, because I cannot for the life of me understand why they are not in the Hall of Fame (and even Green Day is in the Hall of Fame). They fit two of the HOF's primary requirements: they're American and they sold a lot of records.
Once again, there's no heavy metal on the list. Zero.
This is profoundly insulting to the millions of people who have been excited, energized, entertained and inspired by Judas Priest, Iron Maiden (only one of the biggest bands in the world for the last 30 years!), not to mention hugely popular innovators like Slayer or Motörhead.
I want to repeat this slowly to let it sink in: there's something out there calling itself the Rock and roll Hall of Fame, and Judas Priest and Iron Maiden, and Motörhead aren't in it. Jeezus, you'd think they would have at least thrown a bone to Def Leppard. (But, hey, British accents…)
With the exception of nominee Depeche Mode, the Hall of Fame carries on pretending that virtually no British music made in the 1980s is worthy, despite the profound influence many of these groups had on both sides of the Atlantic (and regardless of the fact that all of the artists I am about to cite were major chart acts in the U.K.).
So, once again, no Smiths, Kate Bush, New Order, Madness, the Jam, the Cure, Joy Division, the Specials, etcetera; and the anti-British bias of the Hall extends backwards from the "New Wave" era, too, and therefore we don't see Thin Lizzy, T. Rex, or Roxy Music nominated, either, to name just three. I find the Hall's rabid Anglophobia another major element that obstructs any occasional desire we might have to take the Hall seriously.
Now, on to this year's nominees.
This past April, the Observer published my list of the 10 most offensive omissions from the Hall of Fame roster. Three of those artists have been nominated this year, so let's start there.
[youtube https://www.youtube.com/watch?v=NL3NqfFTec8&w=560&h=315]
Kraftwerk are, inarguably, the second most influential pop/rock group of the last 55 years. They were the first pop act to entirely replace their rhythm section with distinctly synthetic instrumentation, and the first act to use the pulsing synth throb as their unvaried signature. The entire age of electronic dance music and synth-based pop derives from their inventions. Put on any mainstream pop radio station today, and it is more likely you will hear a sound rooted in Kraftwerk's innovations than you will hear a combo-based Beatle-centric sound.
In addition, for over 40 years Kraftwerk have consistently released high-quality music. No Hall of Fame omission is more glaring (with the exception of archivist/ethnomusicologist Alan Lomax, who should have been inducted in the first or second class). But it's a tough crowd this year, and Kraftwerk may get passed over once again.
[youtube https://www.youtube.com/watch?v=2MSwBM_CbyY&w=560&h=315]
I have no particular affection for Joan Baez, who's over-sincere, over-reaching vocalizing is the musical equivalent of Eric Roberts' yowling "Charlie, they took my thumb!" in The Pope of Greenwich Village. However, she is the second biggest name in the history of post-1960 folk music, and folk music is an essential part of our pop/rock story: it is the crucial bridge between the 1950s ideation of American rock and the more sincere, more artistic, more rebellious form it took in the 1960s (this is a really important point that I'll write about at another time).
It's utterly ridiculous that the second biggest name in folk music isn't in the Hall. That underlines one of the abominable things about the Hall: They simply ignore entire categories of rock and pop. Folk, heavy metal and low-charting but culturally important alternative music suffer the most. All of these things get pushed out of the way because the Hall can't see beyond the fine, fine mane of Timothy B. Schmidt. Joan Baez most definitely belongs in (and so does Phil Ochs, Tom Paxton, the Kingston Trio, Fred Neil, and Peter, Paul and Mary, to name just five others who will never, ever get nominated).
[youtube https://www.youtube.com/watch?v=uo35O1AJOfg&w=560&h=315]
The MC5's stock has gone up in the last year or two, and I think this may be their year. I need not tell any of you why this snarling, fiery band, one of the few activist acts in American rock history who honestly put their money where their mouth is, belong in the Hall.
Let's move on to the rest of the nominees! Oh, now might be a good time to take a swig of that 20-year-old Tawny Port you have sitting around.
[youtube https://www.youtube.com/watch?v=Ga5ZbMMZ6Hk&w=560&h=315]
If the Hall had even the slightest history of inducting low-selling bands of innovation, genius and influence, the nomination of the phenomenal Bad Brains would make an enormous amount of sense, and would be something to celebrate. But the Hall have not only shied away from acknowledging those sorts of acts; they've actually spurned the idea at every conceivable chance.
The Hall have 100 percent ignored American independent music and non-mainstream/non-major label punk rock. Because of that, as phenomenal as the Bad Brains were (and circa '79 – '83, they were the greatest live act in America), I cannot endorse this act of pure tokenism (and I do not mean "tokenism" due to race, but in terms of the Bad Brains' role as underground/punk heroes).
If their nomination had been accompanied by nominations for, say, Black Flag or Minor Threat, this would make some sense; it would indicate that the Hall was acknowledging the enormous importance hardcore punk had on the creation of an alternative touring and independent label distribution circuit in the 1980s.
Likewise, if the Bad Brains were nominated alongside, say, Suicide, Big Star, Van Dyke Parks, or Wire, it would indicate that the Hall was acknowledging artistically pioneering artists who didn't rack up big American chart numbers. But that didn't happen either. This is your dad trying to make you feel better that your grandmother died by giving you a Beatles record. This nomination doesn't make the Hall cool. It underlines how uncool it really is.
[youtube https://www.youtube.com/watch?v=BtlL12M8TJM&w=560&h=315]
There's nothing wrong with Chaka Khan, except for the fact that there's are a pile of legacy R&B singers who deserve to be honored by the Hall more than she does—just off the top of my head, Shirley Ellis and Irma Thomas spring to mind, and I am sure you can think of others. But her name is very familiar, so I think she stands a strong chance of getting in.
[youtube https://www.youtube.com/watch?v=D2famy0TJhc?list=PL9iNjvH1MsR6TXdW9m0Pyp_dqgMRVyHiv&w=560&h=315]
Chic, who made music of quality and originality and sold records and were significant generational touchstones, are prime Hall of Fame material.
[youtube https://www.youtube.com/watch?v=lF_gj_Z9j4Y?list=PLZ2R24FzvHhQp8KEFud3cjW7DvAIYMcdZ&w=560&h=315]
Depeche Mode are a giant act of style and distinction. There may be other post-1980 British acts more worthy of a nomination, but Depeche Mode should still definitely be in the Hall. Do I think they'll get voted in? Probably not. There are too many Hall voters who were called "fag" in high school; rather than embracing this, they then tried to buddy up to the jocks that were calling them names. This kind of confusion is still in their hearts, so they'll probably take it out on Depeche Mode.
[youtube https://www.youtube.com/watch?v=bjPqsDU0j2I?list=PLn9DJh4Og977v7dTCt80Lj9aZjzohFvni&w=560&h=315]
Electric Light Orchestra are pretty much the stone-cold lock in this year's nominating class. Although I find Jeff Lynne's I-wish-I-wish-I-wish I could have been in the Fabs act tiresome and offensive, he can write a helluva tune, he understands drama in production and arrangement, and best of all, the amazing Roy Wood, co-founder of ELO, gets to slip into the Hall, too.
[youtube https://www.youtube.com/watch?v=BqDjMZKf-wg&w=560&h=315]
If there was a Hall of Fame for well-meaning bands who seemed O.K. in the 1970s because they offered a refreshing alternative to ELP, Kansas, and England Dan and John Ford Coley, The J. Geils Band would belong right in there, alongside Southside Johnny, Steve Forbert and Willie Nile. These acts were like the middle relievers of rock 'n roll; they saw us through some tough innings, but then the Ramones and the Sex Pistols came in to close, striking out the side in the 9th. But there aren't very many middle relievers in the baseball Hall of Fame.[i] Still, because there are no E-Street Band-related nominations this year, I would not entirely rule out The J. Geils Band sneaking in. If I was going to bet on a long shot, this might be the one.
[youtube https://www.youtube.com/watch?v=jrwjiO1MCVs&w=560&h=315]
I believe Jane's Addiction were an important factor in bridging hair metal and grunge, but I've always found their "We're (giggle giggle) ever-so kinky, but we're kinda (giggle giggle) mainstream, too, doesn't that make us (giggle giggle) cool?" act vaguely stinking of Danny Elfman-esque snarkiness. They're the kind of band you tolerate until you really start thinking about them; once you do, it all falls apart, though the individual parts are very solid. I think they'll get into the Hall one day, and for all the asinine things I just said, they probably deserve to be in, but I don't think this is the year.
[youtube https://www.youtube.com/watch?v=LH8xbDGv7oY?list=PLQfEYFseEhk4x2pJ8UkAWyyWb-V4s7_il&w=560&h=315]
Janet Jackson doesn't belong in the Hall, but she's a super familiar name who had big hits over a fairly wide period of time, and that's usually enough for the Hall voters. If it were a weaker class I'd say she was a lock, but it might not happen this year. I mean, if you're going to admit mainstream state-of-the-art pop (and I think you should), why the freak isn't the amazing Carpenters in the Hall?
[youtube https://www.youtube.com/watch?v=L3F71UFDP0s&w=560&h=315]
Joe Tex would be an ideal Hall of Fame act if they Hall could find their ass with a Google Maps app and a big sign that said "To Find Ass: Look Down and Behind." But, see, the Hall can't find their ass with a Google Maps app and a big sign that says "To Find Ass: Look Down and Behind."
I'm glad to see Tex nominated, but like the Bad Brains, I am afraid this nod might be a concession to shut up naysayers like me. Personally, if the Hall functioned with intelligence, wisdom and discretion, artists like Joe Tex and, say, Lee Dorsey would have been in a long time ago. And although it's a different kind of music, where the heck is Doug Sahm? (See, the "Tex" thing made me think of that.)
[youtube https://www.youtube.com/watch?v=1k8craCGpgs?list=PLzH7DPYb-ewdzWPPHDbD2WNrN7r_fdIvv&w=560&h=315]
Normally, I would say Journey are a lock, but this might be the year the Hall try to show how credible and earnest and sincere they are (because, see, the Hall actually think that the Cars pass for a cool alternative rock band), and Journey may end up paying for that.
[youtube https://www.youtube.com/watch?v=iUteENfFhGs&w=560&h=315]
Someone has to be the first non-Nirvana grunge band in the Hall, and it might as well be Pearl Jam. Likable, hard working, sincere and popular, they belong in the Hall.
[youtube https://www.youtube.com/watch?v=rMbATaj7Il8&w=560&h=315]
Having two classic rock hits should not be the sole criteria for getting into the Hall, so I find it offensive that Steppenwolf are even nominated, since the band has virtually no generational profile outside of those hits. However, the Hall is notoriously stupid—the voters will see a name, hum a song in their head, and think, "Ohhh, I like them, I just heard their song on the radio today!"—so you never know.
[youtube https://www.youtube.com/watch?v=HS-IRW37rQg?list=PLVbYjAcuSwvJBoj4KT8RMjrqmTDXgZIgt&w=560&h=315]
Personally, I despise the Cars: They are "clever," which is the second worst thing a pop/rock act can be (the first is "ironic"), and when I was a teenage fan, Ric Ocasek was inexcusably rude to me (not Paul Simon-level rude, but still pretty bad). Nevertheless, the Cars have everything that makes them an archetypal Hall of Fame act: They wrote some of the more memorable melodies of their era, they are a distinctly "generational" act (i.e., everyone who was young during their '79 – '83 heyday will have all sorts of goofy nostalgia attached to them), and they sold plenty of records. I think they're pretty close to a lock.
[youtube https://www.youtube.com/watch?v=AL6K-acL2BU&w=560&h=315]
The Zombies are a tough one, because I want to say they absolutely belong in, but there's no freaking way they belong in before T. Rex. I'll leave it at that.
[youtube https://www.youtube.com/watch?v=41qC3w3UUkU&w=560&h=315]
Tupac Shakur is generational touchstone, an artist who often displayed genius, a big seller, and a martyr, so Tupac (along with ELO) is as close as you get to a lock in this year's nominating class.
And that's the nominating class of 2017.
Finally, I would like to end this piece by quoting the great Mark Twain: "Everybody talks about the Rock and Roll Hall of Fame, but no one shoots it as it steps out of its limousine on to the sidewalk outside of Sparks Steakhouse on E. 46th Street."
[i] Really, there are no middle relievers in the Baseball Hall of Fame, unless you count Hoyt Wilhelm and Goose Gossage, and it's arguable whether either of these two pitchers are true middle relievers. Thanks to Darren Viola for helping me out with that!