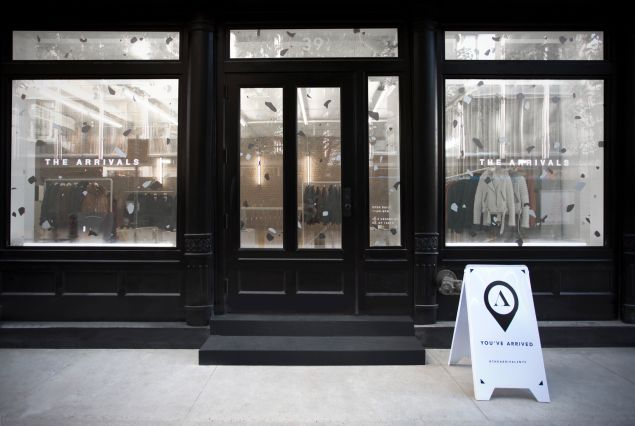 On Thursday, outerwear direct-to-consumer brand The Arrivals will launch their most intensive retail experience as a six week pop-up shop. Replete with a rotating list of collaborators, limited edition product and the latest collection from the brand, the 39.5 Crosby Street venue in Soho is a coat lover's dream.
"This marks the first longer term pop up experience for The Arrivals," Jeff Johnson, co-founder of the brand, told the Observer over the phone last week. But, as Johnson pointed out, it's really just the latest iteration of a process that the company started last year, when they debuted in a physical format at the Pop Up Flea in Chelsea.
Founded in 2014 by Johnson, who had been working as an architect and product designer, and his business partner Kal Vepuri who had been investing in fashion businesses, The Arrivals began as most direct-to-consumer brands do, with no physical touchpoints. Though Johnson had a vision that an IRL brand experience would arrive at some point in the future, the brand made its debut, stepping out strong with a Rainier moto jacket, that notably featured removable fur collar. The piece was total street style bait and to this day remains the company's best seller.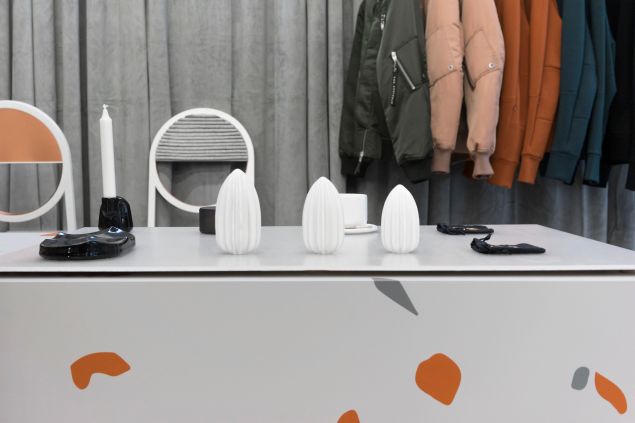 But the founders knew the importance of the physical experience, Johnson himself, well-versed in the power of spaces. So in December 2015, they launched their first pop-up shop at Pop Up Flea in New York City. Lining up an exclusive collection of outerwear accessories all under $100, the brand hoped for a positive response focused on the holiday season. It worked.
"We are a little more streamlined. A little more NY street." Johnson admitted of the difference between The Arrivals' aesthetic and other brands at the event. Still, stocked among a variety of heritage brands, pieces started selling quickly, particularly to women. "That was really our first indicator that having these physical touch points was really important. How could we, in an incremental way, figure out timing of year, location and product offering?"
Slowly, they figured it all out. In May, the brand teamed up with Snarkitecture on a poncho. That $345 piece featured waterproof safety compartments, special slots for your earbuds and was available online, as well as at a collaborative pop-up shop on the Lower East Side. "That was a really unique experience," Johnson said of working with Snarkitecture, a firm that sits at the intersections of architecture, fashion and art. "We were able to partner with an innovative design duo that's also rooted in this architecture and more of a product design background." Before long the company had also popped up in LA and opened a recurring Open Studio in Manhattan, where fans could try on pieces prior to purchasing. It was all a part of the process that built up to this season's launch.
"Since we are a New York City-based brand we really wanted our first big step to be in New York City. Especially with the holidays being when we see the biggest wave of our traffic for the brand," said Johnson. For the outing, the brand created what the co-founder refers to as a product carousel, to be rotated throughout the shop's lifespan that showcases the stories, futures and product of four key collaborators in the shop.
"There's essentially three display zones," Johnson explained of the space designed by Dutch interior and product designer Lotte van Velzen. She worked with Johnson to create a space that came off visually clean and simple, but provided ample texture. That background sits around the first display zone which will feature the story of brands like Pintrill, OTHR, Killspencer and more, as well as the second and third displays which will feature the collaborative product and the story of the brand's possible future, respectively.
"For example, OTHR is a 3-D printing company that launched about a year ago," Johnson pointed out. He said that the first display would etch out the brand's history, describing their past in home design while the second would feature the limited-edition 3-D printed, custom zipper pulls that the pair created together. "The third display is going to be about where can 3-D printing go and how does that find its place not in only home design and also fashion design."
For their link ups, Pintrill helped to create a limited edition weather-themed capsule collection of pins to be done in silver, black and rose gold while Killspencer created limited edition pouches in a matte navy and a matte black. For each collaborator, The Arrivals will also create a one-of-one piece of outerwear, based off of the featured product.
The shop itself will host a grand opening Thursday, October 27 from 5 p.m. to 8 p.m. Following that opening, the space will be open from 11 a.m. to 8 p.m. daily but only accepts credit cards and PayPal for purchasing.