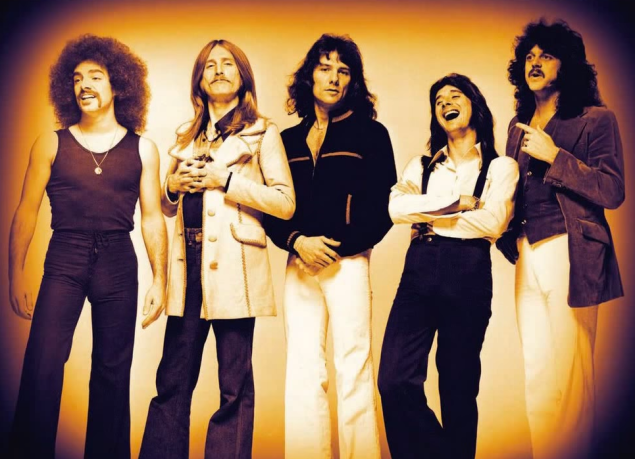 Journey are an iconic American band that I believe are overrated for their pop appeal and underrated for their rock chops. Over the years, I have always been drawn to rousing anthems like "Separate Ways (Worlds Apart)" and "Stone In Love" rather than syrupy ballads like "Faithfully" and "Open Arms" or poppy tracks like "Lovin' Touchin' Squeezin'".
Being a hard rock and metal aficionado, I was always drawn to the harder tunes, enamored with the blend of Steve Perry's soulful vocals and Neal Schon's passionate guitar playing. But it was not until I was asked to write a cover story on the band for Goldmine magazine in 2004 that I delved fully into the group's extensive catalog and got sucked into a whole other musical realm that I had been oblivious to.
Let's be clear: Journey is a great rock band. But I could give a damn about their sentimental songs. Stirring cuts like "Keep On Runnin'", "Chain Reaction", "Be Good To Yourself", and "Ask The Lonely", which has some truly glorious vocal harmonies in its chorus, blow away their gentler fare.
That personally biased assessment leads me to Trial By Fire, the 1996 reunion album that brought the hit-making group back to prominence after a near decade-long hiatus.
Released on October 22, 1996, this was an album that offered a rich palette of sounds. There were the larger-than-life numbers like "Message Of Love", "One More", "Castles Burning" and "Can't Tame The Lion"; ballads like "When You Love A Woman" and "Still She Cries"; and atmospheric, low-key tunes like "Forever In Blue" and "Colors Of The Spirit" that showcased renewed sonic ingenuity. While I would say eight of the 15 tracks on the album are great (there's a hidden reggae-ish track at the end), it still qualifies it as one of my favorite Journey releases because the great tracks are that strong.
Reuniting the classic Journey line-up of Perry, Schon, keyboardist Jonathan Cain, bassist Ross Valory, and drummer Steve Smith, Trial By Fire was well received, went platinum within two months, spawned the Grammy-nominated single "When You Love A Woman" (ugh), and prompted an aborted tour that threatened to kill the band's renewed momentum.
[youtube https://www.youtube.com/watch?v=7ayXu6OfMDU&w=560&h=315]
Due to health issues (and seemingly a bit of obstinance), Perry chose to avoid hip surgery (that he later got) and delayed touring with the band soon after the album came out, leading them to later hire replacement singer Steve Augieri to began a successful second phase of their career. Perry quietly faded from public view. Fans still miss him, but the band has soldiered on.
Intrigued by the story behind the making of the album, I called up Kevin Shirley, who has produced four Journey albums, the last five Iron Maiden studio efforts, and who is guitarist Joe Bonamassa's star producer.
When Shirley was approached about producing Trial By Fire back in 1995, he was 35 years old and had just tackled Silverchair's successful debut album. He tells me that iconic manager Irving Azoff and A&R guru John Kalodner had a big plan for Journey to reunite, record a new album and embark on a successful tour. They chose to go with Shirley rather than more established names after Kalodner recommended him. The band certainly was raring to go. They had written a dozen songs in a two-week period, proving that the spark had been reignited.
Shirley set about working with the quintet around late 1995, and he admits the situation was a little difficult in the beginning.
"I made them over-rehearse," he recalls. "I know on all the early records—as most of those bands did in the late '70s and early '80s—the band would play the songs live, hone them and get tight. There are some magical elements that happen with the natural feel of a band. When you start to bring computers into the equation and are cutting things up all night and quantizing things, they can get very generic. I wanted the band to be playing like they had been playing live, so I think we rehearsed for about six weeks, and by the time we finished we had gone over every single drum fill and every single guitar lick. They were getting mad, but it was great."
[youtube https://www.youtube.com/watch?v=idE1lsqG2Vc&w=560&h=315]
Working under such stringent conditions, Shirley notes, meant that the studio sessions did not focus on working out parts, rather "looking for magic takes." Some songs, like the string-soaked hit "When You Love A Woman", were full performances without editing from different takes. It was Journey playing live and Schon soloing live.
With regards to recording Trial By Fire's heavier tracks, Shirley found it more challenging than the band's softer material because "in my gut they don't feel like a heavy rock band to me," he admits. "I don't take anything away from the players, but when I work with a heavier band than that it's easy because that's just way they play. Steve Smith is a great swinging drummer, but he doesn't sound like Ian Paice. I found the heavy stuff much more difficult to get through, to be honest. I think once you focus the melodic side of things with that band that's where things sound naturally terrific."
When I offer my rock-slanted analysis of Journey, Shirley replies, "You're talking about personal taste there because how many people lost their virginity to 'Faithfully' and 'Open Arms'? I can say that Neal has many Lamborghinis and Ferraris and Bentleys that you can attribute directly to those two songs. If you want to take that away from them, you're going to take away a lot from Journey's success. Neal gets up there and still does those the songs. He still plays 'Open Arms' and twirls like a ballerina when he's doing them on stage. They're big songs."
VH1's Behind The Music special on Journey in 2001 revealed a clash of personal and artistic differences between guitarist Neal Schon and Steve Perry: the rocker and the crooner.
Shirley acknowledges the duo had creative tension, but notes that was not the only situation like that within the band. "Neal and Jon are like brothers that love each other, but Jon writes pop songs and Neal always wanted to be Van Halen," notes Shirley. "There's no secret about that, even amongst them. When we're in the studio, it's very frustrating. Jon can come in with something, a very hook-laden ballad, and Neal will go, 'I don't want to play that. I don't be in a band that plays that kind of stuff.' "
This creative tension was difficult for him to deal with as a producer as well. "You have a fan base, by the way, that's pretty much 50 and older and this is the kind of thing that they embrace as well as the rock stuff," says Shirley. "One of the weird things is that Neal plays melodic lead guitar better than anyone else ever, and yet he shies away from it because he wants to be flashy and histrionic and fast. I thought we did a good job on [2008's] Revelation of managing that balance between them."
After Trial By Fire was recorded in the L.A. and San Francisco areas in 1996, John Kalodner asked Shirley if he wanted someone else to mix the album, and the producer picked George Massenburg, one of his all-time favorite engineers.
"George came in and mixed the whole record, but the band decided they preferred my rough mixes better," recalls Shirley. Massenburg's mixes of "When You Love A Woman" and "Easy To Fall" made the final cut, but the rest was done by Shirley. "We do have the whole record mixed by George Massenburg somewhere that has never been released. I don't even know if I have a copy."
The overall experience Shirley had recording Trial by Fire was great. "I commuted with Steve Perry every day in his car," recalls the producer. "He drove me from the hotel to the studio. It was a very positive experience. It was very creative. I may have had one argument where I walked out and drove off. Generally it was a totally positive experience. At the end of the recording session, we did have an award, which was a ballerina called the Prima Donna Award. There's a picture of all of us holding that Prima Donna Award. I got one vote, and Steve got five. So he was awarded the Prima Donna of the session."
Upon its release, the 75-minute-long Trial By Fire was a success for Journey. The album peaked at No. 3 on the Top 200 Albums chart. "When You Love A Woman" reached No. 12 and later scored the group's first Grammy nomination for Best Pop Performance by a Duo or Group. The album was certified platinum for sales of a million copies. It was not the multiplatinum numbers of days past, but the band was definitely back. A strong bout of touring could have increased those sales.
Then, things took a turn for the worse. The proposed tour was postponed because Perry was diagnosed with a degenerative bone disease that required hip surgery that he was not wanting to do if he could avoid it, and the band grew anxious waiting for him to be ready for a prosperous world tour.
After many months of waiting with no change in plan from their frontman, they sought a replacement singer and found Steve Augieri, who was officially named Perry's successor in 1998, then hit the road to great success. Augieri sung the material well and sounded like his predecessor. Shirley recorded an album with them (Arrival) that was released in 2001 and kept the band alive on radio. After two more releases and then Augieri's departure in 2006, they have continued to be a successful draw with second official replacement vocalist Arnel Pineda.
Beyond their arena-filling revival, with all the potential that burst back to life on Trial by Fire, we're still left wondering what might have been if Perry had been healthy and the band had been able to tour like they'd wanted to.
"I think the tour was all set to happen [in 1996]," recalls Shirley. "They had signed on to do the tour, and then everything fell apart. From what I understand, Irving [Azoff] took that plan and applied it to The Eagles. They did the Long Road Out Of Eden tour [from 2008 to 2011] and that catapulted them into mega-superstardom, which is really what the plan for Journey was."
"There's no question that Steve [Perry] is one of the all-time great singers. There's something that's very difficult about being a high tenor singer that is impossible to keep up as you get older."—Producer Kevin Shirley
Since that time, Perry has laid low. No touring, no new album, barely a ripple, although a new solo album is reportedly in the works. It was not until a couple of short live 2014 appearances with The Eels that he returned to the spotlight, albeit quietly. Naturally, some have postulated that he simply does not have the chops anymore.
"I'll tell you what, Steve can sing," counters Shirley. "There's no question that Steve is one of the all-time great singers. There's something that's very difficult about being a high tenor singer that is impossible to keep up as you get older." He notes how Robert Plant embraced the change in his voice and has flourished doing projects like Raising Sand, his Americana album with Allison Krauss.
"I think the problem is that the Journey fans keep getting pelted with what they call the 'dirty dozen,' the really huge hits that they had like 'Faithfully' and 'Open Arms'," asserts Shirley. "People expect to hear them, and unlike other bands like Iron Maiden that will go out and play new material, Journey generally just go out and do a set of hits. I think that wasn't easy for Steve to do, to be honest. His voice has definitely gotten richer and he's developed a slow vibrato as his vocal cords have aged, and I think a lot of fans are unforgiving of that. They might look at that and think maybe he doesn't nail it, but actually his voice is as good as ever except that it's changed."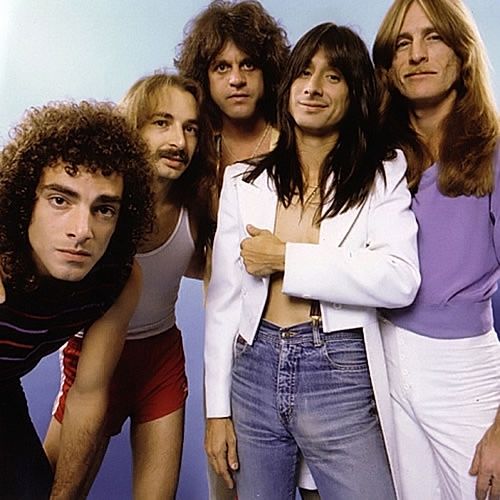 The producer recalls hearing that Perry received some negative feedback towards his half-million-selling 1994 solo album For The Love Of Strange Medicine, which was his first in a decade and did not do as well as its double platinum predecessor Street Talk. He suspects the singer might have been second guessing himself a little, perhaps even at the time of the reunion album.
"There's no question in my mind that his voice was as good as ever, and if anything I think he should've embraced it a little more," says Shirley. "It's always going to be difficult under the Journey banner not to have that high-tenor vocal, but I think the fans would've been more forgiving."
Shirley reports that he is still on good terms with the band and speaks to Schon quite regularly, and he enjoyed working with them in the past.
"I think they have a dated overview of the record industry," confesses the producer. "They look at what revenue comes back from sales in terms of budgets to make records, and the model has changed. Some people have embraced that, like Iron Maiden and Joe Bonamassa, and some people like them still haven't quite embraced it yet. They still live in the land where they had sold 10 million records and got money from them. I don't know if we'll make another record. We certainly discussed it as recently as earlier this year, and I would love to, especially with Steve Smith [back on drums]. But it's really up to them now."
Bryan Reesman's first book Bon Jovi: The Story arrives November 1 through Sterling Publishing.