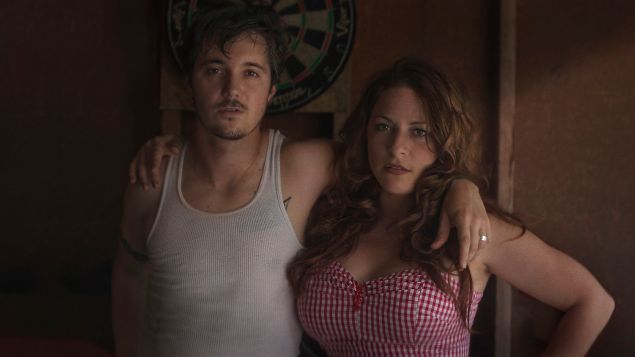 The rustic duo known as Shovels and Rope have always reveled in murder ballads. Blood runs free in odes they've penned to unrepentant killers, vengeful spouses and mad arsonists. Even their name references the tools of hanging and burial. But something changed when the pair experienced the real life murder of a close friend and, at the same time, faced the impending death of a parent.
"I used to write flippantly about death," said Cary Ann Hearst, who comprises the group with her husband Michael Trent. "I used to think that I wasn't afraid to die. Now I know that I'm terribly afraid."
Ironically, her fear has as much to do a with a new life as a spent one. Last year, Hearst gave birth to her first child, a daughter. "When you have a child that you have to raise, then you really give a shit if you're going to die or not—as well as if they're going to die. In fact, you become overwhelmed by all the ways you could die at any moment."
Those concerns bled into every track on Little Seeds, the new album by this celebrated Americana act. It's Shovels and Rope's fifth release but their first to draw so deeply on the home front for its stories. Starting in 2008, with their self-titled debut, S&R specialized in songs penned from the point of view of fictional characters. "We're fairly well-adjusted people," Michael Trent said. "We don't have drinking problems or crazy breakup problems. So character-based songs became our go-to. That way, you can make people as weird as you want to, and get as crazy as you want to."
The quirky narratives that resulted—full of n'er do wells, eccentrics, and the morally-challenged—provided an ideal mirror of the group's outsider aesthetic. Inspired by the wilder expressions of Appalachian folk, country and blues, Shovels and Rope make a ramshackle sound, full of dangerous edges and loose screws. Sometimes, it seems as if their songs were made of flint, lint and garbage rather than harmonicas, drums and guitars. The heavy twang in Hearst's voice increases the abrasion. "My voice is a bit honky," she understated.
The new album upped the racket with more Jack White-style howls and blares. The duo took extra inspiration from the messy fuzz-tones of The Jesus and Mary Chain. "There's a little more hair on this one," Trent said.
The biggest change, however, has to do with the newly personal nature of the lyrics.
[youtube https://www.youtube.com/watch?v=xZ8We6N1xO8&w=560&h=315]
They were inspired by some of the most roiling events that can come to a life. During the course of writing the songs, Trent's father and mother moved in with them, a move made urgent by the former's increasing dementia. Along the way, 37-year-old Hearst became pregnant. "It's the most common thing in the world to be born and to die," Hearst said. "It's also the most intense and amazing and scary part of what it means to be human."
That mix of emotions inspired the album's most philosophical song, "This Ride." In the lyrics, they refer to life as a force that "hurts, scars, twists and aches," as well as one that "soothes, grows, ponders and takes."
The song took on an extra meaning following the out-of-nowhere murder of the couple's close friend Eric. He was killed by two 17-year-old kids late one night, during a robbery at the bar where he worked. The intro to the song features a recording of Eric's mother speaking about her son during his memorial service. In the outro, Heast's 83-year-old grandmother talks about her satisfied life. The song itself avoids sentimentality to embrace life at its most extreme.
"It's the most common thing in the world to be born and to die. It's also the most intense and amazing and scary part of what it means to be human."
"The hardest parts of life are actually marvelous," Hearst said. "It's astounding that we become parents and, at the same time, one of the most painful things is to lose your friend in an really violent way. It's worth marveling at all these parts of life."
Such dramas have always informed the duo's music. They met in the early aughts when each opened for the group Jump Little Children in Athens, Ga. Trent, who grew up in Colorado, was playing with a rock band called The Films. The Mississippi-born Hearst was performing on her own. For common ground, their fathers both played mandolin in bluegrass bands. Their first record together was recorded under both their names, with the title Shovels and Rope. They sang nearly every line in unison, eschewing the more common call and response of two singers. "A lot of times we don't know who's taking the harmony and who's taking the melody," Trent said. "We just jump around and try to land on our feet."
The duo's sound took inspiration from the rough-hewn template of Americana: The Basement Tapes, created by Bob Dylan and The Band in 1967. (A song on S&R's new album offers a salute to Band keyboardist Garth Hudson). "People love The Basement Tapes not because it's pristine and everything is in its right place but because it feels like you're there when you listen," Trent said.
Their rough aesthetic came into focus quickly, as did their romantic relationship. The move to become an official musical duo took longer. "It was a harder decision to form the band than it was to decide that we would spend the rest of our lives together," Hearst said with a laugh.
[youtube https://www.youtube.com/watch?v=gIVklcbJ9vM&w=560&h=315]
All the band's albums have drawn on Hearst's Southern heritage, which Trent adopted by proxy. "It's a constant source of inspiration," Hearst said. "Southerners are complicated, messy, emotional and romantic people. There's a lot going on."
The pair gravitated toward the comic and gothic side of the region. "We've always enjoyed the darker side of storytelling," Trent said. "We're really into Flannery O'Connor and Cormac McCarthy and Steinbeck's study of the human reaction to the American landscape. They're heavy subjects but there's humor there."
The group pushed that to the limit on the new album. The song "Invisible Man" addresses Trent's father's disease, expressing his frustrations while adding a certain wit. "It's an inherently ridiculous disease," Hearst said. "It confuses and makes reality seem strange and it's got to be extremely frustrating. We wrote from his father's point of view because we thought, 'What if he had a big moment of clarity where he could explain, "This is confusing and annoying and it sucks!" It would probably feel good.' "
The duo went further in "Mourning Song." The lyrics imagine Trent's mother's feelings after his father dies. Trent admits it was awkward to write about the death of a parent who's still alive. But he talked to his mother about it and she both understood and approved.
[youtube https://www.youtube.com/watch?v=h3LUm01XcDM&w=560&h=315]
The pair also wrote about their battles as a group, and as a couple, in "Buffalo Nickel." Another cut, "I Know," reveals the ego battles in a fictional band. "Those petty jealousies happen even among the best of friends because this is a scary and insecure business," said Hearst.
One death song on the album retains their old flip approach to the subject. "Botched Execution" has an O. Henry-style twist, with a killer escaping the chair only to wind up tripping on a live wire, thereby getting electrocuted anyway. Whether in twisted scenarios or more sober ones, the pair believe in confronting life's end head on. "It's good talk about death," said Trent. "It's healthy."
"If you accept the doom and gloom with a laugh," added Hearst, "that's the ultimate way to beat the devil."
Shovels and Rope headline The Music Hall of Williamsburg on October 17 and Bowery Ballroom on October 18 and October 19.