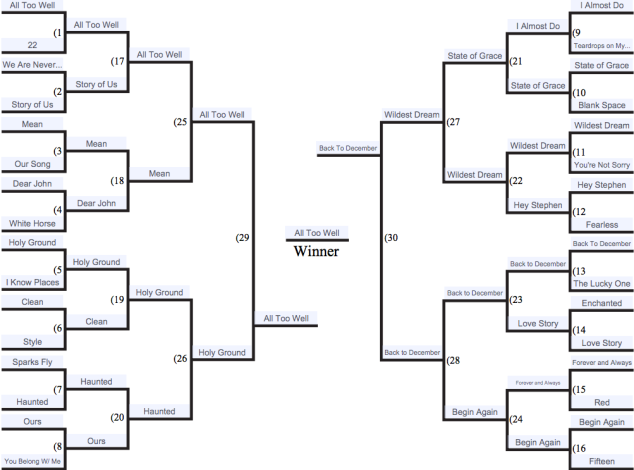 Love her or hate her, Taylor Swift has pumped out so many hits in one decade that it seems superhuman. So, in honor of 10 years (!) since the release of Taylor Swift's first album, I present this completely biased but also 100 percent accurate ranking of her best songs. NOTE: This is the only time in my entire life that I have ever used a bracket.
32. "White Horse"
Best line: "This ain't Hollywood, this is a small town, / I was a dreamer before you went and let me down." Classic Young Swift. Mourning the loss of a boy who did her wrong and trying as hard as she could to make it seem like she was a humble lil' country singer.
31. "Fearless"
Best line: "And I don't know why but with you I'd dance in a storm in my best dress / Fearless." The other variety of Classic Young Swift: naively celebrating new love.
30. "22"
Best line: "Who's Taylor Swift anyway? Ew." I'm a sucker for the sassy little spoken parts. And just a reminder, this was on the album "Red." Like, Taylor Swift's next to most recent album. Who didn't know who Taylor Swift was?
29. "I Know Places"
https://www.instagram.com/p/udZwl7DvJu/?taken-by=taylorswift&hl=en
Best line: "And they'll be chasing their tails tryin' to track us down."
28. "Our Song"
Best line: "He's got a one-hand feel / on the steering wheel, / The other on my heart." This would be higher if not for the fake accent she uses.
27. "Teardrops on My Guitar"
Best line: "He says he's so in love, he's finally got it right, / I wonder if he knows he's all I think about at night." See above note about fake country accent. But bonus points for naming Drew! We all love Drew!
26. "Fifteen"
Best line: "And Abigail gave everything she had to a boy who changed his mind." But Abigail is engaged now, so it's all okay!
25. "Red"
Best line: "Fighting with him was like trying to solve a crossword and realizing there's no right answer." This whole song is the freshman poetry class where everyone uses too many similes.
24. "Enchanted"
Best line: "The playful conversation starts / Counter all your quick remarks / Like passing notes in secrecy."
23. "We Are Never Getting Back Together"
Best line: "With some indie record that's much cooler than mine." This song is a gold mine of sassy spoken parts (SSPs).
22. "The Lucky One"
Best line: "They say you bought a bunch of land somewhere, / Chose the Rose Garden over Madison Square, / And it took some time, but I understand it now." Comparisons to Britney's "Lucky" are inevitable, but I… might like Taylor's better? *ducks*
21. "Style"
Best line: "He says, 'What you've heard is true but I / Can't stop thinking about you,' and I… / I said, 'I've been there, too, a few times.'" I just freaking love imagining this conversation with Harry Styles happening word-for-word.
20. "You're Not Sorry"
Best line: "And you got your share of secrets / And I'm tired of being last to know."
19. "Sparks Fly"
Best line: "The way you move is like a full on rainstorm / And I'm a house of cards." This is some full-on John Green shit!
18. "You Belong With Me"
Best line: "But she wears short skirts / I wear T-shirts / She's cheer captain / And I'm on the bleachers." Don't pretend you didn't sing this in the shower and secretly imagine you were serenading your crush.
17. "Blank Space"
Best line: *Pen click sound effect*
This was my favorite song on "1989" when it came out, for good reason: it's catchy, well-produced and hilariously self-aware and tongue-in-cheek about Taylor's maneater persona. But at this point, I think I'm just tired of it.
16. "Hey Stephen"
Best line: "All those other girls, well they're beautiful / But would they write a song for you?" Writing songs for boys! It's Taylor's ace-in-the-hole!
15. "Ours"
Best line: "People throw rocks at things that shine." The lyric that also doubles as your mom trying to make you feel better about the mean girls in middle school.
14. "Clean"
Best line: "10 months sober, I must admit / Just because you're clean don't mean you don't miss it." Your love is Taylor's drug.
13. "I Almost Do"
Best line: "I bet it never ever occurred to you that I can't say 'Hello' to you / And risk another goodbye."
12. "Story of Us"
Best line: "This is looking like a contest, / Of who can act like they care less, / But I liked it better when you were on my side." John Mayer may be an asshole, but he inspired some good songs.
11. "Love Story"
Best line: "It's a love story, baby, just say 'Yes.'" Yes, this song is cheesy and a little dumb. But it's also iconic. Fun fact: I once saw the guy who played the love interest on a plane!
10. "Forever and Always"
Best line: "And I stare at the phone, / He still hasn't called / And then you feel so low you can't feel nothing at all." This song is ranked as high as it is because the piano version is so, so good.
9. "Haunted"
Best line: "Something's made your eyes go cold." Underrated.
8. "Dear John"
Best line(s): "And I lived in your chess game / But you changed the rules everyday," and "And you'll add my name to your long list of traitors who don't understand / And I'll look back in regret how I ignored when they said, 'Run as fast as you can.'" This song is the best thing John Mayer has done for music.
7. "Mean"
Best line: "You have pointed out my flaws again / As if I don't already see them." The best anti-hater anthem TS has (sorry "Shake It Off.") Also your mom's favorite song.
6. "Begin Again"
Best line: "I think it's strange that you think I'm funny 'cause he never did." Where do I get the lipstick she wears in this music video?
5. "State of Grace"
Best line: "Just twin fire signs, four blue eyes." Yes, Taylor and Jake Gyllenhaal are both Sagittariuses. I checked.
4. "Holy Ground"
Best line: "Back when you fit in my poems like a perfect rhyme." An upbeat, self-aware overview of Taylor Swift's approach to love. Essential, and underrated.
3. "Wildest Dream"
Best line: "He's so tall, and handsome as hell / He's so bad but he does it so well." Basically the updated, more cynical version of "Tim McGraw," the other song where she's asking a boy how to remember her.
2. "Back To December"
Best line: "So this is me swallowing my pride / Standing in front of you saying I'm sorry for that night / And I go back to December all the time." A genuine and heartfelt apology to Taylor Lautner. We're sorry too, TL. You seem nice.
1. "All Too Well"
Best line: "Hey, you call me up again just to break me like a promise. / So casually cruel in the name of being honest."
Of course this is number one. We get a full story arc and learn that Maggie Gyllenhaal might still have one of Taylor Swift's scarves somewhere? Pour out a maple latte for this fall romance that faded away.
UPDATE, HONORABLE MENTIONS: "New Romantics," "I Knew You Were Trouble," "You Are In Love," "Ronan," "Innocent," "Tim McGraw," "Mine," "Out of the Woods," "Wonderland"
Congrats on 10 years, TS. No matter what anyone says about you, just know, damn, at least you can write a song (or hundred).