"If you could pick one exercise you can do that helps tone the whole body, it's the squat," Erika Rayman said, pointing to her creation, the DB Method. Launching on November 2, the machine is set to become the modern-day Thighmaster, but it's being marketed as a "waist trainer for butts." The DB Method ("Dream Butt," originally) is chic and sleek enough to fit in even the tiniest Manhattan apartment undetected, and it gives users the opportunity to binge watch Netflix while turning into the next belfie sensation.  
Rayman's major inspiration was the marketer of the Thighmaster, Peter Bieler. After Rayman read his book, This Business Has Legs, she met him in Malibu, where a gold-plated Thighmaster sat in his office. "He wasn't really interested in getting involved, but he gave me resources to use," Rayman explained. His main advice? "Don't do it." But Bieler did help her find the factory where she manufactures the DB Method. 
Before venturing into the fitness world, Rayman worked in business development. "I mainly worked in the energy space, and I dibble dabbled in some trading," she said. While at her desk job, she was always looking for ways to stay in shape. "I know I'm not alone with this, my trouble spot was my tush," Rayman admitted. She was a lifelong athlete, and even took up jogging at 11. After attending boarding school in Switzerland, she hurt her knee from running on the notoriously steep Alps. Instead of getting surgery, she spent two years rehabbing her knees so she would be able to run again. 
Later in life, a friend introduced her to a trainer, and she began to build muscle. Rayman's trainer taught her difficult exercises she could do during her 30 minute lunch break to target her butt. While her sessions worked, she began to wonder if there was a way to recreate the exercises and do them at home. She used to train during lunch, but after switching jobs she worked on a trading desk from 7AM until 5PM, with no time for even a single lunge.
Rayman's idea for a stylish modified squat machine stayed with her, and she started sketching on her iPad. "Now, when I look back at the sketches, it looks like torture devices," she admitted. She wanted to create a machine that could fold down and not stand out in a studio apartment. While Rayman investigated how to manufacture a product, she was still working…until she decided to go to Columbia Business School. After eight months, she began to focus on the DB Method full time.
Sitting down on the DB Method feels unstable at first, but it's meant to be that way. Once you "trust the machine," as Rayman advises, it's easy to begin squatting and to feel the results almost immediately. Rayman recommends using the machine for ten minutes, three to four times a week in intervals. She's had contests with friends, and the longest anyone has been able to stay on is for three minutes and twenty six seconds (it's much like a mechanical bull that way).
"The DB Method works by isolating the glutes and acting as a modified squat machine. It's about efficiency, convenience and effectiveness because I have the attention span of a gnat. For me, sitting there and kicking my legs around doesn't keep my interest, it's not my ideal. This puts you in the right position to do the perfect modified squat," Rayman explained.
For women who aren't frequenting their gym's weight room, this is a way to get that belfie body in the comfort of your own home. Simply shift your center of gravity, push through the heels, and start squatting. Before The Bachelor episode you're watching is over, you'll have the body of Jen Selter. While the butt is obviously the focus, it targets the core, hips, calves and thighs equally. "You think you're just targeting that one thing, but there's ancillary benefits to it," Rayman promised.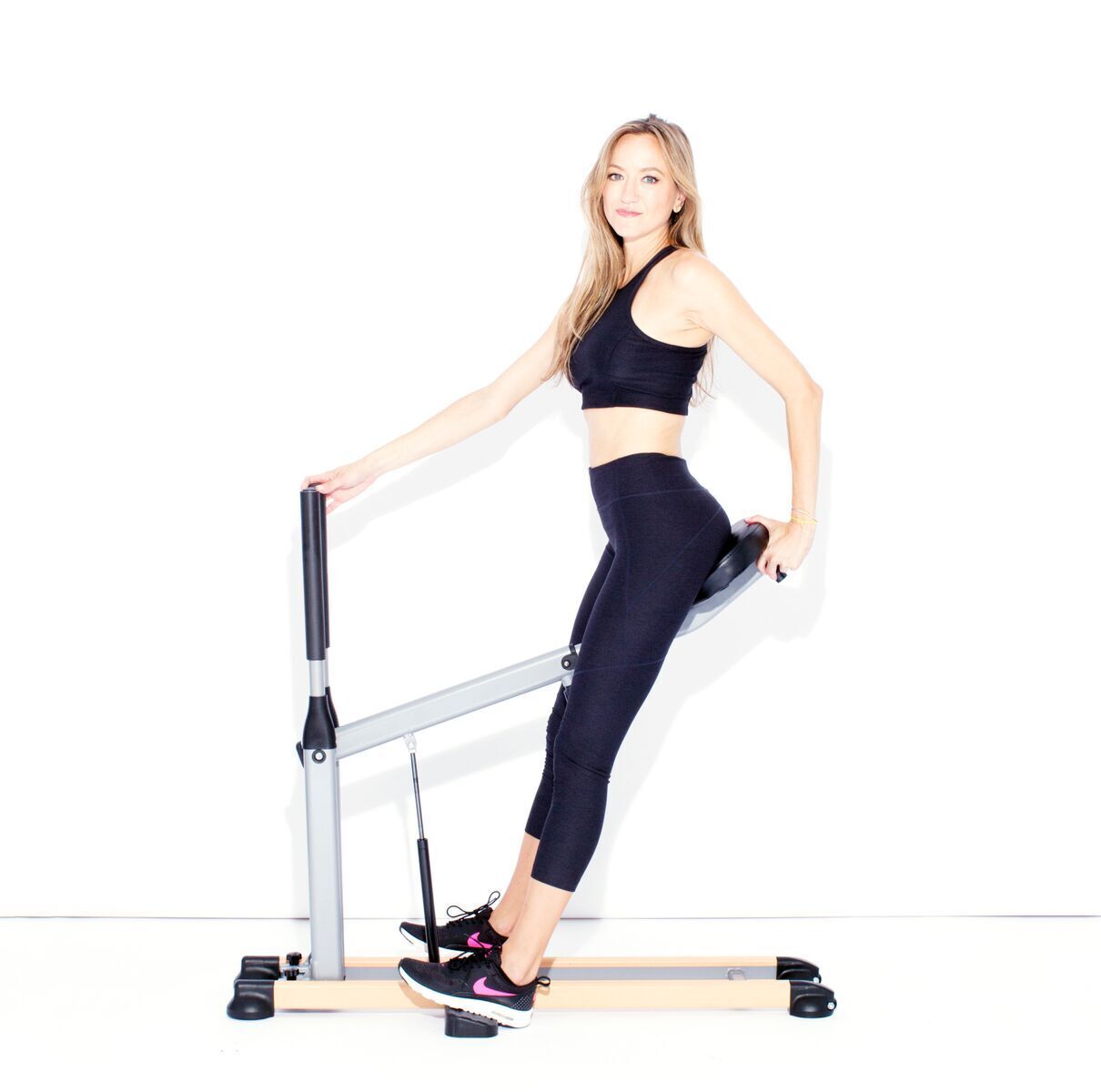 Rayman owes the popularity of belfies to pop culture, and believes J. Lo is the originator of the craze, followed closely by the Kardashian family. "It goes back to the start of mankind. It's about the female form. If we get into the animal nature of things, there's such a beauty about it," Rayman said. She promised that the DB Method is "the tool to get the best butt for your body." And if you're spending time in group exercise classes but still not seeing the results you want, the DB Method certainly is a sound investment. After all, the only thing that could make squatting enjoyable is a machine that (almost) does it for you.