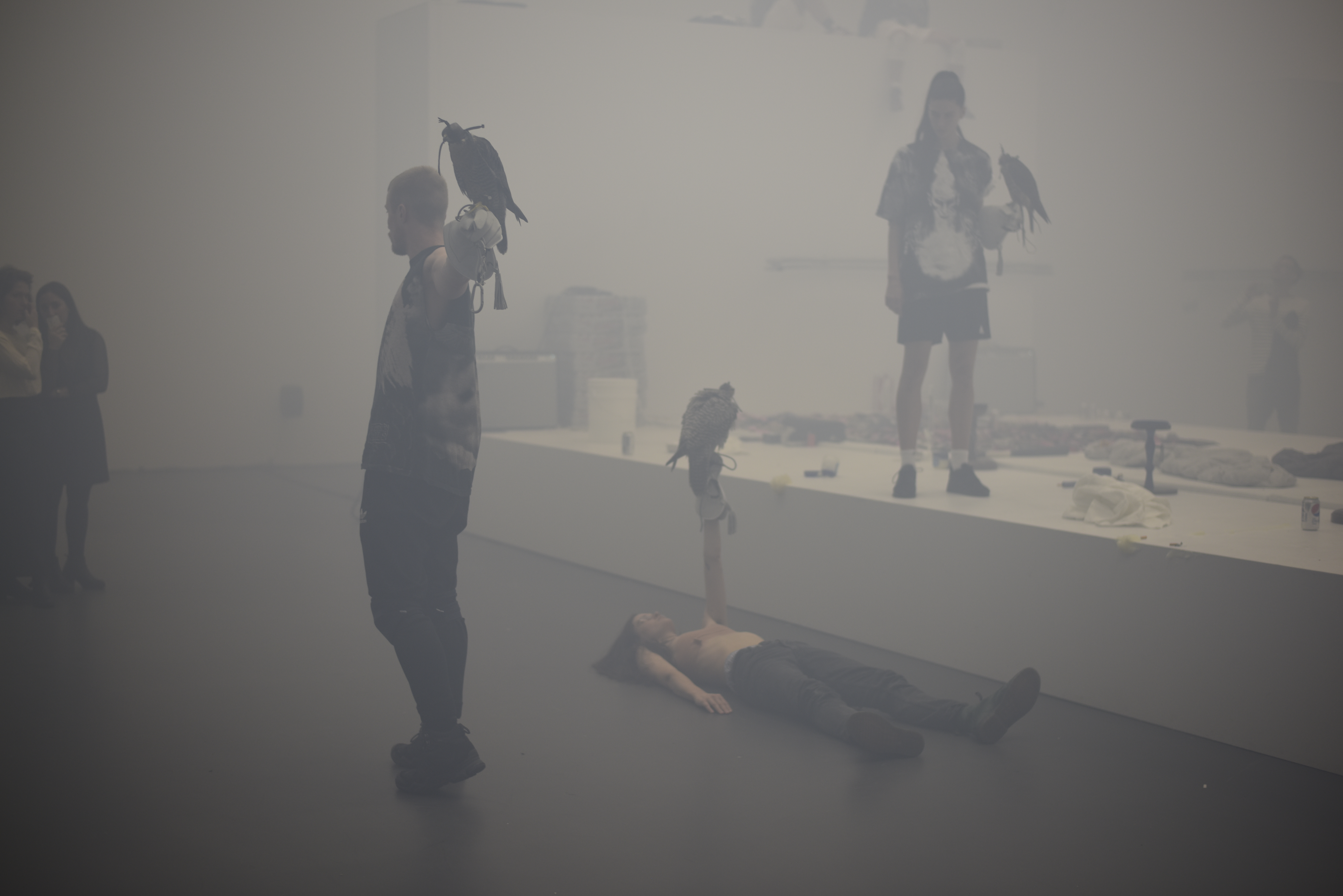 Bienvenue à Montreal: North America's seat of "Francophone culture." La Biennale de Montréal curator Philippe Pirotte pointedly reminded journalists at the exhibition preview last week that Montreal remains the cultural crossroads for two major colonial forces, the French and the British. Perhaps it's fitting that the heart of a province which almost seceded from the rest of Canada just a few decades ago, has managed to beat out Toronto, Vancouver and even the capital city of Ottawa as the home of the country's only biennial exhibition for contemporary art.
During his opening remarks, the Belgian-born Pirotte addressed attendees only in French—a legal obligation—that left him with the daunting (but fairly standard) task of repeating himself again later in English, and provided a less than clear entry point for those of us whose French is spotty into a show laden with literary references. And while contemporary Quebec has undoubtedly evolved into an offspring completely unique from its European parents (poutine is just a Montreal thing it turns out), artworks in the show make steady use of the Socratic method, such that it's nearly impossible to forget you're in a place with French roots.
A singular theme, it turns out, is nowhere to be found in 'Le Grand Balcon' intentionally.
Just as some prefer not to read wall text before viewing artwork, an in depth explanation of the Biennale's loose inspiration from Jean Genet's famous play Le Grand Balcon (The Balcony) is unnecessary. A singular theme, it turns out, is nowhere to be found in the exhibition intentionally, according to director Sylvie Fortin. Rather, Biennale organizers seek to spark conversation around a constellation of timely topics and arresting visuals from works by 55 participating artists and collectives, letting one image lead viewers to the next through a web of connecting threads and heady discourse. Disassembled pages from Lima-born, Toronto-based artist Luis Jacob's scrapbook album of pictures cut from magazines and books, simply titled Album XII (on view at the Galerie de l'UQUAM) captures organizers' intentions most literally: an image of natural rock formations might appear next to sculptured organic forms, while a picture of gloved hands holding a black-and-white photo of a crowd all staring up toward the sky is placed directly above a still from Stanley Kubrick's The Shining, featuring Shelley Duvall staring down in horror at the gibberish Jack Nicholson has been typing on his typewriter. Themes and visual tropes flow and morph into closely related topics from one page of Jacob's book to the next. But while his clippings weave a seamless narrative arc, the exhaustive image bank as a whole doesn't provide firm answers for any of the visual relationships he's underscored.
Initially, Pirotte said, he wanted to create an exhibition about hedonism, but decided against it when he concluded that the selfish urge for pleasure lacked an "ongoing philosophy." Nonetheless, hedonism (in many forms) has crept into the halls of the Musée d'art contemporain de Montréal, the Montreal Museum of Fine Arts, the Galerie de l'UQAM, and 19 other venues where the Biennale will take place through January 15, 2017, along with other themes such as violence, politics, identity and sexuality.
If viewers begin where Pirotte did in his research for the show, they'd do well to start with the oldest work on view: a mysterious portrait painting by German Renaissance artist Lucas Cranach the Elder, which dates to 1540. Just what is an Old Master portrait doing in a gallery alongside works by Nicole Eisenman, Hassan Khan, Luc Tuymans and Moyra Davey, you might ask?
"We live in an art world that's so good at self-censorship," said Pirotte, pointing out that sections of the female figure's hands have been visibly altered to obscure what some believe to be the head of Holofernes or John the Baptist. Most likely, he said, the fair woman depicted by Cranach was Sidonia of Saxony, and even more likely is that she was meant as a stand-in for the allegorical character Judith or Salome. But despite efforts by conservators in the 1930s to hide her identity by adding flowers in place of a head, "she imposes herself on the overpainting," he said—a more poetic way of saying that conservators did a terrible job at suppressing Sidonia's confident femininity.
This push and pull between seemingly oppositional forces is among those few themes borrowed from Genet's original source material, as is the hazy veil that exists between reality and illusion, which took literal form in German artist Anne Imhof's marathon four-hour-long performance, Angst 3, at the MAC on Tuesday and Wednesday evening. The third in a series of self-proclaimed operas—absent of any scripted singing or dialogue—Imhof filled the MAC's performance hall with thick smoke, droning music, cases of Diet Pepsi, shaving cream and razors, live falcons, bongs, e-cigarettes, sleeping bags, smartphones, drones and seven dancers (or models, it was hard to tell) dressed in tattered athleisure brands such as Adidas and graphic heavy metal-themed sweatshirts. Performers lazed around and smoked while reclining on colorful rugs, surrounded by paraphernalia and the blindfolded falcons on pedestals. At times they stood, apathetically flipped-off the audience while rolling on the floor, lifted and tossed each other about, kissed, scribbled on the walls, picked up the birds, stomped back and forth, and stared at their phone screens.
Imhof creates something of a living tableau here, ripped from one of Delacroix's painted harem scenes, except her IRL version exoticizes the millennial and places the vapidness of consumerism and digital culture on a pedestal. If there's a higher meaning (beyond nodding to the meta-theater of Le Grand Balcon) in inviting audiences to endure four hours choked by smoke, while worrying about the safety of birds and getting the finger from really emo dancers, it remains elusive, but it's still enticing enough to inspire continued thought well after the performers have abandoned the stage.  
That spectre effect of imagery and idea is a powerful force successfully executed by several of the Biennale's artists, all of whom explored an impressive variety of themes. At the Galerie de l'UQAM, a film by collective Thirteen Black Cats (Vic Brooks, Lucy Raven and Evan Calder Williams) took viewers on a slow-rolling tracking shot through a props warehouse in Queens, filled floor-to-ceiling with Hollywood's leftovers, while a voiceover dictates the correspondence of WWII air force pilot Claude Eatherly (who was involved in the bombing of Hiroshima) and German philosopher Günther Anders (he worked as a Hollywood studio janitor during the war). In Corpse Cleaner, the juxtaposition of fake swords and chariots with Anders' concerns over the destruction of real treasures in Europe is disturbing, especially today in a new era of cultural destruction lead by ISIS in the Middle East.
The juxtaposition of fake swords and chariots with Günther Anders' concerns over the destruction of real treasures in Europe is disturbing, especially today in a new era of cultural destruction lead by ISIS in the Middle East.
Meanwhile, in the MAC's lobby gallery, Belgian artist David Gheron Tretiakoff's 20-minute film A God Passing documents the 2007 transport of a colossal statue of Ramses from the Cairo train station to the Giza Museum. The statue slowly moves through the city streets atop a massive truck, while swarms of people cheer and watch in awe as the physical manifestation of Egypt's mythic cultural history lumbers forward above power lines and rooftops. Only a few short years later, in 2011, protests forced Hosni Mubarak to resign and the Egypt that exists in Tretiakoff's film has been completely transformed.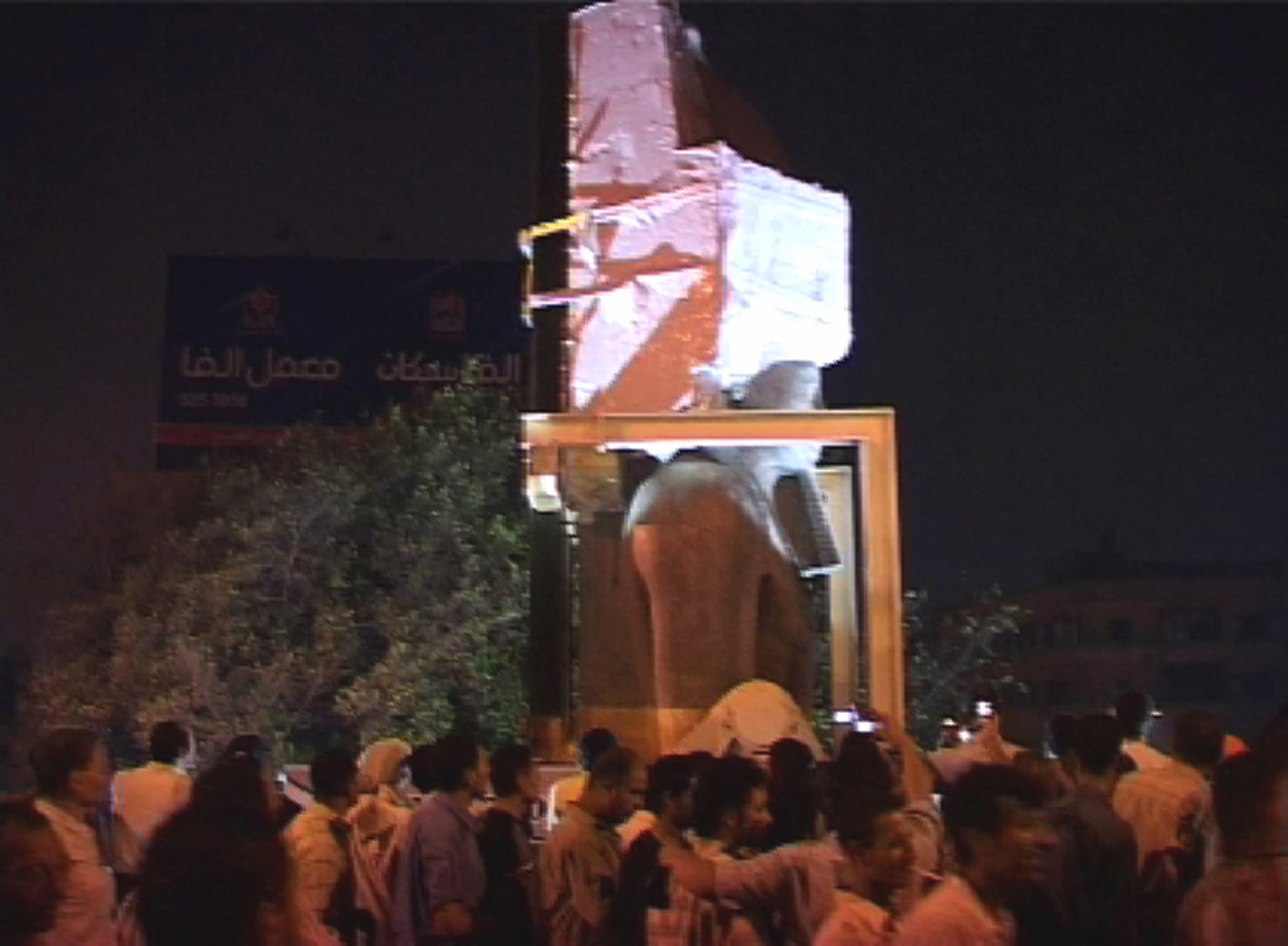 "Art is never on time, art is always too late," Pirotte said, of the difficulty that exists within contemporary art to tackle current events. His statement certainly rings true in both the aforementioned films, where the haunting power of images of the past allow the viewer to draw conclusions on the present, only because time has elapsed and the event's influence has run its course.
Everywhere in the works of the Biennale, philosophical discourse is the name of the game. But what's the point of asking such weighted questions if not to find some answers? A biennial is not a philosophy class after all, and talking too much theory runs the risk of alienating audiences.
Thankfully, organizers have provided some entry points close to home: Canadian artists are well represented (18 total), and smartly so considering a spokesperson from the MAC told me that turnout for openings by local artists typically draw larger crowds than those by foreigners. And while several of the more well-known Canadian artists, such as Moyra Davey and Janice Kerbel, now call other nations home, their participation is still a noteworthy homecoming for the country's small but tight-knit art scene.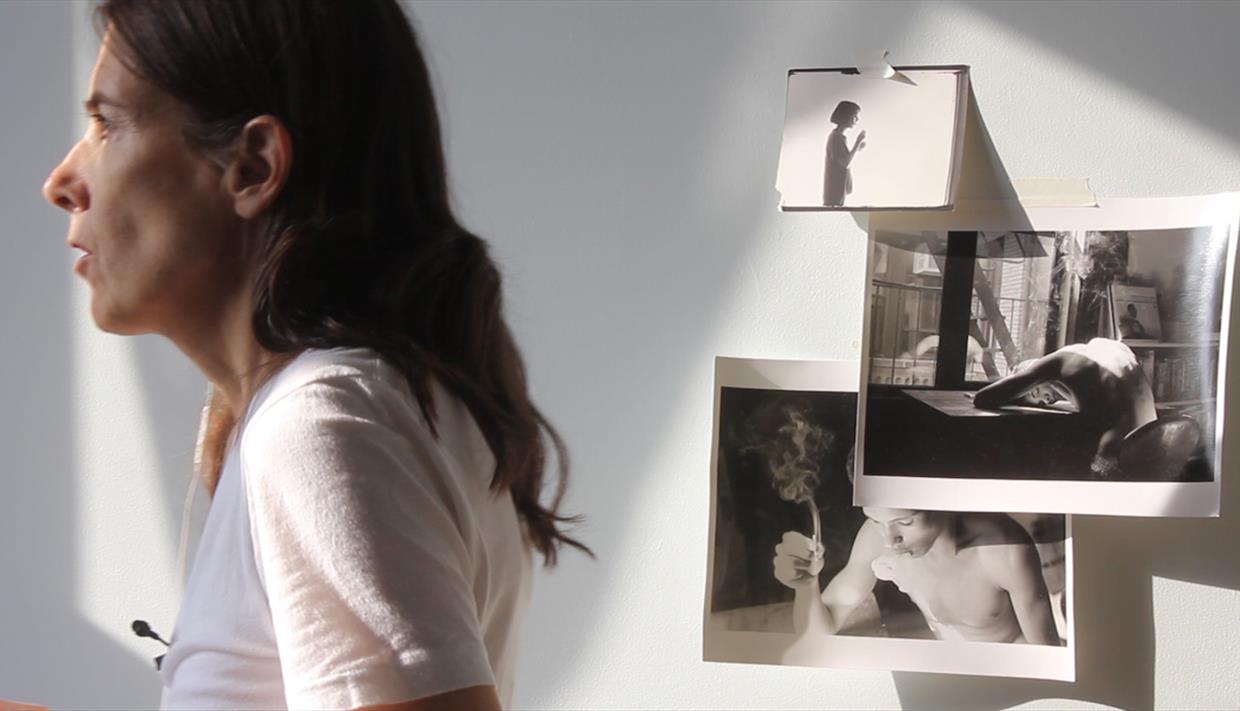 Davey's newest video work, Hemlock Forest, is an intimate portrait of the artist and her family framed within scenes borrowed from Belgian artist Chantal Akerman's film News from Home. "We all sample, we all do covers, it's a way of showing love," Davey says in the narration. The film jumps between a view from her Washington Heights window, glimpses of her talking to the camera while pacing her apartment, photos taken by her son hanging on the wall, and re-stagings of Akerman scenes painstakingly shot in the New York City subway or half-nude in her own bed. Davey discloses details about a death in the family, grappling with chronic illness and empty-nest syndrome, which all serve to bring the viewer in closer though she skillfully holds her audience at an arm's distance.
Moyra Davey's work, as well as drawings and watercolors by Brian Jungen and light box sculptures by American art star Kerry James Marshall, help ground the philosophical discourse of the Biennale in substantive, timely and personal conversations.
Davey's work, as well as drawings and watercolors by Brian Jungen and light box sculptures by American art star Kerry James Marshall, help ground the philosophical discourse of the Biennale in substantive, timely and personal conversations. While Davey draws on the work of Mary Wollstonecraft and Akerman to make sense of her own life, Marshall seeks to redraw the figures left out of canonical history, specifically black bodies. Jungen, who is one of three artists of First Nations descent included in the show, directly addresses Canada's unresolved relationship with its indigenous population in his imagery. In his simple watercolor depicting two directional signs, one reading "FIRST NATION" points one way while the other, "SECOND NATURE," points the opposite. Pirotte addressed the choice to include work on First Nations issues (which are more widely discussed in Canada than in the U.S.) as a double-edged sword which felt both exploitative and necessary.  
A talk between Marshall and Tuymans, moderated by Pirotte, perhaps best sums up the myriad opposing forces at play in Montreal's sprawling biennial. "Reality is something that informs you. You can't make art from art," Tuymans told the audience, while discussing how his paintings are largely based on photographs and existing imagery. In contrast, Marshall had this to say about painting: "The reality of my work is only in the picture."
If the ambitious Montreal Biennial suffers from anything, it's an overabundance of content—some real, some entirely fictional, and a good lot of it appropriated. I can't say that I left Montreal with any firm conclusions about the state of the world, or contemporary art, but the show reaffirmed my belief that artists are the shrewd pundits this world so badly needs. Pirotte phrased the burden of the artist eloquently: "Art is a vessel to transfer knowledge." Let artists ask the big questions, it's up to the rest of us to find answers.