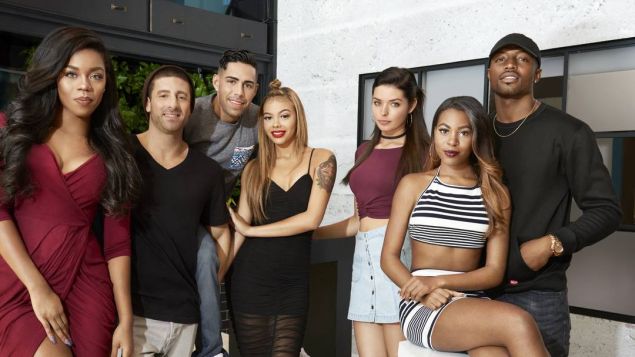 The Real World is back! It's here. A second season in the same year! We've returned to Seattle, home of the former home of the Supersonics, Cameron Crowe's mid-twenties, and that b-roll ferry from Grey's Anatomy. All of your friends have shown up. They're all here! There's the one that's never been away from home before. There's the one that thinks nobody is ready for them so they better all watch out. The one that knows they are the hottest. The one that doesn't really want to be there. The one that likes guns. Can't forget the one who will not get that much screen time. The good-natured, even-keel fan favorite is back, too! 
Every first episode of The Real World, I write down all the names because it's impossible to remember who everyone is right away. Then magically, within twelve weeks plus a reunion, these people feel like your own family for the rest of your life. So intense that say five years later, you might see a former cast member out on the streets of New York City and yell, "Hey, it's Tyler and Cara Maria!" and your brother will make fun of you for it forever. It's a wild journey, filled with ups and downs. 
This is a good cast. I'm excited for this cast.
Jordan, 21, from Chicago, IL always wears dresses, hates sweatpants and for some reason everyone that hears her name thinks she is going to be a dude. Jordan tried to plan a game night right away to bring the roommates together, which backfired big time when it lead to a couple different fights immediately and had almost everyone in the house crying for several reasons. Some seasons of The Real World have had less crying the whole run than this did in the first night. Part of it is because Jordan pulled off one the most incredible moves in the history of the show. She was talking about her roommate behind her back while that exact roommate was "asleep" behind the couch on the floor of the confessional, which was exactly where Jordan was sitting at the time of her talking. Now, nothing all that bad was said, just that this floor-sleeping roommate didn't want to take part in the game, but still this was quite a move to pull off so early in the season.
Mike, 25, from New York, was/is a male stripper and was on Are You the One?, which means you used to get on The Challenge from The Real World but then you could get on The Challenge from Are You the One? and now it looks like you can get on The Real World from Are You the One?. Now, if all my high school logic quizzes were worded like this, I'd have gotten great grades. Modus ponens. Also, because Mike is/was a stripper he nicknamed himself Magic Mike, which fine, of course obviously. But when he was on Are You the One? he said he was from Stony Brook, which isn't New York, New York so can we even trust this man, who completely instigated one of the many fights related to game night. 
Anika, 24, from Harlem, New York. Anika is working on her credit score. She said she likes to cook. And she drank a lot of coffee at one point? She's the one who didn't get much screen time in the premiere, which is a shame because she seems nice and normal (hence no screen time). She streaked the house during the family night game, which lead to a fight.
Robbie, 22, form Morganville, N.J., is a DJ named DJ Maserobbie. DJ Maserobbie will be a highlight of this season. He's never been away from home before. DJ Maserobbie was involved in one of the fights on game night because he had to bite another roommate's lip, and that roommate was a guy, and Robbie didn't want to do it. But then Anika got dared to streak and she wouldn't do it because Robbie didn't bite the lip. So Mike made it his mission to get Robbie to bite the lip. So Anika would streak. Which he did. Which she did. Which then Mike made fun of him for repeatedly for the rest of the night, until Robbie blurted out that Mike tried to hook up with Jordan and got shot down. Which also happened. Robbie cried because he felt like he wasn't being true to himself by letting Mike manipulate him into biting a man's lip. Anika cried because game night was partially her idea and they only made Mike bite the lip to see her streak. Jordan cried because game night was also her idea and she got caught talking about a roommate while she was trying to sleep behind a couch in the confessional. Robbie had to spend the night in a hotel because Robbie introduced America to the "emo tough guy" which is a guy who gets upset with himself, cries about it, fights about it, then cries to his dad about crying and fighting about it. Robbie seems like an okay kid. Robbie's first time ever being away from home should not have probably been to come on The Real World. 
Katrina, 23, from Miranopy, Fla., a town that is a strip club and three gas stations. Katrina likes guns and walks around bars slapping dudes butts. She even got one guy to drop his drink because he was so surprised by it. Katrina has a difficult relationship with her sister. One could even say it's "bad blood." Her sister is clearly about to show up on the show (IN 5 DAYS as the title cards tell us) and there is a completely horrible sounding and complicated situation involving a man who sexually assaulted her sister then made out with Katrina. Which is awful.
 Theo, 23, Kankakee, Ill. Seems like the man. For several reason. 1) Bringing back the bucket hat. 2) Brought a stuffed bunny named Chuck with him and when his roommate joked about throwing it away, Theo referenced the original Seattle The Real World season when Stephen slapped Irene. That was in 1998. Theo was five. 3) Played football with Jimmy Garoppolo. 4) Stuck with denying his hook up when he clearly 100 percent got caught hooking up by cameras mounted on the walls of his room. 5) Has no problem with letting Robbie bite his lip. 6) 99 percent of the things he says are entertaining. Like him pointing out that this year, including himself, there are four black roommates on The Real World, which he says "must be a record." It managed to call out the past seasons and also be good-natured at the same time.
Tyara, 21, from Alpharetta, Ga., but really from all over, but really from a vagina, but really as Theo points out, from a penis. Tyara is a military brat who was born in the US and raised in the UK so she has a British accent and talks like Estelle sings. Tyara has been holding back from letting the roommates know her because she doesn't feel quite comfortable yet. She doesn't want to play the family night game because she doesn't want to answer questions like "fave sex position" on tv and with strangers, which is fair and valid. She also falls asleep behind the couch in the confessional but hears Jordan talking about her and gets annoyed. Theo and her have a "thing" which is dangerous because they share a room. The cameramen try to get them hooking up so they wait, not realizing that there are cameras in the walls of the room.
Now, what none of these people know is that all of their worst enemies are about to enter the house. It'll be Katrina's sister and probably Theo's cousin, who left drugs in his dorm room forcing him to lose his Division 1 scholarship. Fourteen people to remember. I will write them all down. I will remember them all in the end. As always, I continue pray every season that we get someone as dynamic as Brian from Ex-Plosion. It's going to be great.