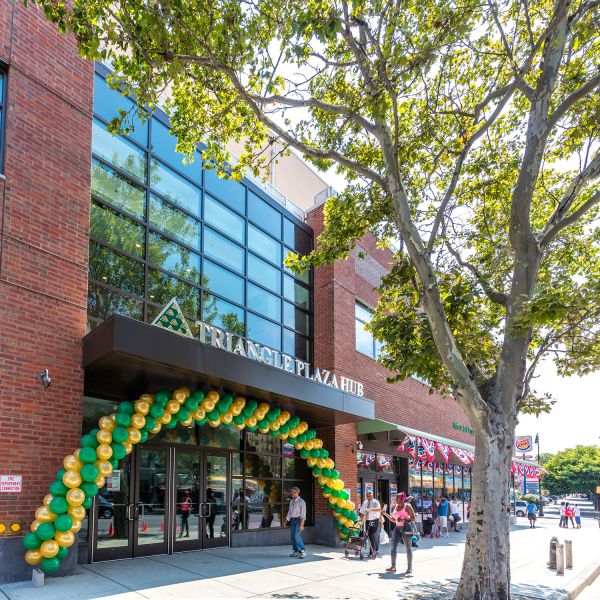 One year ago, real estate developers threw a warehouse party in the South Bronx. Dubbed the "Macabre Suite," Somerset Partners and the Chetrit Group—the development team behind an ambitious project that hopes to transform the South Bronx waterfront—outfitted the party with "two burnt-out cars covered in bullet holes and trash bin fires outside the venue." A photo of one of the developers, Keith Rubenstein, appeared online with Gigi Hadid and Naomi Campbell at his side; their backdrop was the exposed brick of a long-abandoned piano factory.
The former piano factory used as the venue is one of many in the area, and the Macabre Suite party came soon after Somerset and Chetrit put up a new billboard trying to rebrand the South Bronx as the "Piano District." The billboard promised "luxury waterfront living" with "world-class dining, fashion, art and architecture."
Those seem like lofty promises if you know the current state of the South Bronx waterfront, which is mostly blocked from the public by warehouses, parking lots and industrial sites. But Somerset and Chetrit had paid $58 million for a collection of waterfront parcels and are actively working on plans to build as many as six 25-story towers with market-rate apartments and ground-floor retail. Now in the final planning stages, the project is largely seen as the beginning of a transformation that could mirror the Williamsburg waterfront, which has changed radically since rezoning in 2005. (The South Bronx waterfront has yet to go through such an overarching residential rezoning, although in 2008 former Mayor Michael Bloomberg announced a "South Bronx Initiative" to help support the revitalization of the area.)
The waterfront locale and the subway access 'make this a breeding ground for what made Williamsburg and Dumbo. The South Bronx just makes so much sense.'—Justin Fitzsimmons, analyst with GFI Realty
"We envision this as a beautiful, master-planned community," said Keith Rubenstein of Somerset, going on to promise 2,000 apartments and a public waterfront esplanade in the first phase of construction. For him, the appeal of the site was "all about location, location, location," meaning the nearby subway lines, which take you to Midtown in 25 minutes, and of course, a waterfront locale that's translated into big bucks for developers in Brooklyn, Long Island City and Manhattan. But Rubenstein's excitement is the cause of anxiety for locals, who largely panned his Macabre Suite party and Piano District rebranding efforts as insensitive, tone-deaf acts of gentrification. What's happening now, it seems, is a serious conversation, sometimes between developers and South Bronx residents—but more often times not—about how best to shape a portion of the Bronx that's destined for change.
You'd be mistaken for thinking that the South Bronx is just one neighborhood; it's actually a series of many that include Mott Haven, Melrose and Port Morris. A New York Times article from 1995 explained the boundaries separating the South Bronx from the rest of the borough as "notorious and elusive"; not much has changed since then. Port Morris and Mott Haven make up the area surrounding the waterfront and are poised to change most as the towers start construction. Moving north it becomes more residential, with the Lower Grand Concourse known for its Art Deco co-op buildings. The entire area is anchored by what's known as the Hub, a transit and retail hub at Third Avenue and 149th Street that's slated for major redevelopment.
Real estate investment throughout the South Bronx is significant, although much of it is in early stages. Justin Fitzsimmons, a research analyst with GFI Realty Services who recently put together a report on South Bronx development, explained that a big driver is low land prices. "What's most shocking is the large gap in price per buildable square foot [between Manhattan and the Bronx]," he said. "You're paying around $50 a square foot in the Bronx as opposed to $650 in Manhattan, $250 in Brooklyn and $175 in Queens." That, the waterfront locale and the subway access "make this a breeding ground for what made Williamsburg and Dumbo," he said. "The South Bronx just makes so much sense."
In his report, Fitzsimmons found there's significant investment not just in new residential units but also in retail, office space, hotels and even film production. (Both York Studios and Silvercup Studios have recently announced plans to add production facilities in the area.) In 2015, the report said, "the South Bronx real estate market exploded" with investors and developers committing approximately $1.1 billion in development, an 84 percent increase from 2014. A few projects of note: Last year Hornig Capital Partners and Savanna purchased a 172,000-square-foot commercial loft building in Mott Haven for $31 million and rebranded it as an office space known as "The Bruckner Building"; construction is well underway at the historic Bronx Post Office to transform it into a retail, commercial and community hub; and this spring Filtered Coffee opened its doors in Mott Haven, with financial backing from Somerset Partner's Rubenstein. Rubenstein also has plans to open a Chelsea Market-inspired food hall nearby.
"In other neighborhoods, we've seen those steps being taken individually," Fitzsimmons said, meaning the gradual addition of commercial and office space after residents have already flooded a neighborhood. "The South Bronx is getting hit from all angles, so it'll be a ready-to-go neighborhood."
Many incoming investments have had support from the Bronx borough president, Rubén Díaz Jr., who has thrown his weight behind development he feels can benefit an area that's long been neglected by the city. And there are longtimers in the Bronx who know the investment will come with benefits. "When an area is all low-income, it affects all systems," said Phillip Morrow, president of SoBRO, a nonprofit that's working to create more public access to the waterfront. An influx of money and higher-income residents, he said, "puts more pressure on the public side to improve the schools, streets, safety."
Another nonprofit, South Bronx Unite, has taken an active role in trying to shape the future of the borough. "It's partly in response to what's happened in other boroughs," said co-founder Mychal Johnson, referring to the swift gentrification that's typically followed waterfront development. "We want our quality of life increased first, before all the new development comes in. But it always happens as the opposite. We're trying to reverse that dynamic and help lead the way for private development." Johnson has counted 22 projects in the area that are "ready to build" and expects up to 15,000 new residents in the South Bronx in the next five years. South Bronx Unite has released "Principles for Private Development" that ask for community engagement, local jobs, affordable housing and the creation of green space and public waterfront access. The organization also just held a visioning session to transform a 28,000-square-foot vacant building in Mott Haven into a center for grassroots, faith and neighborhood organizations whose headquarters have been threatened by rising rents.
Developers, too, are trying to be more sensitive to the needs of the community—South Bronx Unite has spoken with Somerset and Chetrit and presented its development principles, although "we want commitments in writing [from developers], and we're still working toward that," Johnson said.
'It's not such a bad thing to bring higher-income people to Mott Haven. But the goal is to try and provide more of an income mix.'—Philip Morrow of SoBRO
"We respect the culture and heritage that's already here," Rubenstein said, "and we want to provide opportunities for those people." Although he was vague about what those opportunities exactly are, besides the potential of jobs and waterfront access through the public esplanade.
This summer Triangle Equities opened a new retail center, dubbed Triangle Plaza, outside the Hub, with a requirement from the city to bring a grocery store in—a much-needed amenity for the area. "We found a terrific tenant mix that would serve the community," said Elysa Goldman, director of development for Triangle. And under construction at the Hub is La Central, a mixed-use affordable-housing project that will include a YMCA, public skate park, 30,000 square feet of community space and over 45,000 square feet of retail. Adam Mermelstein, a managing member at Treetop Development, who has plans for two large rental buildings in Mott Haven, spoke to the importance of "providing people who live in the Bronx opportunities to upgrade their living spaces, and their options. The existing demographic is underserved."
Affordability is a huge component of much incoming development—the current breakdown of new development is 60 percent subsidized, affordable units, according to Fitzsimmons. ("Although the amount of nonsubsidized development is growing," he added.) And this inclusion is seen as one way the area can protect itself against hyper-gentrification. "It's not such a bad thing to bring higher-income people to Mott Haven," said Morrow, of SoBRO. "But the goal is to try and provide more of an income mix." The issue with the private waterfront development, though, is that "there's not much we can say or do about it."
Despite all the new development slated to come, new residents have been slowly trickling in to take advantage of existing housing with prices much lower than Manhattan, Brooklyn and Queens. Shane Ferro has lived in a co-op along the Lower Concourse for about a year; the South Bronx stood out as one of the few areas to buy with a budget below $200,000. "Most people have lived in the neighborhood a long time," she said. "I do feel like a gentrifier." But she honed in on the experience many young New Yorkers faced with finding an affordable apartment: "Because price dictates where I can live, I've never lived in a place that I didn't feel like that." Buying the apartment, however, has allowed her to invest in the community with "the intention of being here for quite a long time."
Dan Almekinder, a Corcoran broker who moved to the South Bronx seven years ago and is now marketing a Lower Concourse co-op for $145,000, said that "a lot of the buyers looking along the Grand Concourse are those who feel priced out of Manhattan and Brooklyn and are unwilling to overpay for small spaces." He added, "Before now, these buyers didn't realize the amount of space one can get for the prices being asked in some of the best buildings in the South Bronx. The fact that we are so close to Midtown convinces a lot of buyers to consider the Grand Concourse over a neighborhood in Manhattan or Brooklyn that may be on their radar."
Linda Cunningham, an artist, arrived to the South Bronx in 2000. (She is currently working on a piece, to go on display at the Bronx Museum of the Arts next month, that considers the future of the waterfront.) In 2008, she became the co-founder of BronxArtsSpace, a nonprofit that supports underrepresented, emerging artists in the South Bronx. "We've been here a long time, and did not intend in any way to make this a place to build luxury housing," she said. She said the organization has talked with many incoming developers "who are very interested in what we can do for them, but it's unclear what they can do for us." She expressed disappointment over the glitzy, arts-focused Macabre Suite party at a time "we're struggling to continue to exist as an arts organization."
New development, she conceded, will be nice for a new restaurant or two; she enjoys a coffee shop that's recently opened in the area. Her artwork also envisions a waterfront with a new public pier and park, rather than parking lots filled with trucks. "I will never leave," she said. "But luxury projects on the waterfront? I just don't see what that would do for us in any way."