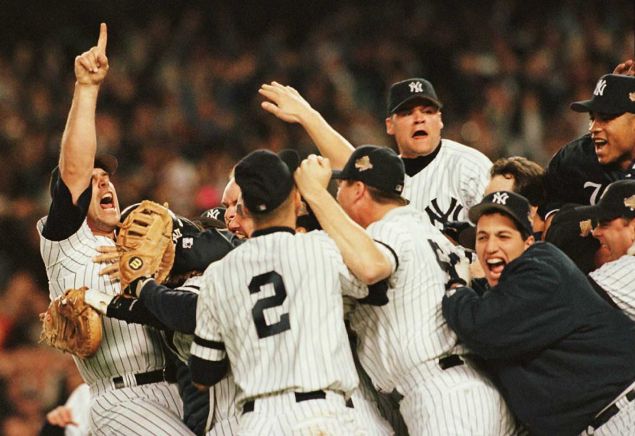 It has been twenty years since I was in the inferno: The Yankee Stadium bleachers, where the Bleacher Creatures, the rowdiest of the rowdy, raised hell, pleading with women to bare their breasts, among other politically incorrect shenanigans. This was before stadiums became glorified food courts, and there were flat screens were at every concession stand.
I was a rookie – a rookie vendor.
Quite memorably, during a rare mid-September matinee, I was hawking hot dogs. Just as I started to get warmed up with my succinct pitch, a completely obliterated, middle-aged man stood in the center of the aisle. "I've got a hot dog hereyah!" he slurred as he grabbed his crotch and thrust his hips forward.
Of course, 1996 was an extraordinary season. It had been 18 years since the Yankees won a world championship. I got a season's ticket to watch their return to glory. I never planned on becoming a vendor. I never planned on following the Yankees that season for that matter. A start-up magazine needed someone to infiltrate the vending ranks. No one wanted the assignment, and I was in between gigs.
I was handed the ball so to speak.
Fortunately, I did not mess up the vendor interview. Within hours, I was wearing a Good Humor- style ice cream outfit with a tray of large sodas in the Upper Deck of The House That Ruth Built. Neophyte vendors start out with the weakest items in the worst places – ice cream on a frigid day for instance. Veterans hawk The Holy Grail: Beer! During my debut, I managed to not drop any soda on anyone, or fall down the steep flight of stairs. Working strictly off commission, I made a few dollars. I even got tipped a few times. I was hooked. I was supposed to work a few weeks or so – it was never quite spelled out for me. I wound up working the entire season. I needed this. I even enjoyed the rain delays. There was something about being in this historic cathedral – and breaking a sweat. I wasn't an athlete. I know that. I was a fake athlete, if there's such a thing. I fed for sport – and I got paid for it, so I guess that made me a professional fake athlete. Regardless, with each flight of stairs, with each sale, my anxieties lessened, and my confidence grew. I became determined to find the words to capture all this.
As I found my voice, the Yankees kept winning. Actually, I don't remember them ever losing. Jeter was so young, just starting out, same with Bernie and Mariano. Darryl and Doc were making comebacks, courtesy of Yankees owner George Steinbrenner. The irreplaceable Boss demanded perfection, but he also had a special place for tarnished underdogs. The Boss was on top of everything – even vendors, making sure that we were groomed to Yankee standards. If we weren't, well, we were history.
In the playoffs, the Yankees took down the Orioles, thanks in part to Jeffrey Maier, the 12-year old kid who escorted Jeter's fly ball over the right field wall. In the World Series, the Yankees seemed to be done, losing the first two to the Braves at home. During The Fall Classic, dog sales were way down. Few could scarf with so much at stake. Again, it had been eighteen years since the Yanks had tasted world domination. After Game 2, us vendors bid each other farewell. There were so many quirky hawkers, just too many to list here. I can't forget one though: The Rabbi. I have no idea if this man was an actual rabbi. I do know that this man took an excruciatingly long time to make change. In retrospect, perhaps this was all a ruse to frustrate customers, so that they would finally whisk him away with the three words that hawkers live to hear: "keep the change!"
Sadly, it looked as if the Braves would clinch at home. Fortunately, that was not to be, with the Yankees taking the next three. Game 6 was a great party, one of New York's best. It was before 9/11, before we lost so much. At the gate, ticket takers were taking bribes for admittance. This was so special. No one should be deprived. One of my vendor brethren showed up to work – but not to his concessions post. He wasn't going to miss history for a few Cracker Jack sales. Others kept their eye on the register – with good reason. I heard that one fortunate Yankee paraphernalia hawker pocketed $8,000 in commission. Not bad for a few hours at the ball park.
By the sixth inning of Game 6, my hawking night was done. I handed my sales pin to an MTV VJ in the bleachers and walked over to the field seats, where my editor was sitting. I gave him my Good Humor gear as a souvenir. More than deserved. If it weren't for him, I wouldn't have had this summer – or found my voice. We watched Charlie Hayes catch the final out, and Wade Boggs ride the policeman's horse. We sang Sinatra like he was meant to be sung. It was good times, glorious times.
Jon Hart is the author of Man versus Ball: One Ordinary Guy and His Extraordinary Sports Adventures.