On August 26, 2015, a 21-year-old employee at Blue Apron (APRN)'s Richmond, California packing facility left a supervisor a voicemail, in which he detailed his plan to quit later that day and return with a gun to shoot his manager and two other employees. Meanwhile, the company's management was meeting with representatives from California's Division of Occupational Safety and Health regarding a two-week inspection that would result in nine violations and proposed penalties totaling $11,695 for unsafe conditions. Then later that day, the police were called to the facility again due to another, unrelated shooting threat from an employee who was fired the day before for groping a female co-worker.
This day was certainly among the most memorable at Blue Apron, but the events that occurred are not at all rare or unique. An investigation published yesterday by BuzzFeed reveals the leader of the meal kit business—which is valued at $2 billion in a $5 billion industry—is not as wholesome its leads consumers to believe. The reporter, Caroline O'Donovan, spent months speaking to more than a dozen former employees and combing through thousands of pages of public records, and what she found was that in the rush to scale its supply chain, Blue Apron has has become plagued with violence, health and safety violations as well as extremely demanding and poor working conditions.
"The company has set out to upend the entrenched industrial food system and disrupt the dinner table by changing the way Americans buy, receive, and prepare food, reducing food waste and increasing distribution and delivery efficiencies in the process," O'Donovan wrote. "To do that, it had to rapidly hire a massive unskilled workforce, bringing jobs to a part of the Bay Area that has been largely left behind by Silicon Valley's boom times."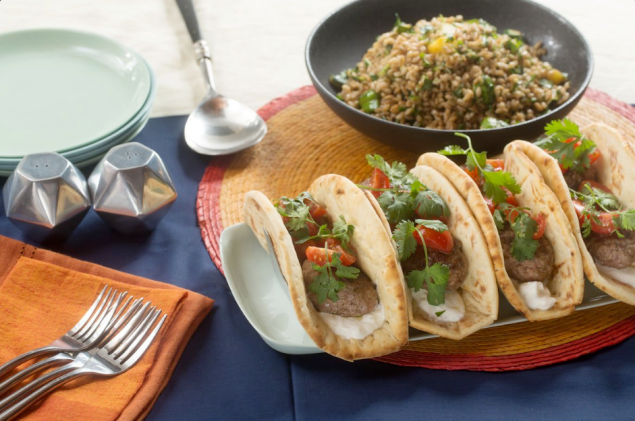 In the 38 months since Blue Apron's facility opened, the Richmond Police Department has received 12 calls regarding violence: two because of weapons, three because of bomb threats and seven because of assault. Police captains have reportedly met with Blue Apron twice to discuss the frequency of these incidents, and at least four arrests have been made. According to police reports published by BuzzFeed, employees have reported being punched in the face, choked, groped, pushed, pulled, and even bitten by each other on the job.
In total, Blue Apron has been dealt the most OSHA violations of any company of this type and has been hit with over $25,000 in proposed penalties. A few months before that meeting on August 26, the company was penalized $13,050 following a forklift accident, which the company officially attributed to "speeding/reckless driving" despite the fact that the worker had never been trained or certified to operate a forklift. Overall, Cal/OSHA ruled the unsafe working conditions routinely put the workers at risk of fractured bones, chemical burns, blindness, other injuries and death.
'Your fingers would start to get numb and start to hurt from using them.'
The facility is kept below 40 degrees. And while the company issued jackets, thermals, hats and neck warmers to workers, some said this wasn't enough. "Your fingers would start to get numb and start to hurt from using them," former warehouse lead Andrew Driskell told BuzzFeed.
In shedding light on the poor conditions, all of those interviewed recalled violence, visits from the police, injuries, high turnover and unfair treatment. They said the hours are long, the pay is $12 per hour and that it was common for people to quit on their first day. Cal/OSHA received anonymous complaints citing asbestos, a limited number of bathrooms, overcrowding and icy floors. Additionally, the demand of the work itself was said to be beyond reach, due partly by the flexibility of Blue Apron's subscription plan that could have people cancelling or joining on extremely short notice. "One day in pack-out could be worse than an entire Black Friday at Best Buy, as far as stress goes," Driskell added. 
Read the full investigation on BuzzFeed.