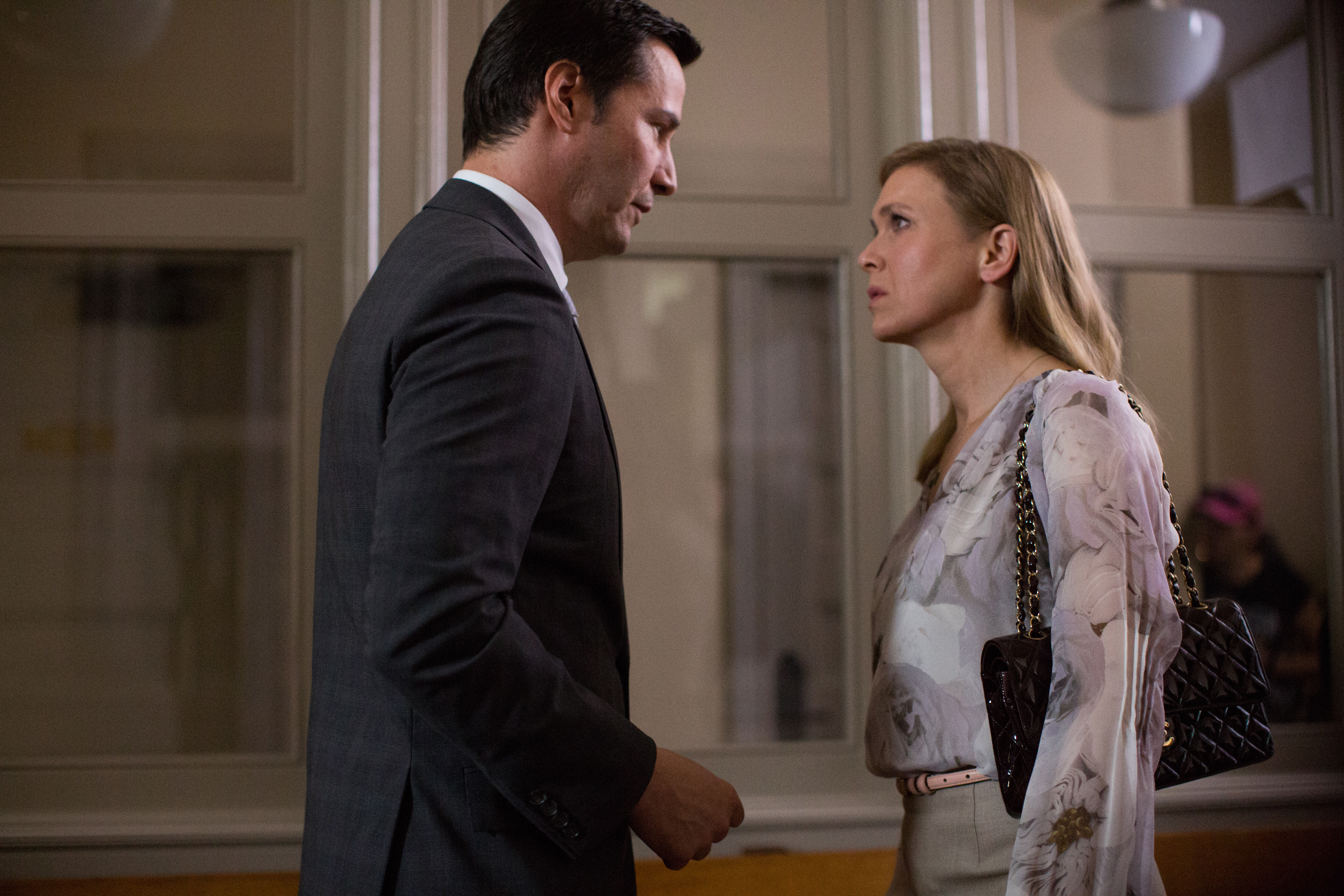 A guaranteed cure for insomnia, an abomination called The Whole Truth is a courtroom movie that looks like a colorized version of an old Perry Mason TV show, starring Renée Zellweger's new face and Keanu Reeves, who has the charisma and animated visual appeal of a mud fence. A total disaster that's been hanging around the editing room gathering dust for more than a year, you can't call it deadly because that would imply it's still alive. This one is already dead on arrival.
---

THE WHOLE TRUTH
(0/4 stars)

Written by: Nicholas Kazan
Directed by: Courtney Hunt
Starring: Keanu Reeves, Renee Zellweger and Gugu Mbatha-Row
Running time: 93 mins.

---
There's something amiss before the first scene begins, when Keanu Reeves, as a motorcycle-riding defense attorney named Richard Ramsey, pulls up to a Louisiana courthouse for a murder trial and cannot say the word "Hello" with any real conviction. He's promised his widowed friend Loretta (a woman with a Botox overdose who only faintly resembles Zellweger) to save her teenage son Mike from prison. Mike is accused of murdering his wealthy father Boone (Jim Belushi). He confessed after his mother found him holding the bloodstained knife. Now he refuses to speak to anyone, including his lawyer. It would take the entire cast of Law and Order: SVU to solve this one. Clearly it's too big a job for Keanu Reeves. But not for his assistant Janelle, played by a criminally wasted Gugu Mbatha-Raw, a lovely actress who has simply got to do something about a name change.
As the mind-numbingly tedious trial progresses, ugly facts emerge that reveal the victim as less than the good-old-boy reputation that precedes him. Apparently he was a womanizer who beat up his wife and possibly raped his son. As the facts pile up with a proficiency of clichés obvious enough for John Grisham to make a citizen's arrest, the enigmatic pacing is so slow you could knit a sweater between takes. Painfully lacking in story, viable characters or a beginning, middle and end, the movie contains nothing that can remotely be described as a dramatic visual. The single most animated quality in The Whole Truth is a search for red herrings, of which there are enough to fill a tank of dead fish on Cannery Row. The setting is New Orleans, but there isn't one outdoor shot of anything atmospheric enough to convince you it was filmed anywhere but Cleveland. Who killed Boone? What was the motive? Was it the boy or his mother? It could even be the defense attorney. Everyone is lying.
The movie is so boring, obtuse and pointless that you soon give up caring and concentrate on Renée Zellweger's face. Once vibrant and appealingly quirky, she disappeared from the screen for a prolonged rest, and re-emerged with an altered appearance so shocking that she could pass for someone on her way to  a Halloween ball wearing a badly made Renée Zellweger mask.
The director is Courtney Hunt, who once directed a freshly observed thriller called Frozen River. She's changed, too. Now she appears to have forgotten everything she ever learned about making movies. In The Whole Truth, she doesn't know how to begin a scene, keep an audience awake, or when to say "Cut!"