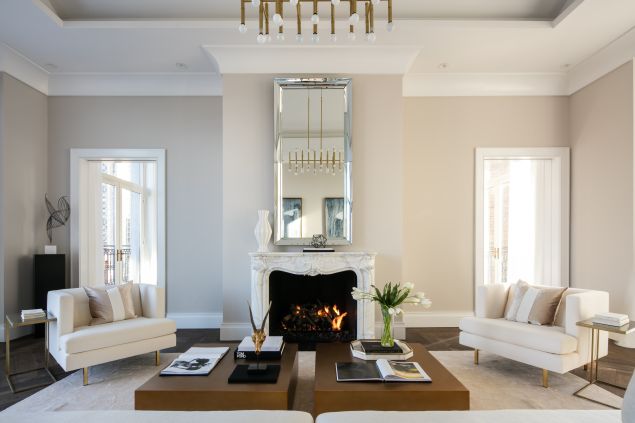 As the warm, hazy days of summer become a distant memory and crisp autumn air sets in, those looking at higher end homes in the city right now are attracted to apartments that fit into a fashionable aesthetic. Though interior design and architecture trends don't change at quite the speed of the fashion realm, certain styles and layouts are sparking the interest of knowledgeable buyers.
"Unlike the past, today's New Yorker knows what good design is and what it can do for them," Charlie Kaplan, a principal at GLUCK+, the design firm behind 150 Rivington, told the Observer. "They want spaces that integrate rich finishes, big light and air, unique detailing and practical floor plans into a beautiful coherent whole."
That move toward open layouts remains in-demand, particularly with sleek new developments downtown. At 565 Broome Soho, where a three-bedroom duplex is currently listed for $14 million, interior design firm RDAI intentionally created open, airy spaces that blend the rooms.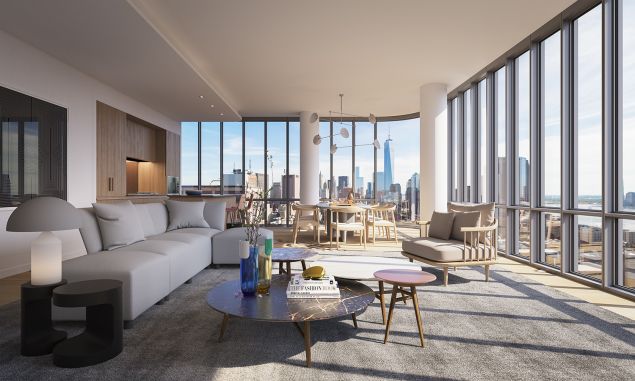 In order to create those types of living spaces, "the kitchen is located within the living-slash-dining area," Denis Montel, the artistic and managing director of RDAI, told the Observer. "We designed the facades of the kitchen with ribbed wood finish, so they have a distinct character, but when the doors are closed, they hide the kitchen aspect and are just part of the interior architecture."
Elegant sliding glass doors are particularly attractive for some, to easily create open space in which to entertain. "Sleek Italian, custom-made translucent sliding-glass doors by Rimadesio provide open, flexible space that easily transforms from an entertainment space to a quiet cozy refuge," Kaplan said. "When open, the entire space expands as the amount of exterior wall doubles. When closed, a separate, private room can be enjoyed."
Buyers want all top of the line gadgets and appliances, though they don't necessarily want those details to be visually disruptive within a home. Instead, they want the sleek fixtures hidden away.
"Buyers have moved past showy appliances and fixtures," Kaplan explained. "They want appliances that blend seamlessly into the overall design of the space. For example, the kitchens at 150 Rivington use integrated refrigerator and dishwasher panels to create continuous clean runs of millwork allowing the kitchen to integrate seamlessly into the living and dining areas."
The appeal of  "custom" is always there: "There's a very strong desire for individuality and craft in a kitchen," said Matt Van Damm, executive vice president of marketing and design at Naftali Group, the developer behind the lux new West Village condos The Shephard. "We are seeing more solid wood cabinetry and hardware that is custom made for a project.
"At The Shephard, Gachot Studios custom designed every single detail of the kitchens. Smallbone of Devizes, the legendary English furniture maker, made each kitchen to order with mahogany wood islands and interiors and a rich grey hand-painted finish," he said, noting that even the hardware and hinges are specially made at The Shephard.
Minimalist cabinetry has become "a luxury staple," Interior Marketing Group president and stager extraordinaire Cheryl Eisen confirmed. Buyers are also leaning toward "smart technology, even in appliances as well as sexy new extras such as built-in automated coffee makers, convection microwaves and knock-to-open dishwashers," Eisen added.
Certain architectural features such as fireplaces are always a coveted commodity, though perhaps more so for fall. "Fireplaces are a huge selling point—not only because of the recent ban on new construction of wood-burning fireplaces," Eisen opined, "but also because of a fire's crackle and aroma, which have the unique ability to mentally transport you to a mountain chalet, creating a warm and toasty escape from the chill of a concrete jungle."
According to James Huniford of Huniford design studios, a big trend to watch out for this fall is a meticulous attention to detail in unexpected rooms in the home—including the bathroom. "Because bathrooms are small spaces they are an easy place to experiment with color as well as unexpected art without committing to it in a large room," Huniford explained.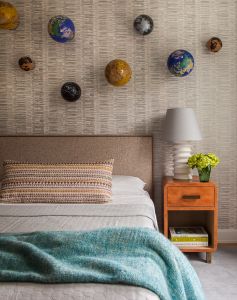 The use of luxurious materials is always enticing for buyers eyeing the newest trends and, for fall, a neutral yet warm color palette is particularly attractive. Additions like Venetian plaster walls, textured materials and custom furnishings give apartments an edge—with velvet making the rounds as the most in-demand fabric of the season, it makes sense that the rich material is flowing into interiors, too.
"When the weather cools down, I like to create a little more warmth inside. As a designer, I achieve this with textural fabrics, like velvets, chenilles, faux furs in pillows, throws and blankets," Eisen pointed out. "Layering these textures has always been a staple in my design arsenal."
Such is the case at the new d'Orsay in the Meatpacking District, where famed French designer Jacques Garcia designed interiors—he made sure to add a European flair to the apartments that also took note of modern trends.
"The design concept behind the d'Orsay was inspired by blending the Meatpacking District's industrial look with the flair of a French boutique hotel," Garcia, the interior architect behind such delightful interiors as Hôtel Costes and Costes restaurants, told the Observer.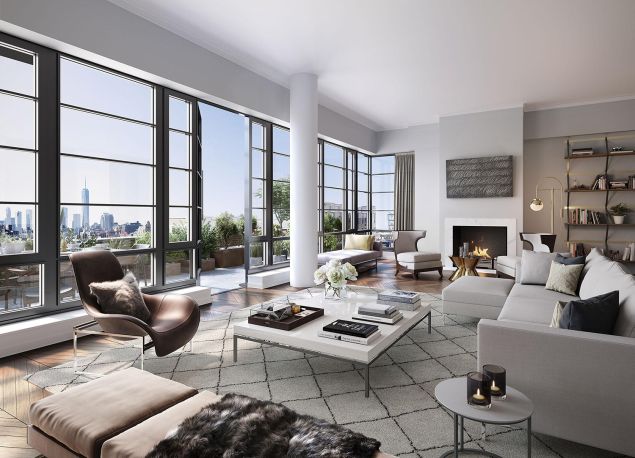 Garcia notes that buyers will be attracted to the European flavor "mixed with understated and ageless elegance. The language is conveyed through a wide palette of finishes and materials that exude elegance and luxury, from bronze to venetian plaster walls, textured wooden panels, custom lighting and velvet furniture with my signature color red."
Ah, yes—a Bordeaux-colored velvet and a fireplace do seem the perfect antidote to the impending winter days.