Guys, do you realize that we are finally done with debates for this election cycle? No more primary debates, no more general election debates, we're free! Well, there might be some more senate debates, but we don't pay as much attention to them.
It was the final chance for each candidate to deliver a knock-out punch to the other, but neither really delivered. Going into the debate, a constant stream of illegally obtained Wikileaks documents created a headache for Hillary Clinton, while continued fallout and attention on accusations of sexual assault against Donald Trump kept his campaign on defense.
Without further ado, here's my final debate analysis of 2016.
Hillary Clinton
Where she faltered: Clinton was clearly riled in this debate, and seemed to interrupt Trump more than she did in the previous debates.
She also opened herself up on gun rights issues. She claimed there was "no doubt" that she supports the second amendment, but her past statements do cast doubt. Like when she said the Australian buyback program (which was mandatory) was "worth considering."
When she brings up banning people on the "no fly" list from purchasing a gun, she goes against the American Civil Liberties Union. The Federalist's Mollie Hemmingway asked on Twitter whether Clinton would want to take other "rights" from people on the no fly list, or just their second amendment right. By the way, people on the list aren't aware they're on it (until they would go buy a gun) and there's no way to get off the list if they're on there erroneously. This lack of due process is why the ACLU opposes the ban. 
Where she excelled: Abortion is a difficult topic, and Clinton certainly falters when she refuses to say the word "abortion," instead speaking almost about "choice." But she was able to defend her vote on late-term abortion better than she has over the course of her campaign. She talked about women she claims to have met who have been told their life was in danger and they needed to abort to save their life, and the bill she voted against in Congress didn't take the life of the mother into account.
Now, there is some dispute over whether a late-term abortion really can ever be used for saving the life of the mother. In testimony before congress in 2013, Dr. Anthony Levatino, a former OB-GYN who had performed abortions, said that late-term abortions take too long to be used to save a mother's life. He mentioned a case in which the woman was dying and he was able to deliver the baby within an hour, but an abortion at that time would have taken three days of preparation.
Clinton also did well deflecting the Wikileaks releases of her emails by insisting Russia is behind the attacks. If this were 2012, there would be jokes made about the Cold War being over, but this is 2016, and nothing matters.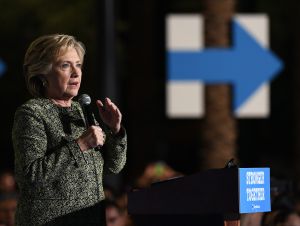 She also provided a pretty devastating line about illegal immigrants paying more in taxes than Trump. Whether that's true or not is beside the point in a debate (because people won't fact check it), the line was pretty memorable.
"Half of all immigrants, undocumented immigrants in our country actually pay federal income tax," Clinton said. "We have undocumented immigrants in America who are paying more federal income tax than a billionaire. I find that just astonishing."
Donald Trump
Where he faltered: Trump also went back to interrupting more than he did in the second debate. Really both candidates looked like they were fighting for their (political) lives in this debate.
Trump refusing to say he would accept the outcome of the election was clearly a line to shore up his base, but it did leave viewers wondering just how he would respond if he lost the election. Trump, when asked about accepting the outcome of the election, mentioned the millions of people on voter rolls that are ineligible to vote. When pressed again on the issue, Trump said: "What I'm saying is I'll tell you at the time. I'll keep you in suspense, okay?"
That's… not really an acceptable answer. At the same time, Democrats don't have the best leg to stand on with this issue, as everyone remembers Al Gore refusing to accept the results of the 2000 election until Florida was recounted (well, he wanted certain counties in Florida recounted).
Where he excelled: On the first answer, despite a detour to talk about remarks from Clinton, Trump said he wanted the Supreme Court to uphold the constitution.
"It's all about the constitution of – and so important, the constitution the way it was meant to be and those are the people that I will appoint," Trump said of his Supreme Court nominees.
Trump also pivoted from the sexual assault accusations against him to Clinton's emails. He didn't bring up Bill Clinton's accusations, like we expected. He instead pivoted to a valid point about how Clinton wasn't indicted for lying to the FBI, when just recently a member of the military was.
"What happened to the FBI? I don't know," Trump said. "We have a great general, four-star general today. You read it in all the papers, going to potentially serve five years in jail for lying to the FBI. One lie. She's lied hundreds of times to the people, to congress, and to the FBI. He is going to probably go to jail. This is a four-star general. And she gets away with it, and she can run for presidency of the United States?"
Disclosure: Donald Trump is the father-in-law of Jared Kushner, the publisher of Observer Media.