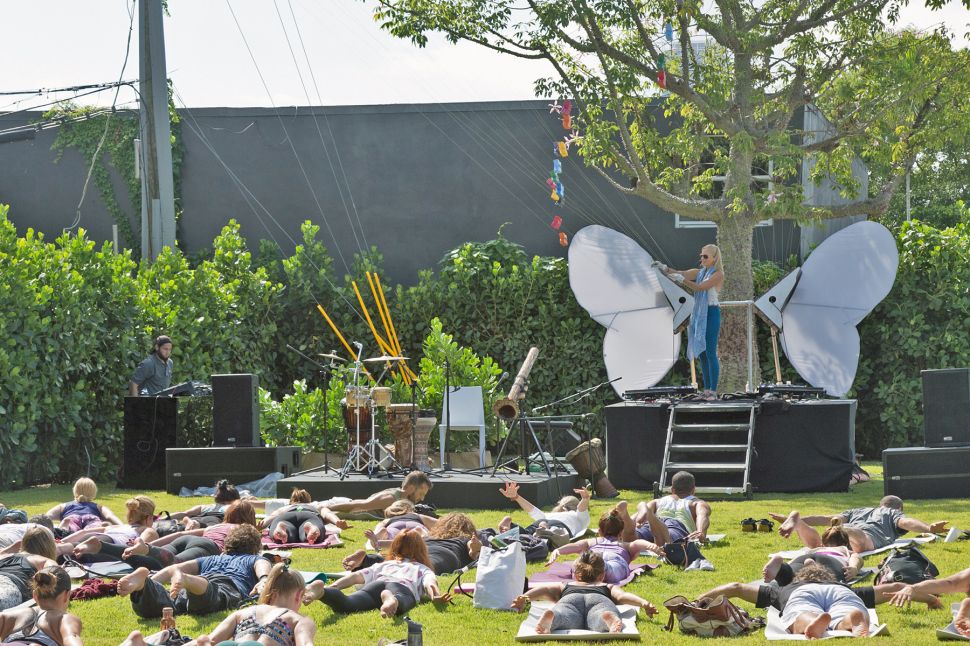 Let's be frank—when you think of Miami, shamanic rituals and crystals aren't exactly the first things that come to mind.
But yet, there's a perceptible shift happening in a city predominantly known for its raucous nightlife and sun-soaked debauchery. And none of it more evident that at a festival recently held in Miami's Wynwood neighborhood. Modern Life, one of the country's very first festivals dedicated to mindfulness, engaged over 500 people in a day full of meditation, yoga and workshops dedicated to introducing the concept of mindfulness to business and community-building.
Shamanic blessings were naturally par for the course.
Cue self-proclaimed "Rockstar Shaman" Alyson Charles, a two-time National Champion runner and radio host whose meditations rank amongst Oprah's favorites. Charles opened the ceremony with a morning ritual from the group. In a later talk entitled "Consciousness & Shamanism," she revealed that her moment of awakening occurred after a long-term relationship went incredibly awry. She recounted feeling driven finding herself and figure out exactly what she was meant to do—and realizing that the answer lay in showing others how to do the same through intense soul-level work.
From there, the day diverged into similarly focused paths. Mental health advocate and author Quentin Vennie delved into the world of anxiety and shared his personal journey overcoming a crippling addiction to anti-anxiety drugs and two suicide attempts. Stumbling upon yoga, meditation and…juicing (yes, juicing), put him back on a non-destructive path. "I'm blessed with anxiety," said Vennie. "You can feed the [anxiety] monster or you can control it. Don't give it power."
Later in the afternoon, personal coach Jennifer Grace led the audience through a powerful meditation session that encouraged attendees to meet themselves 20 years into the future. There were more than a few emotionally tear-streaked faces at the end of the moment.
'We delivered something Miami has been craving… A best-in-class mindful experience that is inclusive, thoughtful, and high-vibe.'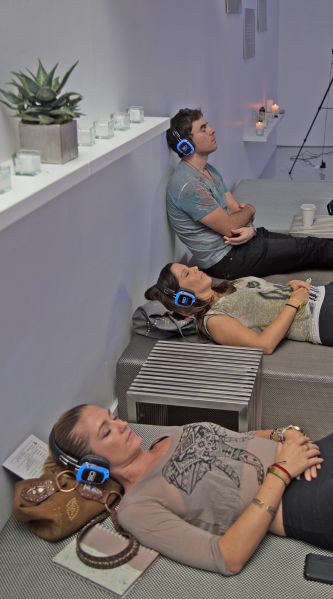 A room from within the recently opened The Sacred Space compound hosted a "sound bath." Undulating projections of blue light washed the ceiling as guests sprawled out on mats and allowed the tones emitted by various sound bowls flow over their body. Outside, festival founder and owner of Modern Om, Myk Likov, moderated a panel on creating mindful communities with developer and CEO of Metro 1, Tony Cho.
"I'm completely elated by the reception Modern Life received last week. My intention was for participants to have one or two mindful experiences—to give them at least ONE moment of presence. I underestimated the response. From feedback, people connected to the sessions AND to each other in deeper ways than I could have hoped," said Likov. "We delivered something Miami has been craving, and has not seen at this scale. A best-in-class mindful experience that is inclusive, thoughtful, and high-vibe."
Gastronomes also had their moment in the sun. Celebrity vegan chef Matthew Kenney was on hand to deliver workshops on cacio pepe and making nice cream. Even the techie set was indulged—the Neuromore Tech Lounge explored the effects of sound healing through binaural beats and guided meditations delivered via individual headphones. In a corner, people strapped on head mounts and body sensors as they watched a projection screen before them move according to whatever signals their body was sending across the wires.
The accessory of the day? Ear seeds. After a few intense yoga sessions, people streamed into Exhale Spa's tent and submitted to having a handful of seeds pressed into and taped throughout their ear. Not unlike an acupuncture session, the effects vary according to what points of the ear are being stimulated, but most commented on feeling less tense—almost calm. At least until their next bout with Miami traffic.
Jackie Gutierrez-Jones is a freelance editor and writer for UrbanDaddy Miami and Vivala, and a contributor to Eater Miami, Liquor.com, Citizine.tv and OnBoard Media. Follower her on Twitter @jaxiscool