Almost 20 million people live in New York, making it the fourth most populous U.S. state. This population density is not reflected on Election Day, however, whether the races are national or local—New York ranked 44th in voter turnout for the 2012 presidential election, and only 24 percent of registered voters cast a ballot in the 2013 New York City mayoral election.
Enter Who's On The Ballot (WOTB), a nonprofit website and app aiming to reverse this trend by allowing New Yorkers to find their polling place, check their registration and get personalized information about candidates appearing on their ballot just by entering their address—over 100,000 people have used the service so far. The site, which also offers links to candidate's websites and Twitter feeds, has partnered with LinkNYC on a new initiative for the 2016 presidential race.
WOTB (which is also available in Spanish and Chinese) was the brainchild of Ester Fuchs, director of the Urban and Social Policy Program at Columbia University's School of International and Public Affairs. During the 2012 election season, one of Fuchs' colleagues lamented how difficult it was to find information about down ballot candidates.
Fuchs, who taught Presidential Parties and Elections at Columbia for 20 years, initially doubted that there was an actual problem.
"I didn't think there was a need, but when I went online there really wasn't an easy way to find polling places or information about candidates," she told the Observer.
With help from an advisory committee of students and community leaders, Fuchs came up with the idea of using WOTB as an outreach tool.
"Voting is critical to the maintenance of a democratic government, and voting in local elections is just as important as voting in presidential elections," she said. "We want to make it easier for people to find out about candidates, because then more people will vote."
Since Fuchs' 2012 epiphany, other sites have begun to catch on—the New York City Board of Elections recently added a polling place locator to its website, which includes a sample ballot. Fuchs welcomed this news.
"We're not interested in being solo in this world," she said. "Let a thousand flowers bloom—the more information out there the better."
However, she also said that WOTB still sets itself apart, because it's the only voter information site to let users click through to candidates' official online feeds.
"We advocate everything in one place," she said. "It's more direct information."
This year's election is particularly important for the five boroughs—both major presidential candidates are from New York, and Big Apple voters will also be deciding who they want to represent them in the U.S. Senate, House of Representatives, State Senate and State Assembly.
As such, Fuchs said that an accurate two-way flow of information was crucial.
"Candidates take what voters think seriously, and peoples' feelings about the value of democracy and the decisions made after the election depend on whether they think the political process is fair," she said.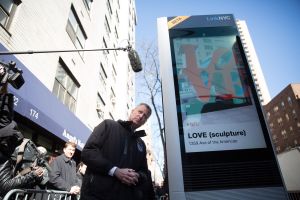 Fuchs blamed one candidate in particular for making people think the political process is unfair and the election is"rigged."
"One of the most egregious things Donald Trump has engaged in is undermining the validity of the election process," she said.
To ensure that its own site stays secure, WOTB does not store any personal data, address or political party information from users. However, it is also retrofitted for the age of the open internet—Fuchs noted that WOTB provides its code to any organization who wants it for free.
Last month WOTB partnered with LinkNYC in order to get out the vote even more. LinkNYC Wi-Fi hotspots/charging stations throughout Manhattan, the Bronx and Queens are displaying ads for WOTB from now until Election Day (November 8).
LinkNYC got into hot water last month when it had to shut off internet browsers at its kiosks because people were using them to watch porn. In spite of these issues, Fuchs said she felt no hesitation about the partnership.
"They have to fix the bugs, but it will be an excellent public service," she said.
Fuchs said that if the LinkNYC partnership was successful, WOTB would consider expanding to the rest of New York, and to other states across the nation.
Disclosure: Donald Trump is the father-in-law of Jared Kushner, publisher of Observer Media.