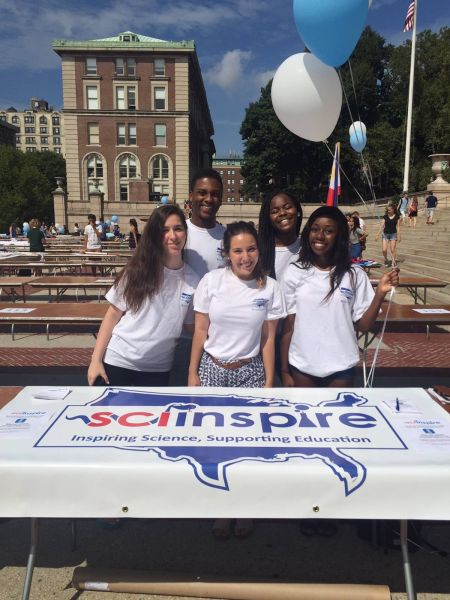 American science education is in crisis—according to the Trends in International Mathematics and Science Study (TIMSS), the U.S. ranks 20th in science achievement among developing countries. This has real world consequences—the average American is more skeptical of the seriousness of global warming than he was in 1997.
Enter Sci-Inspire, a nonprofit social network based in New York and Washington, D.C. that connects college science majors with K-12 educators online, and then sends them into classrooms to teach lessons and help with science fairs.
Matt Schaff, president and lead developer of Sci-Inspire, conceived of the service while an undergrad at the University of Pittsburgh, where he was involved with Pitt Science Outreach. As he neared graduation in 2013, he thought about how he could expand the program to benefit students at other colleges.
"I thought this was one area where a matchmaking software application would make leaps and bounds," Schaff told the Observer.
There is also a societal need for such a service, according to Schaff—in an introductory video for Sci-Inspire, he says that the lack of science education is a "gathering storm" that will damage "American competitiveness and relevance on the global stage."
Sci-Inspire plans to combat this gathering storm with its science social network—the site's interface matches teachers and students based on specific needs, so educators looking for help with lessons on topics like biology or robotics can connect with science majors at Sci-Inspire's pilot chapters at Columbia University and George Washington University.
Columbia signed up first—the school's Fu Foundation School of Engineering and Applied Science is working with Sci-Inspire to enhance science education in Harlem public schools.
Emily Ford, executive director of Sci-Inspire and director of outreach programs at the Fu Foundation, found out about Schaff's scheme while presenting at Columbia's fall 2014 graduate student orientation. A student who was friends with Schaff told her about the platform.
"I thought 'This is absolutely what we need, it's a dream come true,'" Ford told the Observer. "We're looking to increase the level of interest and address some of the discrepancies to make sure students are prepared for science careers if they so choose."
Once the Sci-Inspire platform was up and running, the Columbia group linked up with several schools in Harlem to partner on a pilot program that was based on the teachers' needs.
"The ball's in their court," Ford said. "They tell us what they need, and it cuts out the middleman."
Columbia's Sci-Inspire chapter currently has 120 student volunteers, who are vetted and trained before being placed in a Harlem elementary, middle or high school.
"We're focusing on a handful of schools to really drill down and get more classrooms and teachers on the platform," Ford said.
"Our students are not performing as well as they used to…There is a widespread desire to increase science scores, scientific literacy and the pipeline to science careers." – Sam Johnson
The George Washington University chapter is taking a similar boots-on-the-ground approach to its work. Sam Johnson, who started the GW pilot program and is now Sci-Inspire's managing director, got involved with the site because he worked in the same biology lab as Schaff's girlfriend. She told Johnson about the project, and he volunteered to test out the coding.
Johnson told the Observer that he liked how Sci-Inspire got college students actively involved as volunteers and board members. He also appreciated having a direct line to the educators he was working with through the site's interface, which is similar to Facebook Messenger.
"We can communicate about the specifics of the lesson, "Johnson said. "It's really flexible—it's what you make of it.'
This flexibility is particularly important in Washington, D.C, where students historically score lower than the national average on standardized science tests.
"Our students are not performing as well as they used to," Johnson said. "In general there is a widespread desire to increase science scores, scientific literacy and the pipeline to science careers."
There are 60 certified Sci-Inspire student volunteers at GW, but Johnson said they have had problems getting in touch with educators.
"Teachers are swamped, so we knock on doors at the school," he said.
Sci-Inspire is close to finalizing at third pilot program at Marquette University, and Schaff said several other schools around the country have expressed interest, including Stanford, the University of Chicago and the University of Pennsylvania (where Schaff is a graduate student in neuroscience).
"We are most interested in making this work well," he said. "Once we have a model we really like, we're gonna be more aggressive in our expansion."
Schaff hopes this expansion results in the site being a "major player in science outreach in the major cities of our country over the next five years."
"I hope for the clear benefits of science outreach in science education to explode," he said.
"We want to unlock the potential that volunteers can offer in K-12 schools," Ford added.
From a business perspective, Johnson said Sci-Inspire will continue fundraising and developing its interface, with the hope of becoming a ubiquitous education nonprofit.
"Our long-term goal is to be the DonorsChoose of science outreach," he said.