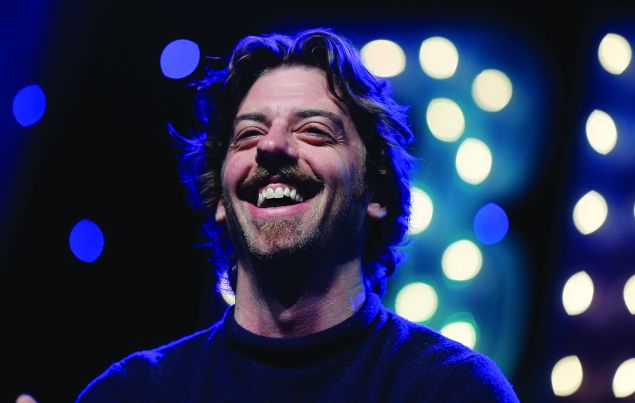 It shouldn't surprise you to learn that Christian Borle's first career calling—before he discovered acting (and, more importantly, audiences)—was to be a cartoonist.
Borle at his bravest and best is Borle at his broadest—a daring high-wire act of comedy. He'd give Wile E. Coyote cause to pause. Just look at the two cartoony Tony wins he is coming from: Black Stache (the young, and two-handed, Captain Hook of Peter and the Starcatcher) and William Shakespeare (or—as his rival playwrights see him in Something Rotten!—a strutting, story-stealing rock star).
Since mid-August, Borle has been gingerly negotiating his way back to planet Earth in a revival of Falsettos, which, considering the zany places he has been of late, is like landing in a television reality show from the '70s and '80s. He plays a mass of Jewish tics and twitches named Marvin, who, two songs into the show, gets his big "I want" number: "A Tight-Knit Family." Is that asking so much, so very much? Just the four of them: Marvin; his wife, Trina; their son, Jason; and Marvin's newfound gay lover, Whizzer. Well, maybe it is, so a fifth character has been added to the mix: Mendel, Marvin's shrink, who tries to ease the situation by hitting on poor castoff Trina. In Act Two, lesbian next-door neighbors add more layers to Marvin's lumpy universe.
"It has been quite a challenge getting to know Marvin," Borle acknowledges during a rehearsal break at Lincoln Center. "He has more of a temper than I'm used to playing, and he's a little more petulant, but the big delight for me is that he is a real person. After those over-the-top characters I've been doing, he is very refreshing."
The advantage of winning Tony Awards for Featured Actor for his last two Broadway shows is that they have upped his Tony game to Leading Actor, and that's where Borle could well find himself at season's end (since Marvin, being the Falsettos centerpiece around which twirl all the other neurotic characters, is the star part). In fact, Borle may even be competing with himself for Leading Actor in a Musical. It seems, after the first of the year, he is returning to broad-stroke musical-comedy as Willy Wonka, world-famous inventor of the Everlasting Gobstopper, in Charlie and the Chocolate Factory.
"I have a one-week overlap," he sighs. "I start rehearsals for Charlie a week before I leave Falsettos. Right now, Falsettos' three-month subscription run will end January 8."
Falsettos opens October 27 at the Walter Kerr. It's an amalgam of two one-act musicals by William Finn and director James Lapine that premiered Off Broadway nine years apart at Playwrights Horizons—1981's March of the Falsettos and 1990's Falsettoland—and when paired as one Broadway package in 1992, they gathered power and Tonys (for book and score). Only two years separate the two acts—1979 and 1981—but between them is a world of difference. During intermission, AIDS hits hard, and the choices made in Act One are played out as tragedies in Act Two.
On Falsettos' first day of rehearsals, Andre Bishop (then a top honcho at Playwrights Horizons and now one at Lincoln Center Theater) joined Finn, Lapine and associate producer Ira Weitzman to enlighten the cast about the 35-year history of the show.
"They spoke about what they were like as young men and how the first show came about and how, after a huge break, they wanted to revisit those characters with a second show. How could this family not have been affected by the AIDS crisis?"
'You can't remove the part of that story that revolves around the AIDS crisis,' Borle says about 'Falsettos,' 'but it's a bigger show than just an AIDS show. It's about family.'
"You can't remove the part of that story that revolves around the AIDS crisis," Borle continues, "but it's a bigger show than just an AIDS show. It's about family. I think there's something relatable to us in this day and age when we're trying to figure out the new definition of family. People who love theater and are around theater know what it's like to create your own family over the course of years. Falsettos is such a human story. Lapine doesn't want it embellished. He wants to keep the storyline simple and let Bill's music tell the story. If you got a score like this, you can do that."
The production took shape quite quickly the first few weeks of rehearsals. "Lapine throws up things very fast," observes Borle. "Yesterday, I was out with a cold, and, when I came back, they had totally staged Act Two. Now, they're putting me in.
"He's got, in my experience, a very different process than most directors I've worked with, in that we don't sit around and do tablework for a week and a half, which, personally, is great. I'm not a huge fan of sitting around talking about everything. I'd rather have the revelations later on down the pike. He just throws us up on our feet, and we're realizing we know it better than we thought we did. Now, we can do the detail work. Now, we do the uncomfortable thing of him stopping every two seconds and saying, 'What do you mean by that?' or 'What's your opinion about that?' "
As a co-creator of Marvin, Lapine is the main go-to guy Borle consults about character details, but he's not the only one. "A big part of Marvin shows in going to a psychiatrist," the 43-year-old actor believes. "I don't go to a psychiatrist, but I do go to a psychotherapist, and I just spent my last session talking about Marvin and what similarities we may have. The details of these people's past are not explicit. It's in there in a kind of subtext, and Bill includes some funny little details in his lyrics, but they don't spell out these people's past. We don't even have a last name in the story.
"I think there's something spoiled rotten about Marvin. He has an undeserved sense of entitlement. He thinks he deserves to have this life he's carving out for himself—at the expense of everyone else—because he's always gotten what wanted. Why not this? There's a brattiness about him—much more so than his own 12-year-old son."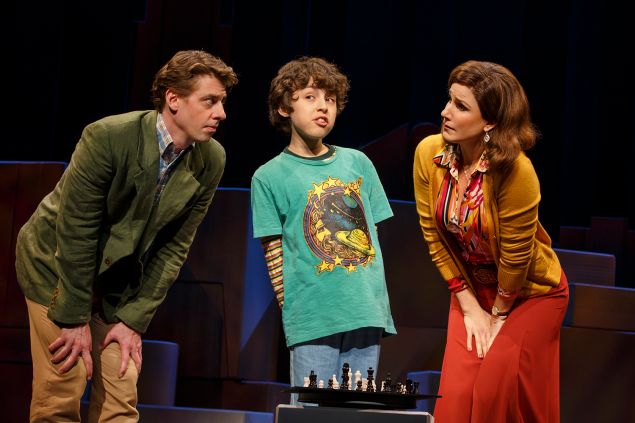 The actor's previous experience with AIDS dramaturgy was playing Prior Walter in the 2010 Off-Broadway revival of Angels in America. "I don't know if that helps me here, but when we got to a point in rehearsals where Whizzer has to lie down in a hospital bed with an IV hooked up to him, I went through a blast of sense memory of having been the one to take the IV and put on a hospital gown and lie down. I guess it's more interesting than helpful that the roles have been reversed, that I'm on the other side of it now, being the one who's losing someone rather than the one dying."
Borle recalls catching one of the original Falsettos' 486 performances in 1993 when he came up from Pittsburgh on a school trip. Mostly, he recalls falling in love with a ballad Marvin sings to the sleeping Whizzer. " 'What More Can I Say?' was one of the first songs I latched on to, and I drove everyone crazy singing it at Carnegie Mellon."
A sort of a Peck's Bad Boy who's made good at it, Borle majored in the fine art of cutting-up at school. "That's the part of performing that still feels like high school to me—the joy and abandon of being an extravert in a place like high school where extraverts are usually punished. Stepping out on stage did it for me—not walking down the hall by the lockers or entering class. The stage made me feel fearless."
Broadway has shamelessly encouraged that feeling. All of Borle's career moves here have been made covertly as a member of the ensemble. "Working with people I respect and admire has been one pinch-me moment after another. I can say that, unequivocally, no one has disappointed me in real life as an artist, as a collaborator or as a friend. I have yet to meet actors that I didn't like. I know they're out there…"
He understudied his way onto Broadway in Footloose, got featured in a Jesus Christ Superstar revival and was, too briefly, a dance captain for the short-lived but much-loved Amour.  He was Sutton Foster's last "Jimmy" in Thoroughly Modern Millie and, for four years in real life, her first husband. He got Spamalot off to a roaring stop as a confused fuddy-duddy prof lecturing on Finland instead of England, then popped up periodically after that as "Not Dead Fred," a premature cadaver being carted off.
Spamalot was his one and only brush with director Mike Nichols, and, he insists, "It was life-changing—career-changing. I remember going into that show skeptical of the way that everyone spoke about him, as if he was some sort of demigod living among us, but he really, truly was. There was a kindness to him. Not only did he have comedic insight, he had life insight also. He had seen so much and learned so much about human nature that he could just zero right in on the point of a scene or a line and express it to you in the simplest terms. Then, a light bulb would just go off inside you, and you couldn't see it any other way. And it was the picture of comedic restrain as well. I've always joked that people who think my performances are over the top should have seen the choices that I'm not making—thanks to Mike Nichols."
In the rare instances where he has ventured into TV, he went as a face in the crowd, then surfaced as a key player in the Smash ensemble. "That was a gift that just came into my life. I learned quite a bit about TV (which I didn't know before) and, again, met another amazing group of people who became, in various iterations, my family."
Some of those Smash relationships are present tense. The Broadway songs that he and Debra Messing supposedly wrote on the series were actually the work of the Hairspray team that is now musicalizing Charlie and the Chocolate Family—composer/co-lyricist Marc Shaiman and lyricist Scott Wittman. Sweetening that score more will be some Anthony Newley-Leslie Bricusse carryovers from the original 1971 movie (among them: "Pure Imagination," "The Candy Man" and "I've Got a Golden Ticket").
Borle always knew it would be a hard act to follow, but the recent passing of Gene Wilder and the outpouring of affection for his Willy Wonka only boldfaced that fact.
"It's daunting because you can't top him," the actor concedes. "It'll be something else—and it will, by its very nature, be something else just because I am me."