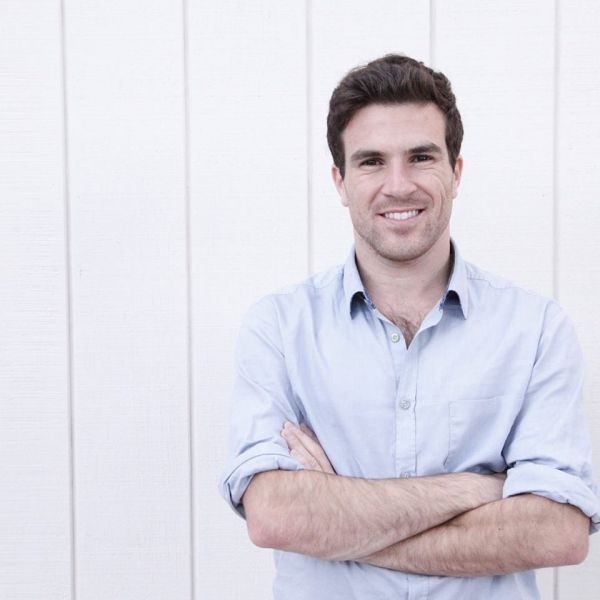 You may recognize this guy pictured above. His name is Andy Mizrahi, and he's known around the world as the most desired guy on Tinder. While this isn't entirely true (he was featured in People's "Sexiest Tinder Men from All 50 States" as the most right-swiped in New Jersey, specifically), he got the reputation as the epitome of Tinder douchebags after doing some additional press. But he says the media got him all wrong, and he has the stories to back up his claims.
In a Facebook Live video yesterday, Mizrahi sat down with his friend and 99 Robots founder Zion Kim, who wanted to hear from Mizrahi about the one thing they've never really talked about—his crazy Tinder fame.
"I thought it was kind of unfair," Kim said to those watching. "As much as I know about Andy, I thought he was portrayed in the media as this kind of person who..For such a good guy, they did a really good job making him into…"
"A D-bag," Mizrahi said, finishing his sentence.
The duo pointed mostly to the viral video interviews Mizrahi did with Tech Insider a few weeks after the People article was published, which show him calling himself "Mr. Woman" and talking about what he doesn't want to see in their profiles (their kids, group photos and their own wedding pictures). He describes how it was the news outlet's editing that made him into "the Jersey Shore douchebag" and how vital information about the religious requirement in his dating life was omitted entirely. He even said he was asked to say certain phrases.
"I remember watching this one part where you are like 'I love women. I am really, really good with women' and all of these other things. But that's really the only thing they highlighted about you," Kim said.
"So I said a lot of different things," Mizrahi said. "I'm also an Orthodox Jewish guy who kind of said that also. I was like 'I'm kinda good with women but only dating this small type of, the very few people, the Orthodox,' and they cut all the religious stuff out—the human stuff of me, who I really am—and were like 'let's make him the Jersey Shore douchebag.'"
The "Netflix and chill" bit, he explains, was the interviewers idea.
"I remember the interviewer saying, 'can you just say the phrase 'I'm a Netflix and chill kind of guy?' and I was like 'yeah okay—I'm a Netflix and chill kind of guy'… But no I'm not Netflix and chill. That is just a sentence I said."
[protected-iframe id="aac06676d8e5340def9cada1e3f4b5bf-35584880-65782705″ info="https://www.facebook.com/plugins/video.php?href=https%3A%2F%2Fwww.facebook.com%2Ftechinsider%2Fvideos%2F441277489403946%2F&show_text=1&width=560″ width="560″ height="419″ frameborder="0″ style="border:none;overflow:hidden" scrolling="no"]
Mizrahi, who runs his own creative video agency, isn't at all camera shy. In fact, he says he was purposely outrageous with his answers. 
"And I'm comedian also, so I tried to say things I've never heard anyone else say in a video before," he said. "I'd never heard anyone look deadass into the camera and say 'I'm really good with women.' I just wanted to see what would happen…I'm a marketer. I was like 'that's a sentence that's never been uttered. Let's try that.'
His "good with women" one-liners made their way into a bunch of other articles, where he was further portrayed as the douchebag he says he's not.
"New Jersey is often lovingly called 'the armpit of America' due to its potpourri of interesting smells and exports like the cast of Jersey Shore. And the guy who is said to be the state's most popular man on Tinder is not helping Chris Christie's domain reclaim its reputation," wrote the Daily Dot.
MTV and Mirror (as well as Tech Insider) all identify Mizrahi as a divorcee upon first mention. In the Asbury Park Press, a New Jersey newspaper that published a more well-rounded interview with Mizrahi, he explains the divorce wasn't as scandalous as others have made it seem. The paper writes that he was married very young because it's the norm in the Orthodox religion and that it didn't work out because it wasn't "a love marriage."
Mizrahi also tells the APP that he's not even the Tinder fiend he appears to be—he'd rather meet women the old fashioned way.
"I'd rather just go up to a bar and talk to a girl—sweep her off her feet that way," he said. "I don't feel like I'm a man when I'm hiding in my room texting."