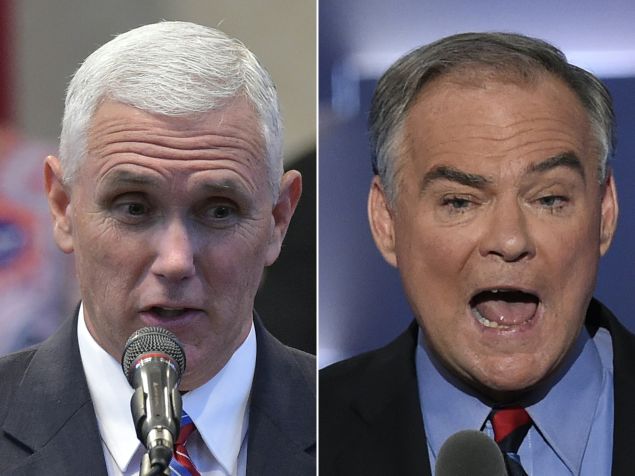 "Senator Dole has richly earned his reputation as a hatchet man tonight," an angry Senator Walter Mondale snapped during the first-ever vice-presidential debate back in 1976. It forever launched the myth that the role of vice-president as the attack dog, with the winner being the candidate with the best zinger or hardest blow.
Certainly there will be pressure on Indiana Governor Mike Pence and Virginia Sen. Tim Kaine to provide the most insulting one-liner, to make the opponent the butt of jokes. But is that a good idea? What strategy should both Pence and Kaine pursue? Here are some lessons from past debates.
1) "Below the Belt" Attacks Blow Up In Your Face
Going back to the first vice-presidential debate in 1976, Kansas Senator Bob Dole made headlines for claiming all 20th Century wars were "Democratic Wars." After labeling Dole a "hatchet man," Mondale pointed out "Does he really mean to suggest to the American people that there was a partisan difference over our involvement in the war to fight Nazi Germany? I don't think any reasonable American would accept that. Does he really mean to suggest that it was only partisanship that got us into the war in Korea?" Dole's attack failed, and he never seemed to shake the label of being an ineffective debater, and a "mean-spirited" candidate.
2) Don't Talk Down To Your Opponent
For the second-ever VP debate, George H. W. Bush entered as the more experienced candidate, yet Congresswoman Geraldine Ferraro knocked him for his patronizing, lecturing style, especially on foreign affairs. Bush only prevailed in the poll by the narrowest of margins, putting more pressure on President Ronald Reagan to win momentum back that he lost to Mondale in the first presidential debate. It's a strategy that Delaware Senator Joe Biden avoided in his debate with Alaska Governor Sarah Palin. A hectoring style won't win a VP any votes.
3) Bentsen's Zinger Worked…But Only For Bentsen
Few debate watchers can ever forget perhaps the most memorable attack line in American history, which happened four years later. After listening to Indiana Senator Dan Quayle compare himself again to President John F. Kennedy, Texas Senator Lloyd Bentsen quipped, "Senator, I served with Jack Kennedy. I knew Jack Kennedy. Jack Kennedy was a friend of mine. Senator, you are no Jack Kennedy."
Given that Quayle had been trying to emulate Kennedy, most voters saw the jibe as fair game. So the line worked for Bentsen. But the problem was that so many candidates tried to do the same, without much success. Quayle tried it in 1992, going after Tennessee Senator Al Gore's book, without success. Candidates like Connecticut Senator Joe Lieberman to North Carolina Senator John Edwards, as well as Alaska Governor Sarah Palin sought to recite memorable quips as well, which failed to live up to the legendary Bentsen salvo. Others like Gore, Kemp, Biden and Ryan gave up the search for the harsh sound-bite, playing the role of the policy wonk. Such an approach narrowly favored Democrats, like Gore in 1996 and Biden in 2008 and 2012, in post-debate polls.
4) A Winning Strategy From an Unlikely Source
But there was a candidate who was able to meld a focus on the issues with devastating attacks. Former Defense Secretary Dick Cheney matched his opponents Lieberman (2000) and Edwards (2004) in policy debates. But to each, he delivered a withering line that, while not as memorable as Bentsen's blast, was far more effective than Dole's attack line.
"I like the old Joe Lieberman better than I like the new Joe Lieberman," Cheney said. "Having joined with Al Gore, that depth of conviction that we had admired before isn't quite as strong as it was, perhaps, in the past." It was even-handed, as well as harsh. Lieberman never seemed to recover, and it may have doomed his 2004 bid for the White House.
As for Edwards, Cheney criticized his spotty  attendance record. "Senator, you have a record in the Senate that is not very distinguished. He claimed that Edwards had been absent so frequently that "[this is] the first time I ever met you was when I walked on stage tonight." Like Lieberman, Edwards never bounced back, and missing votes may have played a role in his poor showing in the 2008 primaries.
The lesson is clear. Stick to the issues for much of the debate. When setting up an attack, take care to avoid issuing a sucker punch. Exploit a weakness that voters will see as a legitimate concern (compromising beliefs or missing congressional votes). It doesn't have to be a late night TV sensation like Bentsen's line to be effective.
John A. Tures is a professor of political science at LaGrange College in LaGrange, Ga. He can be reached at jtures@lagrange.edu.