Works from "Impasse Ronsin" at Paul Kasmin.
©Sucession Brancusi/Artists Rights Society ARS), New York/ ADAGP Paris, Courtesy of Paul Kasmin Galley, Photo Christopher Stach
Artworks, tools, and ephemera from the Isamu Noguchi Foundation and Garden Museum.
Photo by Christopher Stach, Courtesy of Paul Kasmin Gallery
Claude Lalanne Crocodile (Fauteuil), A: queue en bas, 2015.
Courtesy of the artist and Paul Kasmin
Niki de Saint Phalle, Tir (Fragment de Dracula II), Winter 1961.
Photo by André Morin, Courtesy NCAF and Galerie GP & N Vallois, Paris
William N. Copley Stereoptic Nude, 1951.
Courtesy of the artist and Paul Kasmin Gallery, © The Estate of William N. Copley, LLC.
Marcel Duchamp Anemic Cinema, 1926.
© Artists Rights Society (ARS), New York / ADAGP, Paris / Estate of Marcel Duchamp
Another view of "Impasse Ronsin."
Photo by Elisabeth Bernstein, Brancusi artwork © Succession Brancusi/ Artists Rights Society (ARS), New York, ADAGP Paris. Larry River artwork © VAGA New York, Courtesy of Paul Kasmin Galley
It's no easy task transforming a pristine Chelsea gallery into an unkempt Parisian alley, but director Eric Gleason and his team at Paul Kasmin Gallery have done a convincing job. On October 27, the gallery opens "Impasse Ronsin" an exhibition about the many artists who lived in the eponymous Parisian alley throughout the 20th century. The roster includes the widely influential sculptor Constantin Brancusi, major Dada artists from Max Ernst to Jean Tinguely, and the iconic French sculpture and design duo Les Lalanne. More than half the works on view in the main gallery were created during artists' tenure on the Impasse, and the rest "embody the spirit of the Impasse and what the artists were making at the time," according to Gleason.
When I entered the gallery on the eve of the show's opening the staff was still in the midst of altering the layout. One art handler told me that he'd arranged the lights to create an "intimate, studio" effect. For the first time, the gallery's rafters have been painted black. "Obviously there aren't cigarette butts on the floor or anything," Gleason said. "That's our attempt to embody the kind of industrial, dingy spirit of the Impasse, but doing so while still having an environment that's okay for artwork."
Kasmin was on hand to direct the install of an edition of Brancusi's 100-year-old bronze sculpture Princess X, which had arrived the evening before. The work's positioning is crucial to understanding the meaning: the piece looks like a giant phallus, and from a certain angle it adopts a feminine quality as well. Kasmin looked around the gallery, eying Claude Lalanne's Crocodile (Faueuil), B: queue en l'air, an armchair with a faux bronze crocodile wrapped around the back, and Choupatte, a bronze sculpture that resembles a lettuce head with chicken legs, both placed toward the front of the gallery. His gaze settled on a small 1926 Berenice Abbott photograph of a thin woman with a close-cropped haircut. "Peggy Guggenheim, monster, very small, tucked in the corner," he said. He'd bought the memento of art patronage past from Christie's East, itself now an element of art (and auction) history. The former division of the auction house sold art and objects at lower prices than its counterpart in Rockefeller Center, and was located on East 67th Street until 2001. After a brief look around, Kasmin departed for his other gallery space around the corner, where Lalanne (one of the last surviving members of the Impasse Ronsin group) was busy arranging her work in display cases for her first U.S. jewelry show.
By erecting walls that jut into the gallery at staggered positions, Gleason has separated the space into three sections, and loosely divided the works into corresponding categories: Dada and Surrealist pieces in the front, collaborative work in the middle, and an homage to Brancusi in the back, centered around Princess X. Works by William N. Copley, Marcel Duchamp, Natalia Dumitresco, Alexandre Istrati, Yves Klein, James Metcalf, Larry Rivers, and Daniel Spoerri reveal the diversity of styles and forms that arose from living and working on the Impasse.
In the fourth and final space, behind a wall displaying photographs of Brancusi's studio, lies what Gleason calls "the crescendo of the show." Here, Noguchi Museum senior curator Dakin Hart has created a loose replica of sculptor Isamu Noguchi's former studio just south of Paris, which he set-up after working as an assistant to Brancusi in 1927. (Brancusi himself moved to the Impasse in 1916, the same year he created Princess X). By including tools, sculptures and drawings from the museum's archive, Hart says that he and his team were trying to make a space that felt like the one Noguchi may have worked in during his post-Brancusi years. Hart calls Brancusi's studio on the Impasse Ronsin the "cathedral of Modernism" and says that what Noguchi took from his apprenticeship, more than anything, "was this amazing interaction between object, furniture, base. The sculptor is a person who is trying to shape the whole world." When Brancusi's studio collapsed in 1927, it was Noguchi who helped the artist rebuild it. For Noguchi, that experience was "like being at Ground Zero," says Hart, and provided the sculptor with an opportunity for his own artistic rebirth.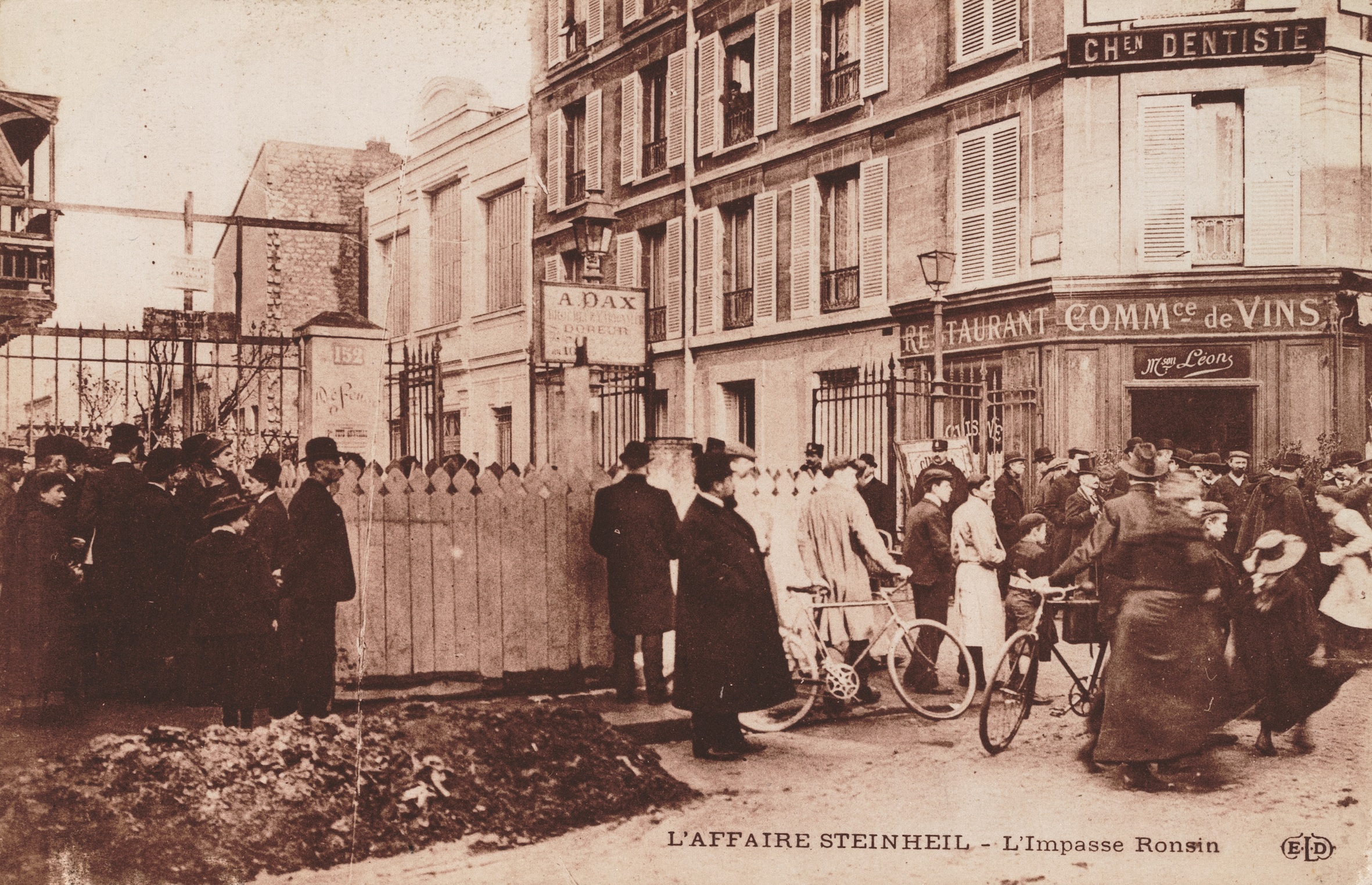 The real Impasse Ronsin street sign (which was nabbed by French artist Niki de Saint Phalle at some point) and a blown-up photograph of the alley and Brancusi's studio greet viewers at the gallery entrance, immediately drawing them into the larger story. It all makes for great lore, of course, but a show like this risks privileging artists' lives over their work. Writer and curator Adrian Dannatt addressed this problem in his introduction to the show's catalog by suggesting we might enjoy art objects as "symbolic representation, totems, icons imbued with the story of their perpetrators. We are human and as such mysteriously wired, soldered by God, to love stories, with a deep need for narrative."
Thankfully, regardless of whether or not the alley's mythology captivates you, Kasmin's show offers the opportunity to see some spectacular works. Untitled blue sponge-sculpture (SE 247), direct from the Yves Klein estate, looks like a strange blue plant sprouting from a rock. Ernst's 1951 painting Dancers Under the Starry Sky, shown for the first time since 1952, also comes directly from the artist's estate. An untitled Tinguely work from 1981 charms at first sight. His sinewy, curved iron sculpture curlicues at its ends and its arms spin when someone turns on the motor. Similarly whimsical, but with a violent edge, is de Saint Phalle's 1961 Tir (Fragment de Dracula II), one of her famous shooting paintings. The work features remnants of paint bags she affixed to canvas and then shot to unleash colors that bleed across the surface.
The dominant theme is undoubtedly nostalgia. Dannatt says the most fruitful way to enjoy the show is to "admire, venerate, analyze with the most academic rigor…but at the same time have no shame in enjoying the personalities and that special place." Today, the alley is now part of the larger Necker Hospital complex, and it's no longer an oasis for artists. Yet, a note at the bottom of the show release reminds viewers that the Impasse Ronsin's "cooperative, convivial environment" is alive and well in "sprawling artist communities thriving in Beijing, Berlin, Brooklyn, London, Los Angeles, Mexico City, etc." Maybe now is the perfect time to swipe that Bushwick street sign (Bogart or Troutman?) for the historic retrospective that will inevitably happen 20 years from now.