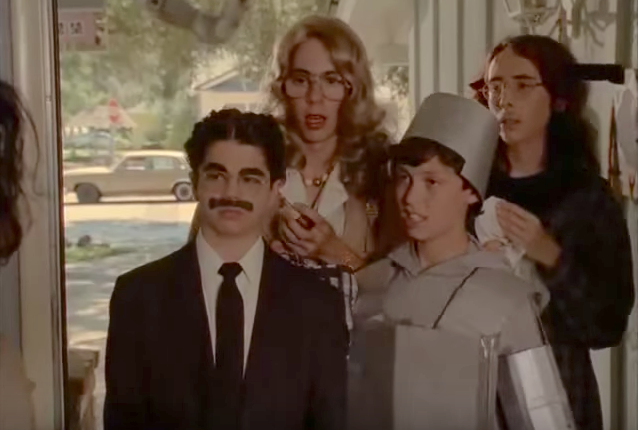 Welcome to our TV Fashion column, where TV Ate My Wardrobe's Emma Fraser discusses the trends in television apparel. This week: How to handle Halloween when you've grown up on Freaks and Geeks, My So Called Life, Felicity and Buffy the Vampire Slayer.  
What to dress up as for Halloween is something I'm sure most are familiar with and that period between Trick-or-Treating and boozy parties makes this feeling even more pronounced. Sitcoms and teen shows are the ones that tend to lean into this spooky season with the most ease and the '90s gifted us with some exceptional portrayals of this time of year. There is eerie goings on with supernatural elements infecting more than just the town located over the Hellmouth and real world dangers have an impact.
This isn't even taking into account the myriad of social predicaments and matters of the heart impacting these characters costume choices. The protagonists in My So-Called Life, Felicity, Freaks and Geeks and Buffy the Vampire Slayer experience Halloween through the lens of growing up and realizing some fundamental lessons in a non-Afterschool Special kind of way. Don't worry the lesson here is not a simple case of "don't drink or do drugs" even if at least one of these characters throws up in the lap of another (Oh hey, Felicity!).
Trick-or-Treating is portrayed as the last hurrah of childhood on Freaks and Geeks in the episode "Tricks or Treats." That is until his class is given Crime and Punishment as an assignment along with a stern warning by their teacher to "grow up." The font size and uninviting cover are enough to cause Sam to long for simpler times and this means getting dressed up with his friends and wondering the streets for sweet treats.
Not that this is a innocent pursuit free from peril as rumors of candy tampering – razor blades and needles – along with getting beaten up for their bounty and egged by his sister turn what was meant to be a fun activity into a nightmare situation. Costumes and spirits are broken and suddenly Dostoyevsky doesn't seem so bad.
My So-Called Life also uses Trick-or-Treating as an attempt at a drama free holiday and Sharon successfully manages to retain her candy; her mouse costume (that everyone keeps misidentifying) remains egg free and intact. The reason Sharon is tagging along with her former BFF's little sister is because her boyfriend has drained all the fun from Halloween and an evening going back to the way things were is Sharon's way of avoiding her own relationship messiness.
On the other end of this spectrum Danielle's costume points to a longing for adulthood as she has borrowed her sister's clothes, dyed her hair and even perfected the Angela arms wrapped around her body stance. Earlier in the episode she mentions that she can't go as Catwoman as another girl in her class is doing that and "she's developed." Halloween growing pains hit young.
Meanwhile, Angela is busy breaking into her school to chase ghosts in an attempt to save her crush in the present and much like her little sister's ensemble her costume is "actual." Angela's got a vintage school girl look, which would be pure hipster chic in 2016 and her outfit is period specific to an urban legend based on the death of a student in the gymnasium at their school. This nicely ties in with the object of Angela's affection and Nicky Driscoll is pretty much the Jordan Catalano of 1963. I bet he even leaned well.
Jordan is in danger of getting thrown out of school due to his poor attendance and while Angela can't stop Nicky from dying young no matter how hard she tries to talk this ghostly vision out of his stunt; it isn't over for Jordan yet and this means passionate speechifying in his direction. All while dressed like a very cute 1960s school girl. Jordan much like the older teens on Freaks and Geeks does not do costumes and instead Halloween is all about doing some dumb shit like trashing the school track.
Angela transfers her Jordan obsession onto Nicky and with it the whole notion of dying young and what that means. For one, he is immortalized as a teen; he's not going to age and there is a wistful mention of him being like a vampire. Cut to a shot of Kurt Cobain on the cover of Rolling Stone and this episode aired the year of his untimely death. That image is still one most associated with Cobain proving Angela right, even if every year we are subjected to what the baby from the "Nevermind" cover looks like now. If only she could've predicted that one.
A costume that comes from clothes you actually already have or can borrow like Angela does is my favored approach and I don't like spending money on something I'm only going to wear once. My go to idea is Battle Royale as it means recycling my school uniform with a few additions (collar and weapon) and Rory uses this tactic on Gilmore Girls when she has a Quentin Tarantino themed party to attend. Angela isn't the only one to wear 'actual' on My So-Called Life and along with Danielle dressing like her sister; Ricki borrows Brian's clothes so he can be everyone else for the day. This is pretty much the Dita Von Teese method and with Ricki it is funny seeing Brian navigating this request, but there is also a lot of sadness in this gag.
Going for the funny route with borrowed clothes can be hard if no one else is in on the joke and this can be especially trying if it is a team-up costume and the other person doesn't show up to the party. This is what happens to Elena on Felicity in the season 1 episode "Spooked" and as this is her first proper Halloween due to an overprotective father; Noel is enthusiastic about this holiday and has promised he will sort out the costumes. He does just that, but Elena is understandably far from thrilled when he reveals the Subway uniforms he has acquired from his friend who works there. Making matters worse, Noel has a RA meeting to attend and will be turning up late leaving Elena to arrive alone looking like she has come straight from a shift. But it isn't all bad as she still wins a Tin Man's heart and this is college Halloween done right.
Noel's costume proves to be useful in another way when a very drunk and sad Felicity – also doing Halloween the college way – voms in his lap and the gloves he is wearing gloves now have a practical purpose. This is Felicity's first foray into this celebration since she was 10 and she is going all in; this big gap is most likely down to her major wallflower status at junior/high school and Felicity is not going to let college be a repeat.
A real-life terrifying experience brings Felicity closer to the reason why she moved to New York; an interrupted robbery at Ben's apartment has them both lying face down with guns pressed to their heads and Ben simultaneously gets all vulnerable and soul-sharing while pushing her away. During one of their late night deep and meaningful discussions the subject of costumes comes up and a casual couple themed commitment is made. Except Ben being Ben means at the actual party he has instead participated in a different group idea and instead of going as Frankenstein('s monster) to Felicity's Bride of Frankenstein he is a member of the Rat Pack (he's not sure which one). Part of this strikes me as pulling away from Felicity, the other is that Ben was too lazy to go out and get a costume and has instead opted for something he already has in his closet.
Felicity reacts to this by going in hard on the party punch and after seeing Ben hooking up with the Pink Power Ranger (a nod to co-star Amy Jo Johnson's previous role) she tearfully runs away showing her staple Cons beneath her dress. Nothing quite says the transition to adulthood like a night of bad decisions. Just look at SNL's super accurate "A Girl's Halloween" for more. Not only does Felicity have to deal with this rejection, but she's still feeling incredible vulnerable after the robbery and she tells Noel that she's "never felt so lost." Part of this is the booze and humiliation talking and by the time she sobers up she's ready to confront Ben about his mixed messages.
During the robbery Felicity's necklace was ripped from her neck and it used to belong to her grandmother and mother; her mother gave it to her on her thirteenth birthday for good luck and this birthday is of course very symbolic on the growing up scale. Now it is gone and while he can't replace the exact one, Ben's big apology grand gesture comes in the form of a new necklace cementing the notion that he isn't an insensitive dick. It also gives Felicity something tangible to hold onto and this new memento signifies a new phase of adulthood; experiencing something awful, getting messy teary drunk and coming out the other side fine. Also getting a gift from a very significant person or at least someone she wants to be very significant.
Navigating first love comes with an entirely different list of dilemmas on Buffy the Vampire Slayer as Buffy has work responsibilities that stretch beyond "don't be late." Halloween in Sunnydale is when demons take the night off and this means Buffy can spend the evening with her very old boyfriend. Buffy takes this opportunity in season 2 to dress like the women from Angels' youth and because someone didn't get the night off memo her costume is enchanted and she loses everything that makes her Buffy; this transformation turns her into a scared noblewoman ripped out of her time. Be careful what you wish for.
Later when everything is restored, Buffy talks to Angel about her desire to dress like this and she finds out that Angel and his bad flashback wig hated these kinds of women. In addition to longing to be something she is not, Buffy learns the vital relationship lesson of talking to your significant other rather than second guessing and feeling shit about yourself.
Back to Freaks and Geeks: Lindsay is also grappling with the notions of identity and growing up as she has recently ditched her BFF Millie for a much cooler group who smoke, drive around with no plans and cause havoc on Halloween. Millie is doing fine without her and even has a boyfriend much to Lindsay's dismay as she is suddenly feeling like she is missing out prompting Lindsay to ditch her pre-arranged plans with her mom.
Lindsay can't quite summon the courage to tell her mom that she's going out instead of dressing up and handing out candy with her family. So instead she runs out the house and yells that she'll be back later when her ride turns up. Growing up and the pain of change doesn't just impact those going between childhood and adulthood as Mrs. Weir is trying to hang on to traditions and how things were with her children. Lindsay manages to have fun with her new friends and can get on board the reckless Halloween, but only until she accidentally eggs her own brother and immediately sees how devastated he is.
As I've mentioned above, this pushes Sam to embrace growing up and Lindsay does the same by returning home and committing to dressing up with her mother. Being independent is one thing, but becoming an adult also means compromising and sacrificing a night out with friends to put on a costume; no matter how old you are. Lindsay recognizes that she has fucked up and the push/pull between looking cool and doing something you actually enjoy is another important lesson.
Again, this is no Afterschool Special, but there are plenty of teachable moments in all of these Halloween themed episodes in how to adult better and be your best self whether in love, friendship or family. And if nothing else there are plenty of costume ideas to be gathered from My So-Called Life, Felicity, Freaks and Geeks and Buffy the Slayer; you will also be ticking all those '90s nostalgia boxes if you look to these teen shows for inspiration and if recent trends are any indication you might already have everything you need in your closet for the perfect Angela Chase look.
Emma Fraser is the creator of TV Ate My Wardrobe and spends most of her time writing about TV, fashion and costuming; Abbi and Ilana's Broad City style, the wigs on The Americans and Mindy Lahiri's pajamas are just as vital as talking about '90s, '00s teen shows. Emma has a MA in film and television, and she probably holds Angela Chase responsible for this path. You can find her on Twitter @frazbelina.