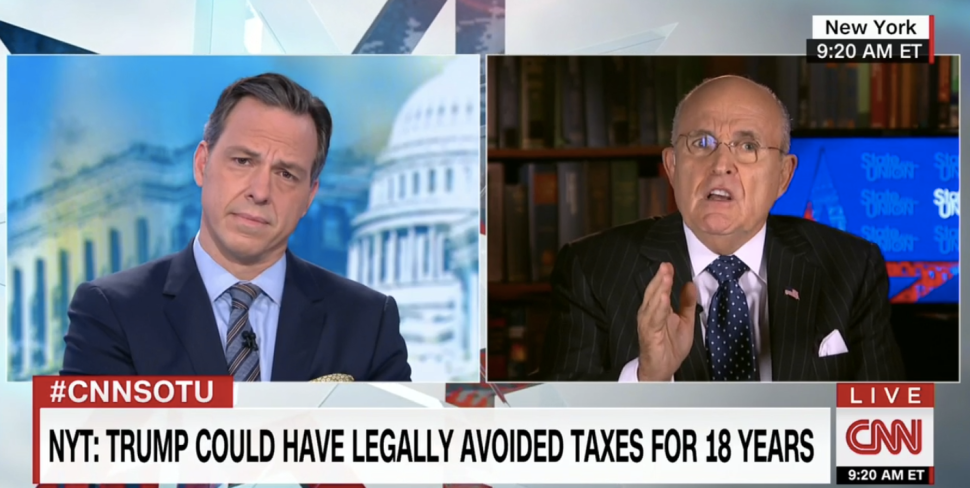 On Sunday morning, Jake Tapper of CNN showed Donald Trump at a Saturday night rally, mocking Hillary Clinton.
"She can't make it 15 feet to her car," Trump said, pretending to stagger across the stage, as if fainting, to the hoots and howls of his fanatical following.
The Republican presidential candidate was ridiculing his Democratic opponent for feeling faint last month on a hot day at a 9/11 memorial ceremony in New York and leaving early because she was weakened by pneumonia.
But Trump brought dirtier dirt to dump—about the sexual relationship between Clinton and her husband, former President Bill Clinton.
"I don't even think she's loyal to Bill," Trump said. "And, really folks, why should she be, right?"
Tapper, the host of State of the Union, tried to get an explanation of Trump's below-the-belt speculation from his star guest, Rudy Giuliani, a Trump surrogate and top adviser who used to be mayor of New York.
"Mr. Mayor, is that normal, stable behavior for a presidential nominee to launch an unsolicited attack?" Tapper asked.
Yes, Giuliani thought so.
"After she called him a racist, a misogynist, a xenophobic—I don't know—schizophrenic," Giuliani replied. "I think it's fair game."
Tapper wasn't buying that.
"Just to make stuff up?" Tapper replied. "Just wild accusations that Hillary Clinton's cheating on Bill? No proof of it whatsoever. Everything's fair game?"
Giuliani answered with "That was a sarcastic remark." Tapper appeared to get more annoyed as the conversation continued.
"It was an unhinged and wild accusation," Tapper said, waving his hands. "I can understand why you can't defend it because it's indefensible."
State of the Union was but one of the Sunday shows filled with examples of Trump's chronic lying, his emotional instability and his recent lack of self-control. These qualities, most hosts and many guests seemed to imply, should disqualify Trump from the presidency.
After a week of self-destructive behavior that followed his defeat in Monday night's debate with Clinton, Trump laid low Sunday, not even appearing in his personal sanctuary Fox hole, the Fox News Channel. He sent his minions to take his lumps for him.
Giuliani got it even worse from Chuck Todd on Meet the Press on NBC. Todd asked the thrice-married Giuliani how he and Trump are now talking about President Clinton's affair in the White House with Monica Lewinsky in the 1990s.
"What do you mean  . . . 'If she didn't know what Bill Clinton was doing, she's too stupid to be president?'" Todd asked. "So she was wrong to stand by her husband?"
GIULIANI: "No. She was wrong to attack the victims."
TODD: "Are you the right person to level this charge?"
GIULIANI: "Uh, yeah. I'm the right person to level this charge because I've . . . prosecuted people who have committed rape."
TODD: "But your past. You have your own infidelities, sir."
GIULIANI: "Well, everybody does and I, you know, I'm a Roman Catholic and I confess those things to my priest."
Hand me the remote . . .
THIS WEEK George Stephanopoulos began his ABC show with a long segment on Sunday's front-page story in The New York Times that said Trump claimed $916 million in business losses in 1995, a legal ploy that could shield him from paying federal income taxes over an 18-year period, no matter how rich he got in that period.
The tax information was sent to reporter Susanne Craig, who covers business and finance. Trump has refused to release his tax returns, as modern presidential candidates usually do.
"And finally," Stephanopoulos asked Craig, "any more documents coming?"
"We hope so," Craig replied. "We're at The New York Times and we check our mail box."
Giuliani, on this show as well, declared Trump "a genius, an absolute genius" for taking the ginormous tax break.
When the conversation turned to a former Miss Universe who said Trump called her a "fat pig" (among other things) when Trump owned and ran that beauty competition, Giuliani smeared her in a way that would make Trump proud.
"She has a very unfortunate past," Giuliani said of Alicia Machado of Venezuela. "She was a driver in a bank robbery. She—never mind all about her."
Newscaster Roland Martin reflected on how Trump ridiculed Machado for gaining weight. Martin said this might not help Trump get female support, especially in the audience-forum format scheduled for the next debate with Anderson Cooper and Martha Raddatz as moderators.
"What if a size 12 or 14 woman stands up and says 'Donald Trump, I have two daughters. Look at me,'" Martin said. "'Do you think I'm beautiful? Do you think I'm fat?' Donald Trump is going to stand there with a deer-in-the-headlights look."
Fellow pundit Cokie Roberts took offense over Trump's cheap shot against Hillary Clinton.
"This is a man who's been married three times," she said of Trump. "He was in a huge scandal when he left his first wife—or hadn't quite left her—and so it is just a crazy thing to do."
On a more sinister note, Gary Kasparov—the Russian chess champion—was asked about the bromance between Trump and the devious  Russian President Vladimir Putin.
"Putin needs not a friend," the chess champ said, "but someone who acts as an agent of chaos."
'You have a choice… America lives or dies in 39 days.'
FOX NEWS SUNDAY New Jersey Governor Chris Christie visited with host Chris Wallace to defend Trump's tax boondoggle.
"This is actually a very, very good story for Donald Trump," Christie said.
Even Wallace couldn't let this go unchallenged.
"Wh-wh-wait," Wallace said. "You're saying it's a GOOD story for Donald Trump that he failed to pay any federal income taxes? . . . That's a good story?"
Christie brought the topic to an end with "Oh, for gosh sakes, no apologies for complying with the law."
The topic changed to the weight gain of Miss Universe, who was forced to work out in a gym for the news media. An old video shown all week included the younger, leaner Trump staring at her on the floor with heavy-lidded eyes.
In a pre-dawn Twitter explosion Friday morning, Trump urged the nation to watch this very woman in a pornographic video that does not exist.
WALLACE: "Why on earth is he still talking about a beauty queen's weight?"
CHRISTIE: "You know, I have to tell you the truth, Chris, the stuff you guys focus on amazes me."
WALLACE: "But-but wait a minute. He put out the tweet at 5:30 in the morning. We didn't."
Wallace changed the subject to the scandal at the George Washington Bridge that has two of his top aides on trial for closing some lanes to punish the mayor of Fort Lee.
Christie sounded like Sgt. Schultz, the German guard in the prisoner of war camp on the old TV comedy "Hogan's Heroes."
"I knew nothing," Christie said. "I had no role. No knowledge. No participation." (Wonder if he'll ever say this under oath? And, if not, why not?)
Next guest was Sen. Claire McCaskill who said of Trump's tax-reform proposals: "Guess who his tax plan benefits? Billionaires. His tax plan benefits Donald Trump."
On the subject of Trump's recent displays of sexism, misogyny and slut-shaming, McCaskill said: "This is a guy who goes on national radio and talks about his sex life in detail. That is disgusting. Who does that?"
MEDIA BUZZ Howard Kurtz opened his Fox show with a "second-day lede." He asked "Has The New York Times risked prosecution by publishing Trump's tax returns from 20 years ago?"
(Short answer: No. Longer answer: Hell no).
Mollie Hemingway, senior editor of The Federalist, said of Trump's legal tax boondoggle: "People are very excited about this. They seem to think it's quite the scandal. And I'm not sure that frenzy is matched by what we're actually learning in that story."
Hemingway said it was "very bizarre journalistically to put such an ambiguous and speculative headline on the front page of a paper."
The headline, in the national printed edition, read: "Trump's 1995 Tax Records Claim $916 Million Loss. Deduction Means He Could Have Avoided Federal Income Taxes for 18 Years."
"It does sort of confirm for Donald Trump and his fans that the media are not giving him a fair shake," Hemingway said, "and are willing to break some journalistic rules to tar him."
Michael Tomasky of The Daily Beast chipped in with "Yeah, there's legal, and there's 'How does it look to people?'"
For those who call the Times biased, Tomasky noted that the paper broke the Clinton email story.
Kurtz also groused about the unnamed Trump advisors—seven or so—who have whispered to the Times lately that the candidate is out of control, irrational and, perhaps, dangerously delusional. (At least that's what people are saying. Lots of people, OK? Wealthy people. Strong people. Important people with big brains. Believe me. And—by the way—Rosie O'Donnell asked for it).
Smiling his way onto the screen was Brian Fallon of the Clinton campaign who noted that the Trump group has not denied that he hasn't been paying federal income tax for a number of years.
"The secret is out," Fallon told Kurtz. "This report is a bombshell."
Fallon suggested that Trump's business failures—his airline, the Plaza hotel, his casinos—"probably hit a nerve with him."
"It's probably something that he's still ashamed of to this day," Fallon said. "Secondly, it suggests he's able to play by a different set of rules than most ordinary taxpayers by leveraging those colossal failures, which left a lot of contractors, small businesses and employees of his holding the bag."
Regarding Trump's vicious attacks on the weight and sexual behavior of the ex-Miss Universe, Fallon said: "The very act of him bringing it up is something that repulses the voters . . . Even Newt Gingrich says it's a mistake." Gingrich, like Giuliani and Trump, is married to his third wife.
"He's trying to tar this woman," Fallon said. "He's digging deep into the gutter."
In a call to Fox & Friends the morning after the debate, Trump referred to Machado as "A Miss Universe person and she was the worst we ever had. She gained a massive amount of weight."
Also noted on Sunday's show was Trump's complaint about moderator Holt for not asking enough tough questions of Clinton.
Tomasky illuminated the topic.
"Some of this is Trump's fault," he said. "Candidates have to bring these things up if they want them to be discussed. It's their job. Nobody asked (Clinton) about Alicia Machado. She brought it up. And we've been talking about her all week."
MEET THE PRESS In that NBC produces both Chuck Todd's show as well as Saturday Night Live, Todd went right to Saturday's season debut in which Alec Baldwin played Trump and Kate McKinnon played Clinton.
The scene was Monday's debate.
CLINTON (McKINNON): "He hasn't released his tax returns, which either means he's not that rich—"
TRUMP (BALDWIN): "Wrong!"
CLINTON (McKINNON): "Or not that charitable."
TRUMP (BALDWIN): "Wrong!"
CLINTON (McKINNON): "Or he's never paid taxes in his life."
TRUMP: (BALDWIN): "Warmer!"
Among Todd's guests was Tony Schwartz, co-author of The Art of the Deal, a book which vaulted Trump's image high on the celebrity skyline.
"He's like an untrained Rottweiler," Schwartz said of Trump. "And every time they let him off his leash, he ends up biting someone."
Even Gingrich har-rumphed about Trump.
"You can't tweet at three o'clock in the morning. Period," Gingrich said. "There's no excuse, ever—not if you're going to be President of the United States."
When Giuliani checked in, he compared Trump to Winston Churchill and rationalized tax breaks (Trump's, not Churchill's).
"First of all, a lot of people that are poor take advantage of loopholes and pay no taxes," Giuliani said.
Minutes later, editor Rich Lowry of National Review could barely keep the snicker off his face when he said "Well, I wouldn't go with the 'poor-people-exploit-the-tax-system-too' argument."
Best segment of a strong show involved back-to-back interviews with documentary film producer Michael Moore and mystical tele-prophet Glenn Beck.
Moore, still fretting about a Trump victory, said he knows Trump voters because he lives in Michigan, where people who used to be the "working class" now find themselves the "working poor." They've seen their livelihoods "vaporize," Moore said.
"They see Donald Trump as their human Molotov cocktail," said Moore, who has lost weight, grown long hair and removed his baseball cap. "Trump is not just comedy to me."
To millennials not as excited about Clinton as they were about Bernie Sanders, Moore said older Boomers should not be condescending and added Clinton might be "a bitter pill to swallow" for younger voters.
"You'd better take your medicine," Moore said, "because the opposite is going to be much, much worse."
Beck, star of The Blaze, said people are "shouting over each other" and that "there's a play going on and we're just watching it and shaking our heads in disbelief."
As for Trump's following, Beck said he warned long ago of the rise of the "uber-right" in Europe that would bleed into America.
"And it's happening," Beck said, adding that the nation has adopted "a Malcolm X attitude."
RELIABLE SOURCES On CNN's media critique show, Brian Stelter opened with a long interview of Craig, who helped the Times break the Trump tax story. He showed a Fox report claiming "The New York Times trying to take down Donald Trump . . . the evidence and how they got is raising a lot of questions."
Craig, with a Canadian lilt to her voice, answered with Canadian common sense.
"It's called reporting," she said. "It's as simple as that. I don't think it's a crime to check your mailbox. They told us they may sue. We're comfortable with the story and went ahead of it."
Stelter asked "Are you sitting on more documents?"
Craig replied: "We're doing a lot of reporting around this."
Next came a split-screen discussion with John Avlon of the Daily Beast against Tim Graham of Newsbusters. Avlon said a Trump suit against the Times would "have no grounds to stand on."
Graham had a different version of The Old Gray Lady.
"This paper has all the restraint of a pack of flesh-eating zombies," Graham suggested. "The New York Times is pure partisan spin . . . This newspaper is trying to intimidate Trump . . . Everybody's out to destroy Trump."
When Graham took a breath, Avlon brought up something long overdue.
"When did the conservative movement start loving to play victim so much?" he said. "When did that start happening?"
Stelter got involved, telling Graham "It's not Lester Holt's fault if Trump lies more on the stage." Avlon warmed to the subject of right-wing media and how it has destroyed public faith in media in general and poisoned the political dialogue with fact-free shouting and resentment.
"Hyperbole crosses into demagoguery," Avlon said to Graham. "You carried the day for a while but now people are hip to your tricks. It's a fundamental problem that is undercutting trust in media, journalism and democracy writ large."
Midway through the show, Stelter played part of the SNL sketch that other shows avoided. It spoofed how Trump mentioned the name of Fox's Sean Hannity five times in rapid succession during Monday's debate in order to prove he was against President George Bush's Iraq invasion of 2003.
Baldwin, in the role of Trump, said of Hannity:
"I was against the war. Ask anyone in the world named Sean Hannity. Call Sean Hannity. Call Sean Hannity. I told him in private. It was me and Sean, late at night. I leaned over and I whispered in his ear 'Sean, I am against the war in Iraq.' And then he whispered in my ear 'I'm against the war, too.' And the next thing I know, I was kissing Sean Hannity."
In rushed the media critics, Margaret Sullivan of The Washington Post and David Zurawik of The Baltimore Sun.
"Mainstream media has begun to call out lies and use the word 'lie,'" she said. "It's fine to call it what it is."
Zurawik said it was pitiful that Trump lives in "that Fox bubble" that makes him believe Hannity's opinion would be a valid verification of a story Trump claimed in the debate.
"When he kept saying 'Sean Hannity' it was a strange, strange moment," Zurawik said.
Sullivan said people in media know Hannity is "kind of an arm of the Trump campaign who happens to be in sort of an island of Fox." He's not a journalist, she said—nor does he claim to be. But she wondered about his impact on viewers less savvy.
"Even folks at Fox see him as kind of a party apparatchik," Zurawik said. "He even makes some of them uncomfortable."
Stelter added: "I am curious to see, when we get to Election Day, how Rupert Murdoch is going to be feeling about Hannity's role in this election."
Stelter then played a dire warning from Hannity's radio show.
"You have a choice," Hannity told his audience. "America lives or dies in 39 days."
Stelter concluded "There is a straight line from this 'End-of-America' rhetoric to the rise of Trump . . . straight to the hate that pollutes your Facebook feed."
STATE OF THE UNION One more thing Tapper asked Giuliani got personal.
"You're a successful businessman," Tapper said. "Do you pay federal income tax?"
Giuliani looked offended.
"Well, that's between me and my accountant and the IRS," Giuliani said. "And the reality is I pay my lawful tax."
As for Trump's tax, Tapper pressed Giuliani on how Trump constantly puts down the United States infrastructure, saying LaGuardia is a Third World airport and how are bridges are collapsing.
"Is he not responsible," Tapper asked Giuliani, "at least in part, for the fact that these things are not being repaired?"
"No," the ex-Mayor replied. "No. Absolutely not. The law is responsible for it."
During pundit panel time, Neera Tanden of the Center for American Progress said Trump is not capable of dealing with the stress of the White House.
"He lashes out," she said. "He attacks people. He says crazy things."
Rachel Campos-Duffy of the Libre Initiative said Trump's feud with Miss Universe from Venezuela is hurting him.
"Look at Spanish TV," she said. "It's all over the place."
Disclosure: Donald Trump is the father-in-law of Jared Kushner, the publisher of Observer Media.