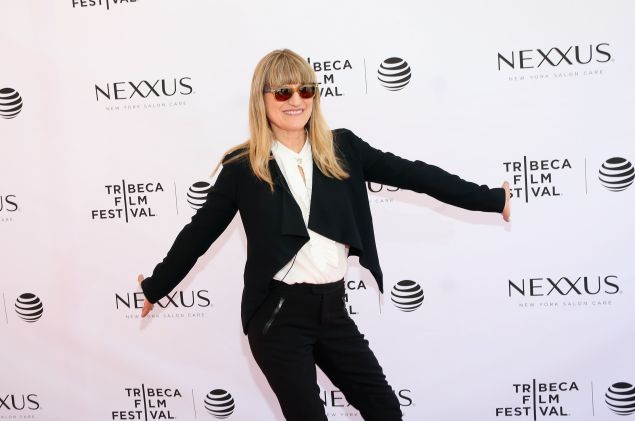 One of the enduring Hollywood mysteries to me is how Catherine Hardwicke directed Twilight, and then became a victim of the YA saga's success. Hardwicke, 61, launched Kristen Stewart and Robert Pattinson into superstardom and then stood on the sidelines. Chris Weitz directed the next episode, then handed the torch to David Slade and then to Bill Condon.
I gained a bit of insight – if not an outright answer — over the weekend when I attended Hardwicke's masterclass at the Woodstock Film Festival Saturday morning. That afternoon, I hosted the "Women in Film and Media" panel organized by Co-founder and Executive Director Meira Blaustein at the Kleinart James Arts Center, the epicenter of America's greatest living hippie theme park.
Hardwicke, a petite energetic blond with bangs and a nimble skateboarder physique, recently completed two episodes of USA Network's rural crime drama Eyewitness with Julianne Nicholson. She also directed Holly Hunter to an Oscar nomination in Thirteen, for which she won a directing award at Sundance. That gut-wrenching coming-of-age drama promoted teen actresses Evan Rachel Wood, Nikki Reed and Vanessa Hudgens, The UCLA grad began her film career as a production designer for Richard Linklater, David O. Russell and Lisa Cholodenko, among many others. She also directed Lords of Dogtown with Heath Ledger and was Tombstone's Production Designer!
The Texas native talks softly and tends to ask of her audience – am I doing this right? Do you want to watch this clip? What she lacks in male swagger she makes up for in enthusiasm. In jeans, t-shirt and an orange baseball jacket, she bounces with energy. One of her tips, reflected in the detailed drawings she shared at the masterclass, is "On set I like to be really organized so almost nobody, even dudes who want to think I'm lame, can say anything."
The Director related that even though Stephenie Meyer's novels had an enormous fan base, her Summit bosses lacked confidence in the supernatural franchise's potential success. They even asked her to trim $4 million more on her budget as they headed into production. She madly cut scenes and sequences, anticipating that there would be some give and take – they took.
And, then, when the suits anticipated possibly an opening weekend of $30 million, Hardwicke suggested that there was a lot of internet chatter about the movie. According to Hardwicke, the suits responded that it was probably just 400 girls in Ohio. Clearly they were not in touch with their inner teenaged girl – or even their daughters who, like mine, was plowing through the Twilight books like Oreo's and dreaming of twinkly diamond-white vampires flying down from the trees and carrying her off and away from high-school purgatory.
Summit had underestimated the book's appeal – and Hardwicke's ability to connect to the material. On the panel, which also featured Amber Tamblyn, Janet Grillo, Mary Stuart Masterson and Bette Gordon, Hardwicke said, "I went into the studio the Monday after Twilight opened to $69 million. I'd heard they give directors a car," she paused with a rueful laugh as the audience called out 'what did you get?' She said: "I got a mini cupcake."
Twilight opened at number one, and went on to earn $193 million domestically and $201 million foreign for a total of $394 worldwide. The entire saga of five films went on to earn over $3 billion worldwide, becoming the brand standard for Summit, which later merged with Lionsgate. A huge part of the credit goes to Hardwicke. She read the original script on a stack from Summit's slush pile, rejected it, then circled back with the idea that if they threw out the screenplay and returned to the heart of the book itself, they might just have a story to tell.
As actress-director Masterson (Fried Green Tomatoes), seated onstage at the sold-out event, added enthusiastically: "We don't have to be polite about asking 'where's my car? I'll take my three-picture deal now!' Give me a Tesla!" She concluded, capturing the ultimately upbeat spirit of the afternoon: "The next wave of feminism is… helping each other! Let's collaborate."