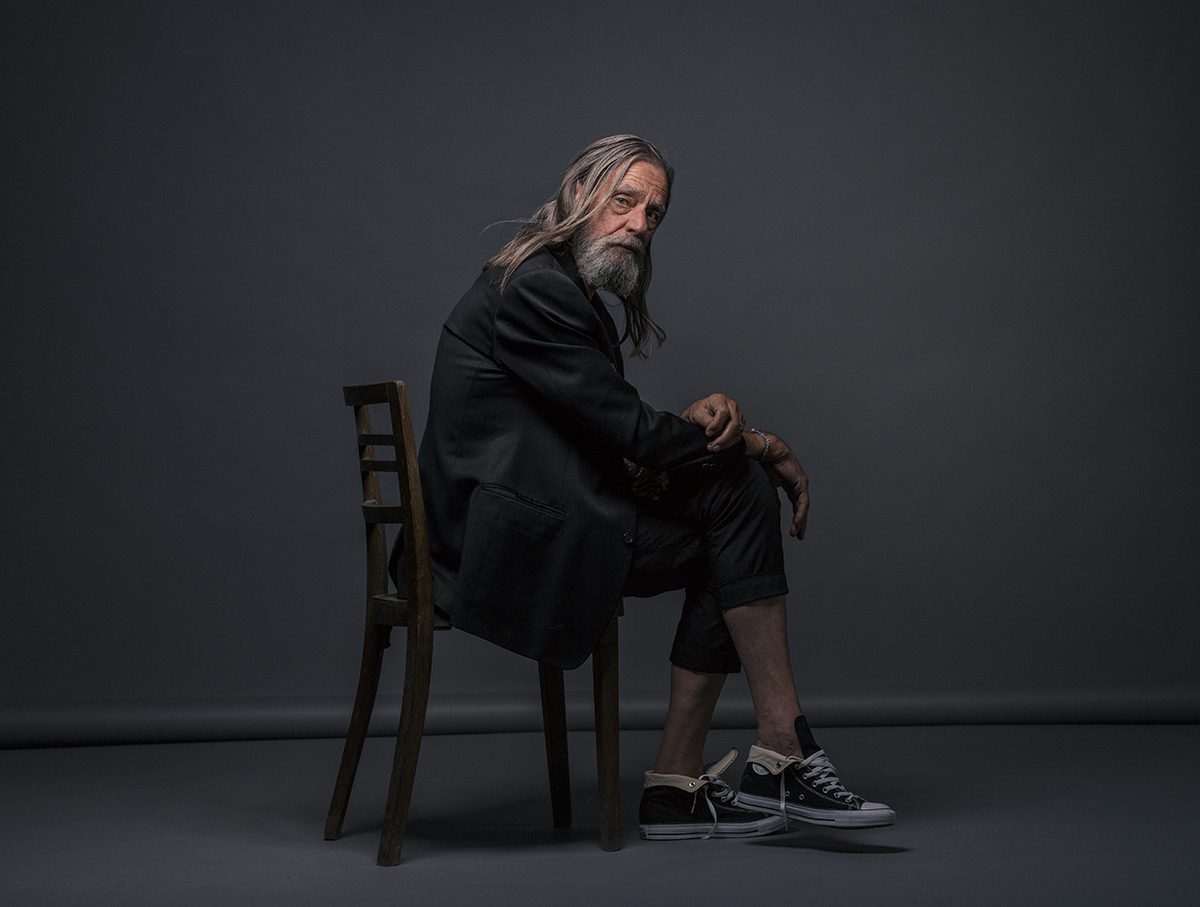 The heist went down like this.
A highly suspicious van pulled up opposite the New National Gallery in Berlin and was left running. Out of it walked a tall, slender man in a graphite-colored raincoat and on into the museum. After leaving his jacket at the coat check, he walked down to the basement with a pair of wire-cutter pliers in his pocket. He passed through a climate-control glass barrier until he stood before three small Romantic German paintings by Carl Spitzweg, including one that was an icon to all mid-20th-century Germans—The Poor Poet. But there was a guard, too close for comfort, and the slender man had to get rid of him. On the wall opposite The Poor Poet was a painting of chess players, so he turned to stand before it, and he started laughing, loudly, almost maniacally. The guard approached him, looked at the painting and asked, "What's so funny?" Heart thundering, the slender man spun and dashed to The Poor Poet, clipped the wire on which it hung with his pliers, ripped it off the wall, and ran. He passed through the climate barrier as the alarm blared. He flew up the stairs, through the foyer, wove around the crowd of people clogging the entrance as they waited to get in, crashed through the emergency exit, the painting under his arm, and sprinted to the car. Adrenaline pumping, the guards close behind, he slipped on the snow outside, as a guard screamed, "Now we get him!" But he was up on his feet and kept running to the very ugly, highly suspicious van. He had locked all the doors but propped the lock to the driver's door open with chewing gum. Now he pulled it open, jumped inside, slammed the door and locked it behind him, as the guards tore at the handle. A guard was holding the handle of the door as he lurched the van forward.
The slender man was off.
If this sounds like the opening of a movie, perhaps it should be. It is actually a firsthand account by the famous conceptual artist Ulay of what he calls "the Berlin lifting," formally entitled There's a Criminal Touch to Art, his 1976 theft-as-performance—although he doesn't like to call it a "performance."
If you know performance art, you'll know Ulay. If you've studied art history, you'll know Ulay. If you've kept abreast of recent news, you'll know of his historic September victory in a lawsuit against his former partner in life and art, Marina Abramovic, and of his blockbuster solo exhibition at Schirn in Frankfurt that opened October 12, which got him on the cover of Harper's Bazaar. If you use social media, you'll likely have seen a viral YouTube video of him "reuniting" with Abramovic back in 2010, entitled "How I Became the Bomb" (it has 29 million views and counting). And yes, Ulay is not only one of the most famous living artists, period—he is also an art thief.
Back in '76, Frank Uwe Laysiepen, known as Ulay, was visiting Berlin's New National Gallery.
He began "casing the joint," what criminologists refer to as "hostile surveillance," targeting the 1839 work, The Poor Poet, well known as Hitler's favorite painting. He spent a week planning, always with action in mind—as he says, "I wanted to do everything with my hands and feet, not with high-tech equipment." The paintings were wired—removing them from the wall would sound an alarm. The main entrance was via revolving doors that would automatically lock shut if the alarm went off. But the requirements of fire safety ran broadside to museum security. "On either side of the two revolving doors are emergency exits, and they can't be locked. They're sealed by the fire brigade. So I thought, 'Well, to break the seal off the emergency exit and push that door open, and that would be my escape.' "
He wanted the action to be documented. Abramovic was planted in the New National Gallery before he entered, with Ulay's Super 8 camera, to shoot from inside as the event unfolded. He plotted with his gallerist, Mike Steiner, who had a very hard time finding anyone willing to film what was, quite literally, a crime. They eventually settled on Jörg Schmidt-Reitwein, who was a fine cameraman (he'd worked with Werner Herzog) but was only willing to follow the event in a separate car and refused to get out of the car, in order to keep a thin wall of automotive steel insulating him from the crime itself.
On Saturday, December 11, 1976, Ulay wrote up a concept of the performance, which he calls "the action," or aktion in German, since he felt that this was more a political statement than a work of art: a recipe in 14 stages for what he planned to do and a diagram outlining it, "like a little pyramid, one institute, the other institute, the third institute, that was a triangle, and then from there I escaped outside, into secularized society." He posted—the old way—this to the media, knowing that it would not arrive until Monday. His escape car was an "incredibly ugly van from the French police, typical of the '68 Paris revolution, painted matte red, like coagulated iron." But the van was as unreliable as it was ugly—Sunday morning, he tried starting it unsuccessfully, and he had to push it into second gear to get it going.
Not the ideal getaway vehicle.
Sunday morning, he tried starting the van unsuccessfully, and he had to push it into second gear to get it going.
Not the ideal getaway vehicle.
Sweating and racing from the New National Gallery, the freshly stolen painting riding shotgun, Ulay drove toward the working-class neighborhood of Kreuzberg, where he planned to hang the stolen painting in the apartment of an immigrant Turkish family. He parked the car and grabbed the painting.
"I had been visiting several Turkish families," he says, "but one was willing to collaborate. I didn't say anything about the stolen painting. I said we were making a documentary film and was it possible to use their ambiance, just to hang the painting briefly, while we film." Though Schmidt-Reitwein hadn't wanted to get out of the car to film, in the heat of the moment he followed Ulay, the camera bouncing on his shoulder.
Before Ulay went into the family's apartment, he stopped at a phone booth on the street and did something that a criminal would find unexpected. "I called the museum, because I wanted to talk to professor Dieter Honisch, who was director at the time. I wanted to say, 'Listen, I have stolen the painting. I want you to come and just testify that I have not damaged or destroyed it, that's all. And I take all the consequences.' " Ulay explained where he was and said the police and the professor should come retrieve the painting. Then he went inside. "I rushed up to the second floor, rang the bell. They opened the door, the lady with a couple of children around her. I went in there, I didn't carry a hammer or nails, so I took one of their paintings off the wall and hung the Spitzweg in its place."
There was an interminable wait for the police to arrive. "It was cold. I smoked one cigarette after the other. It was snowing. It was so miserable, and I was waiting for the consequences." He hoped that he would not be sent to prison, but the state was unlikely to split hairs over the distinction between theft and art. "After some time, two men came, a driver in civilian clothes and professor Honisch."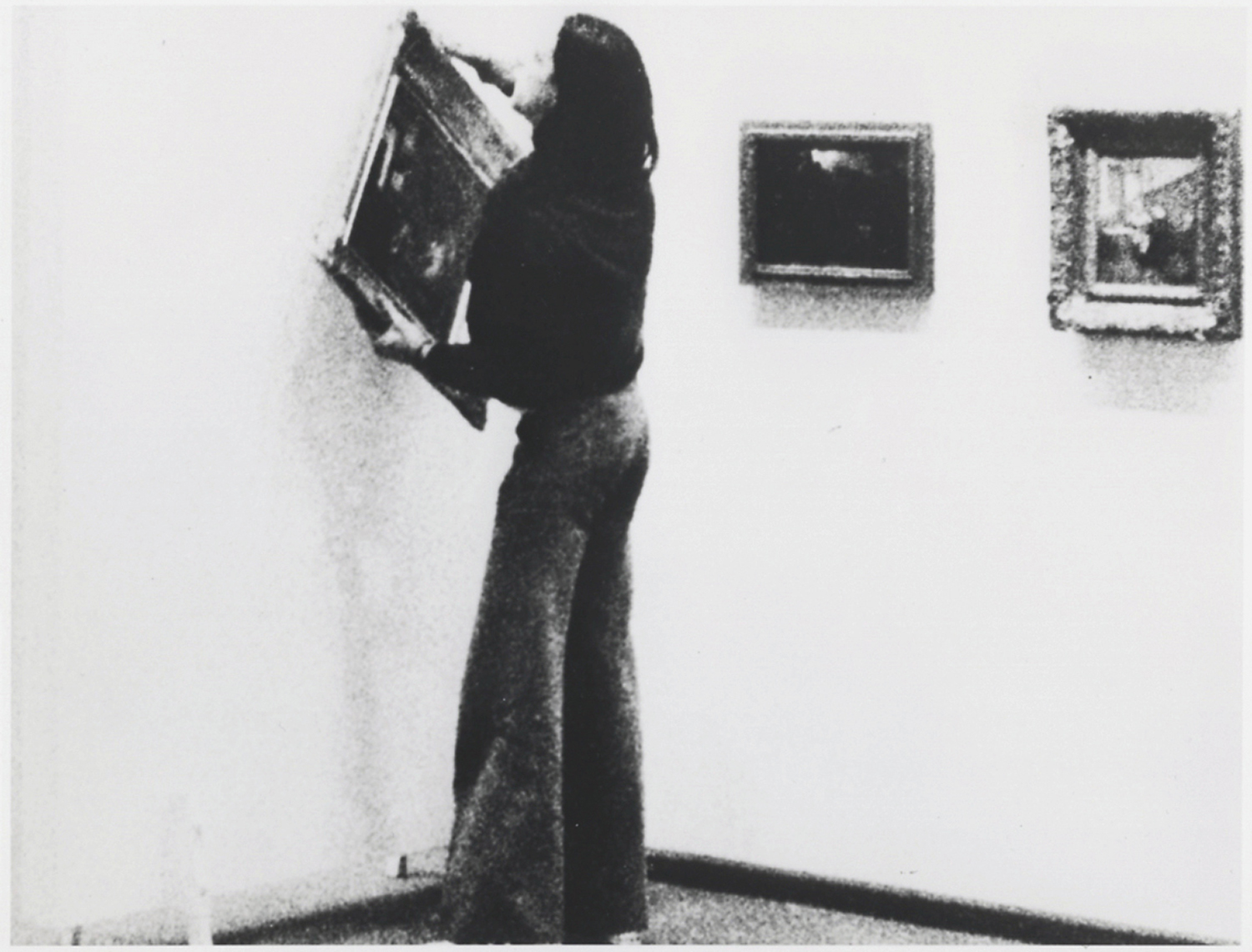 Honisch confirmed that the painting was unharmed, and Ulay was driven back to the New National Gallery and seated in Honisch's office there. "I made a statement that this was a demonstrative action, not a theft in the traditional sense." Ulay does not refer to it as a performance but considers it a "protest action, first of all against the institutionalization of art, secondarily about discrimination against foreign workers." That was all well and good, but he was put in jail overnight. He had one phone call, so he rang Mike Steiner, his gallerist, who had promised to sort out a lawyer. Steiner was popping the champagne, considering this action a great success, while Ulay spent the night in lockdown, the artist recalls.
The next morning, Ulay was brought before a judge, and the prosecutor read out a list of crimes. "Man, I saw myself in prison for a really long time." Ulay just about got out the words "demonstrative action," when the door to the courtroom burst open and in walks the attorney Mike Steiner found for him. "Somebody came in—I didn't know who—and shouted a name, I think Ernst, and the judge went, 'Karl!' So obviously they were old friends." Steiner had chosen precisely the right man for the job. The judge sided with Ulay, but his citizenship complicated matters. Born in Germany, he was at the time a Dutch citizen, living in Amsterdam. There would have to be a proper trial in three months' time. The prosecutor was concerned that Ulay would head back to the Netherlands and not return for the trial. Turned out he was right. "Three months later, there was a trial at the court in Berlin," says Ulay. "I didn't go. Neither did anybody else. I was given, I think, 36 days' imprisonment or a buyout of 3,600 Deutschmarks. I never had so much money." But it was a moot point, as he'd skipped the trial.
The Spitzweg went back to its place in the New National Gallery. A 16mm film account of the theft was in safe hands. He'd gotten away with it.
Well, almost.
One year later, Ulay and Abramovic were en route to a holiday in Morocco. Their route required a stopover in Munich that went through Customs. "And there they caught me," Ulay sighs. "I was standing there, they just had a black book with the bad guys listed in it, and they caught me and arrested me." This was a nasty surprise although one that might have been predictable. "I thought I got away with it," explains Ulay. He phoned a friend who paid his bail. Then he skipped bail. No Morocco. And he still had not served his time.
Life required that Ulay eventually cross the Dutch-German border again, and he was hoping for the best, but he was identified as a wanted man and arrested. "They put me in a terrorist prison. Unbelievable. And I was there, convicted as a social delinquent, for 10 or 14 days. But I had great meditation time, and it was probably the period in which I read the most books in my life." For whatever reason, that was the entirety of his chastisement.
So the crime, or rather the demonstrative action, was punished to a certain degree, but the "Berlin lifting" event lived on and has become one of the best-known, and most-admired, works of performance art in history. Even if Ulay doesn't like to call it a performance.
The exhibition "Ulay Life-Sized" runs at Schirn in Frankfurt, Germany from October 13 to January 8, 2017.