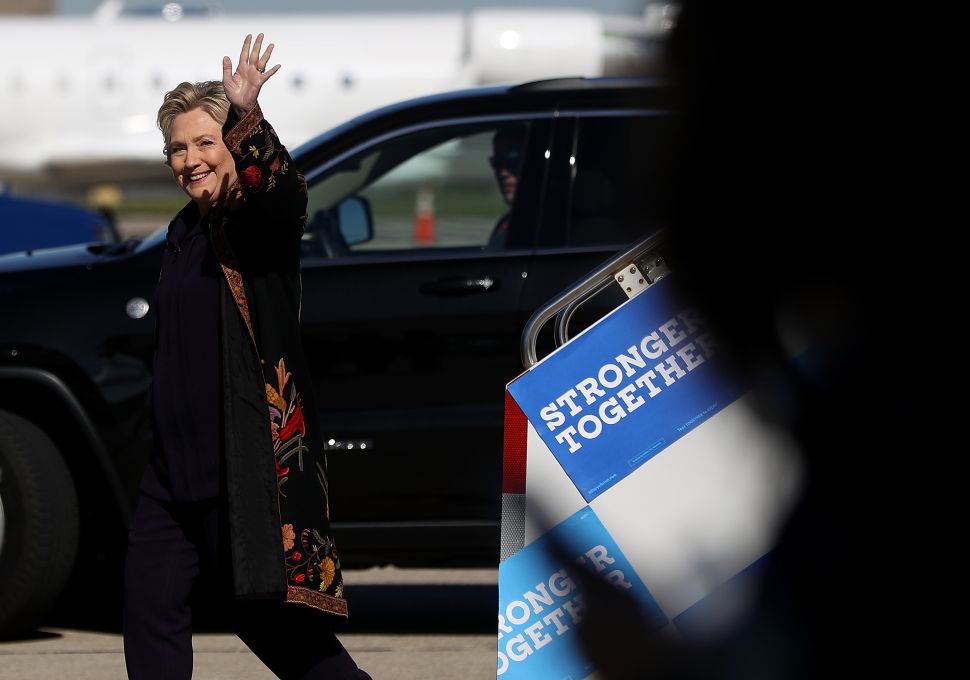 We're just a month away from the election, so it's obvious why Hillary Clinton's campaign and her supporters in the media would want to ignore bad news from hacked emails in favor of decade-old comments Donald Trump made about women.
But the story isn't going away—especially if Clinton becomes president.
On Friday we learned that the Obama administration actively worked to crush stories relating to Clinton's emails after the story broke in early 2015. In one email, White House Communications Director Jennifer Palmieri emailed her counterpart at the State Department: "between us on the shows… think we can get this done so he is not asked about email." Palmieri was trying to make sure Secretary of State John Kerry would not be asked about the email scandal on his Face the Nation appearance that occurred three days later.
The next day, State Department Communications Director Jennifer Psaki responded: "Good to go on killing CBS idea." And guess what? Kerry wasn't asked about the emails.
Also on Friday, leaked transcripts from Clinton's Wall Street speeches were revealed by Wikileaks. The New York Times reported that "The tone and language of the excerpts clash with the fiery liberal approach she used later in her bitter primary battle with Senator Bernie Sanders of Vermont and could have undermined her candidacy had they become public."
Ouch.
Clinton said in the transcripts that she dreamed of "open trade and open borders." She also spoke about how Abraham Lincoln twisted arms behind the scenes to get things done, and said it was important to have "both a public and a private position."
This is exactly what Sanders warned about during the primary—that Clinton took money from Wall Street but was not adopting his position against the banks because it was politically popular. It was hard to believe that Clinton would be just as harsh against the banks privately as she was publicly.
Clinton awkwardly defended this comment at the debate on Sunday by speaking at length about Lincoln. But it certainly plays into the notion of Clinton's corruption; that she will say anything to anyone to get elected. It also begs the question: Who is being told the truth? Is her private position the one that she will institute in the Oval Office or will she stick with the public position? How can we trust anything she says?
While Trump's comments predictably dominated the news cycle over the weekend, more damaging information was linked about Clinton.
Other hacked emails revealed Clinton's campaign privately insulting journalists who didn't praise the Democratic nominee. In one email, campaign Press Secretary Nick Merrill called New York Times reporter Amy Chozick an "idiot" for writing an article about supporters becoming wary of Campaign Manager Robby Mook after Clinton narrowly eked out a win against Sanders.
Merrill also said he had tried "to shame" the Intercept's Emily Kopp's "lousy reporting" on Clinton using her campaign account as a slush fund.
More emails were released on Monday, and they were just as bad. In one email, former Bill Clinton aide Doug Band called Hillary's daughter Chelsea "a spoiled brat kid."
"I don't deserve this from her and deserve a tad more respect or at least a direct dialogue for me to explain these things," Band wrote in response to a dispute with Chelsea over the Clinton Foundation. "She is acting like a spoiled brat kid who has nothing else to do but create issues to justify what she's doing."
Band founded Teneo Strategies, which for a brief time employed Clinton aide Huma Abedin while she was also working for the State Department.
Perhaps most damaging of all, it appears Team Clinton was "petrified" of any GOP presidential nominee except Trump.
"Right now I am petrified that Hillary is almost totally dependent on Republicans nominating Trump," wrote Brent Budowsky, a former Capitol Hill staffer (and Observer columnist). "She has huge endemic political weaknesses that she would be wise to rectify … even a clown like Ted Cruz would be an even money bet to beat and this scares the hell of out me."
Clinton's own campaign knew she wasn't a strong candidate and that the email scandal was damaging—that's why they worked behind the scenes to crush stories about the emails and disparaged reporters who didn't fall in line. They also worked to make Trump the GOP nominee because anyone else would have run away with the election against such a flawed candidate.
The Left's response is always the same: Either this is a nonstory or it's "old news." The more they make such proclamations, the more it's clear that they just want the story to go away because they know how bad it is for Clinton. Voters care about this issue; it's part of why Clinton is routinely described as "untrustworthy."
The Left wouldn't be calling this a nonstory if the Secretary of State in question were Condoleeza Rice (and to be fair, Republicans would then be the ones claiming it was a non-story).
Disclosure: Donald Trump is the father-in-law of Jared Kushner, the publisher of Observer Media.